Why Hero From Y: The Last Man Looks So Familiar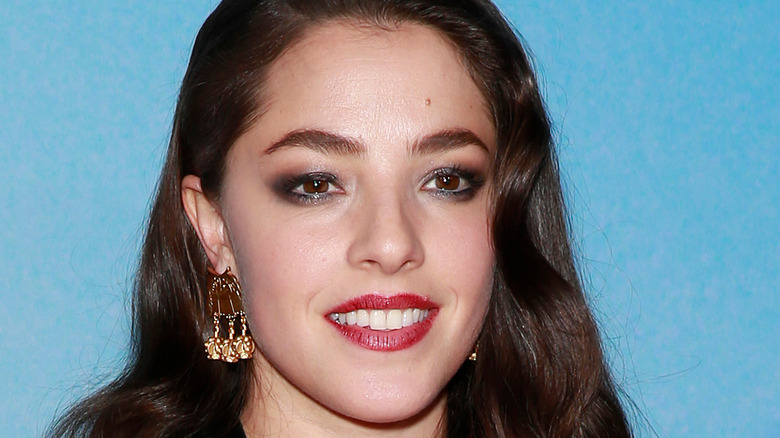 Ovidiu Hrubaru/Shutterstock
Much of the fun of FX on Hulu's new series "Y: The Last Man" is playing out all the consequences of its unique version of the apocalypse. 
Based on the comic series of the same name by Brian K. Vaughn and Pia Guerra, the show depicts a world where every creature with a Y chromosome dies out in a matter of days. Or at least, every creature save two — an amateur escape artist, Yorick Brown (Ben Schnetzer), and his pet capuchin Ampersand. What happens to the world when approximately half its human population drops dead? How do those saved by the coin-flip of their genetics (whatever their gender identity) begin to rebuild society? 
Faced with the unfamiliar world of "Y: The Last Man," it would be no surprise for viewers to reach for whatever familiarity they can find amongst the cast. They might notice, for instance, that they recognize Yorick's sister Hero, played by actress Olivia Thirlby, who started out as an indie star but has since seen her share of action (and sudden apocalypses, for that matter).
Olivia Thirlby played the best friend in Juno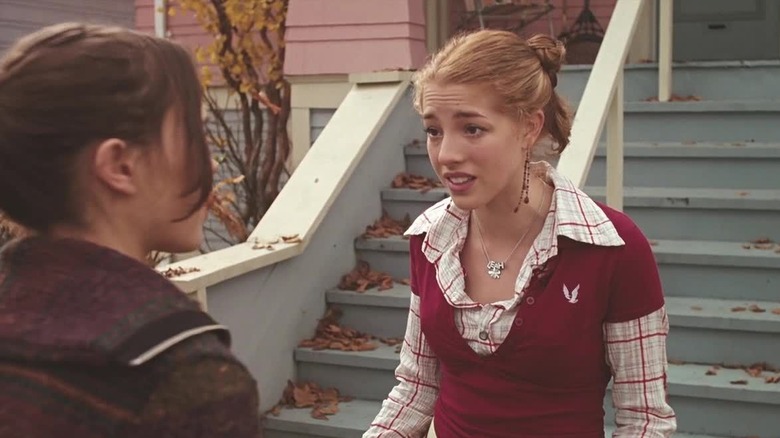 Fox Searchlight Pictures
Olivia Thirlby found her big break in one of the most talked-about breakout hits of the 2010s — that being 2007's "Juno," about a teen navigating the aftermath of an unexpected pregnancy. She played Leah, Juno's (Elliot Page) cheerleader best friend who supports her on her journey through pregnancy, delivery, and the adoption of her baby.
Though it wasn't Thirlby's first role –– she had previously had a small part in Paul Greengrass' 9/11 movie "United 93" and a bigger one in the drama "Snow Angels," which premiered at Sundance in 2007 but wasn't released in theaters until after "Juno" in 2008 –– there's no question that "Juno" is the film that kickstarted her career to a new level, just as it did for Page, director Jason Reitman, and screenwriter Diablo Cody. It's tough to imagine getting a better start. Juno was a critical and commercial success, winning Cody an Oscar for Best Original Screenplay and winning Best Feature at the Independent Spirit Awards, and turned just about everyone involved into hot properties going forward.
Olivia Thirlby played a heartbreaker in The Wackness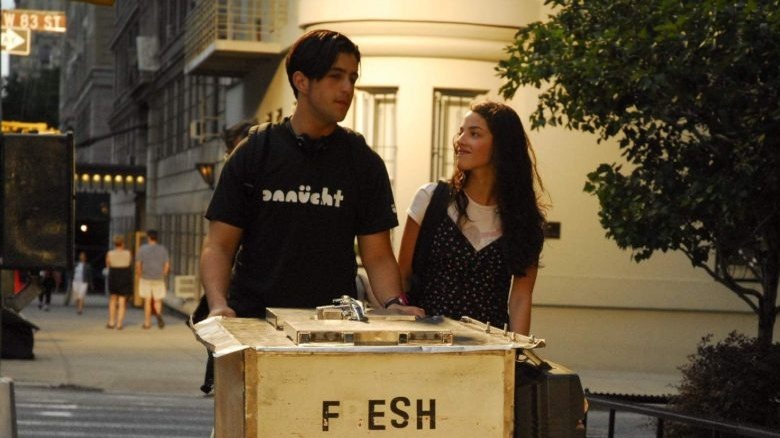 Sony Pictures Releasing
Olivia Thirlby jumped from high school in Minnesota to high school in Manhattan to play cool girl Stephanie in the 2008 comedy-drama "The Wackness," from director Jonathan Levine.
Steph is the stepdaughter of psychiatrist Jeffrey Squires (Ben Kingsley) and a classmate of one of his patients, Luke (Josh Peck), who is stuck in New York City dealing marijuana during the summer of 1994. The pair develop a friendship, which Luke wants to turn into a relationship, but his heart ends up broken as he grows closer to her and her stepfather.
Thirlby said in an interview that it was easy to get into character for "The Wackness" because she had grown up in New York City, knowing people who were quite similar to the characters on the screen (via The Guardian). "I knew as soon as I read the script that I'd be really perfect for it. I sort of ended up playing Stephanie as myself. That's actually really me." 
Or at least, as she said to the New York Daily News, a version of her that wasn't studying acting quite as often. "I didn't have an incredibly active social life as a teenager. I always wished it was a little bit more exciting than it was."
Olivia Thirlby couldn't escape The Darkest Hour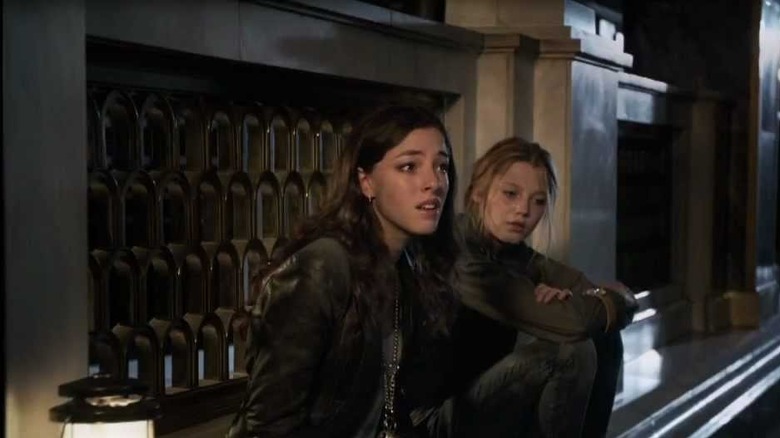 Summit Entertainment
First things first, this is not "Darkest Hour," the 2017 Second World War drama that won Gary Oldman a Best Actor Oscar for his portrayal of Winston Churchill in his early days after assuming the office of Prime Minister. This is "The Darkest Hour," the 2011 science fiction movie featuring a group of Americans who find themselves stranded in Moscow during an alien invasion. Olivia Thirlby plays Natalie, who navigates the aftermath of the invasion with a small group including Sean (Emile Hirsch), Ben (Max Minghella), and Anne (Rachael Taylor).
For Thirlby, it was a first big step into a different kind of film. She had almost entirely done independent movies prior to 2011, something she said fit her idea of what she wanted her career to be. "I'm not opposed to doing a larger film. I'm cautious about it though," she said in an interview after the release of "The Wackness" (via The Guardian). She didn't want to make something that was going to turn out poorly, she said.
Everybody makes a bad movie eventually, however. Sometimes things don't turn out the way you mean for them to. Sometimes you might just need the money. But "The Darkest Hour" was an especially poor choice. It hit just 12% on Rotten Tomatoes, and received a 25% audience score from more than 25,000 ratings. (No word on how many of those people thought they were getting Gary Oldman.) "There's literally nothing here that works," wrote Time Out in a review that panned the acting, the directing, and the special effects.
Olivia Thirlby played a rookie Judge in Dredd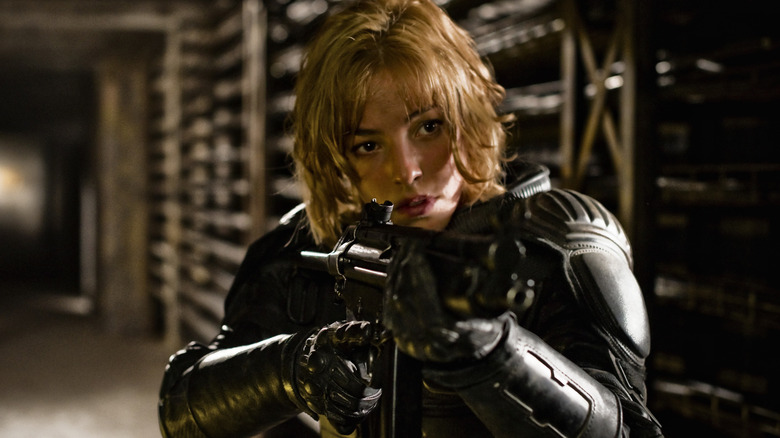 Entertainment Film Distributors
Olivia Thirlby's career in big-budget entertainment bounced back the next year, though, not with a mega-blockbuster, but in the critically-acclaimed cult classic "Dredd."
In the film, Thirlby plays Cassandra Anderson, a prospective Judge who can psychically sense the thoughts of others. She's being evaluated by Dredd (Karl Urban) to see whether she can pass muster as a Judge, and so accompanies him on his visit to the Peach Trees slum building, where they investigate the criminal kingpin and drug manufacturer Ma-Ma (Lena Headey). The pair have to fight their way up the building to get to its boss.
Dredd, written by future "Ex Machina" and "Annihilation" director Alex Garland and directed by Pete Travis, was famous for its brutality, pushing the boundaries even of its R-rating. The uncompromising nature of the violence was something Thirlby said attracted her to the project. "It seemed to me that the script was an atypical action script just because it really was about people and characters and it wasn't shiny or pretty. It was dark and brutal." Anderson's relative innocence in that harsh world –– she doesn't even get to wear a Judge's helmet for most of the film –– is the closest thing the film has to a ray of hope.
Olivia Thirlby played a young member of the big team on Goliath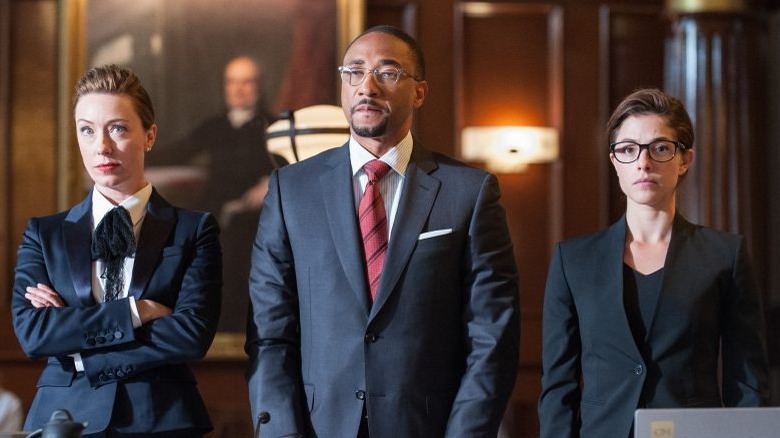 Amazon Studios
In 2016, Olivia Thirlby played as a young, upwardly-mobile associate on the first season of the underrated Amazon legal drama "Goliath." Her character, Lucy Kittridge, is a struggling attorney at the giant California law firm Cooperman McBride, with a stutter that prevents her from being effective in court. But she gains confidence as her reclusive boss Donald Cooperman (William Hurt) shows faith in her ... and uses his power over her to begin a relationship. That puts her on the legal team in a case pitting the firm against its former founding partner, Billy McBride (Billy Bob Thornton), who's representing a family in a wrongful death suit against giant conglomerate and Cooperman McBride client Borns Technology.
Thirlby explained at the show's premiere that she was drawn to the project both because of the talent in the cast –– name dropping Thornton and Hurt –– but also because of the involvement of showrunner and legal drama savant David E. Kelley, creator of "The Practice," "Boston Legal," "Ally McBeal," and many more.