The Worst Character In American Horror Story According To Fans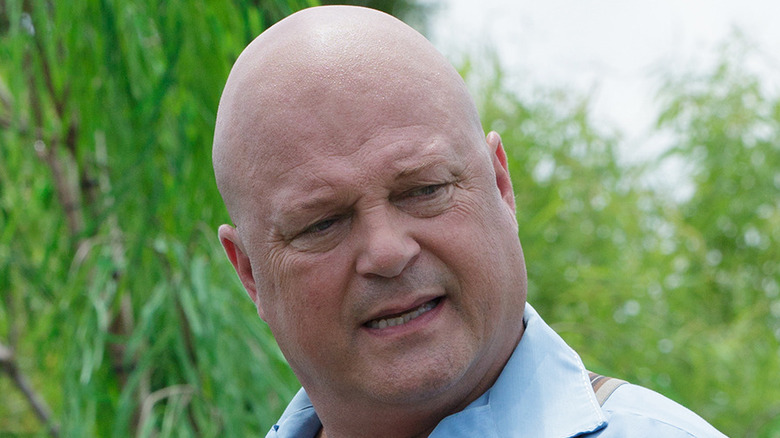 FX
Every season of Ryan Murphy's anthology series "American Horror Story" features a fresh ensemble of colorful characters. However, many installments such as "Murder House" (Season 1), "Coven" (Season 3), and "Apocalypse" (Season 8) also feature crossover characters. Season 10, titled "Double Feature," even appears poised to bring back the mysterious aliens from Season 2, "Asylum" (if the teaser poster is any indication).
Murphy has a select group of actors he repeatedly uses, such as Evan Peters, Sarah Paulson, Lily Rabe, Finn Wittrock, and Adina Porter. Each season features some truly frightening and deplorable characters, often with faces we've seen before. Even Murphy's heroes, who survive everything from killer ghosts to a cult leader to sadistic nuns to a freaky clown, are flawed, damaged, or unlikeable in some way. And interestingly, some of the show's villains are fan favorites, such as Madison Montgomery (Emma Roberts), Twisty the Clown (John Carroll Lynch), and Jessica Lange's inimitable Constance Langdon. The series is full of complex characters and twisted scenarios that inspire a lot of mixed feelings.
Some villains, however, are almost universally despised. Fans debated on Reddit which "American Horror Story" character is the absolute worst, and while a hefty number made the list, one of them takes the dishonor hands-down.
This American Horror Story: Cult character beat out Kai Anderson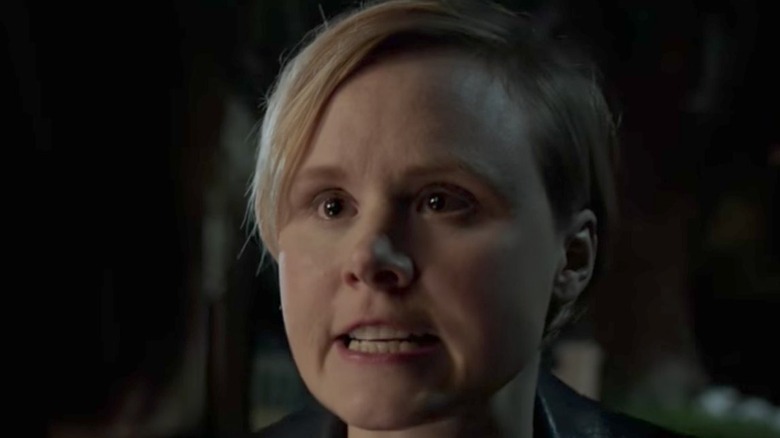 FX
"American Horror Story" fans despise Ivy Mayfair-Richards from Season 7, "Cult," more than any other character. Ivy (played by Alison Pill) was one of Kai Anderson's (Peters) followers and plays a pivotal role in trying to destroy Ally Mayfair-Richards' (Sarah Paulson) life. "Ivy from Cult was gross," stated Background_Ad_4119 in the most popular comment. "[I]vy has absolutely no redeeming qualities," wrote ahs_hailey.
So what constitutes a bad character? According to AHSismypassion, "There's a bad character in almost every season who serves little to no purpose or is just plain reckless." Ivy is important in that she provides a link between Kai and Ally, but beyond that, fans just find her frustrating. AHSismypassion enthusiastically went on to supply a list of the worst characters from every season, and aside from Ivy, Dinah Stevens (Porter) from "Apocalypse," Will Drake (Cheyenne Jackson) from "Hotel," and Chet Clancy (Gus Kenworthy) from "1984" all made the cut.
Ivy isn't the only "Cult" character fans dislike. Claradox argued, "Valerie Solanas, Cult. Lena Dunham came in like a wrecking ball and chewed the scenery. It was awful." Trevaconda gave Pill's character just a slight edge over Billie Lourd's nanny from hell. "Ivy and Winter. Ivy more so, but christ Winter was so inconsistent." Other unpopular "AHS" characters Redditors mention are Ben Harmon (Dylan McDermott) in "Murder House," Peters' character in "Coven," Kyle Spencer, and Dell Toledo (Michael Chiklis) in "Freak Show." But none drew more ire than Ivy.