New American Horror Story Poster Teases The Plot Of Season 10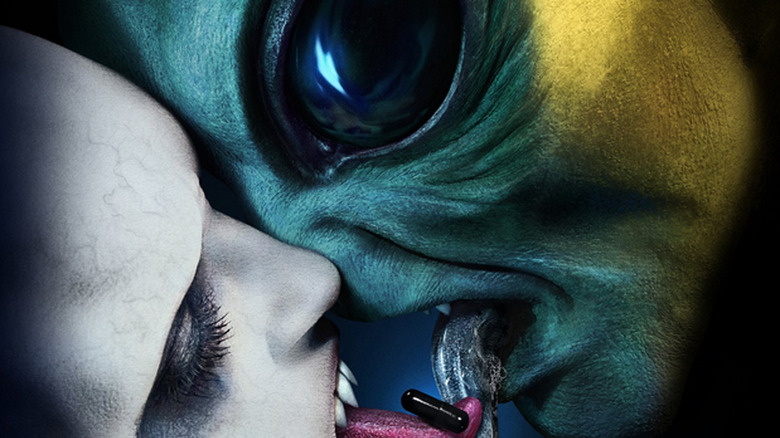 FX
The new season of "American Horror Story" debuts August 25, 2021. But Ryan Murphy has already begun the long tease of the season's themes, setting, and monsters. Titled "Double Feature," the show will have two stories — "one by the sea...one by the sand," per Murphy's big title announcement. Macaulay Culkin is joining the "AHS" crew, and both Sarah Paulson and Evan Peters are returning to the show.
Through Murphy's Instagram, we know that much of the shooting of "AHS" Season 10 took place in famous queer haven Provincetown, Massachusetts. So that's the sea covered. But the latest poster for "AHS: Double Feature" hints at a possible locale and monster for the sandy segment of the story.
The new "AHS" poster shows a traditional gray-type alien in a tongue-heavy kiss with a pale, veiny, sharp-toothed monster of some kind. We've seen the creepy teeth in previous teaser images for the season, but not this new alien fella.
Are we getting extraterrestrial threats in AHS: Double Feature?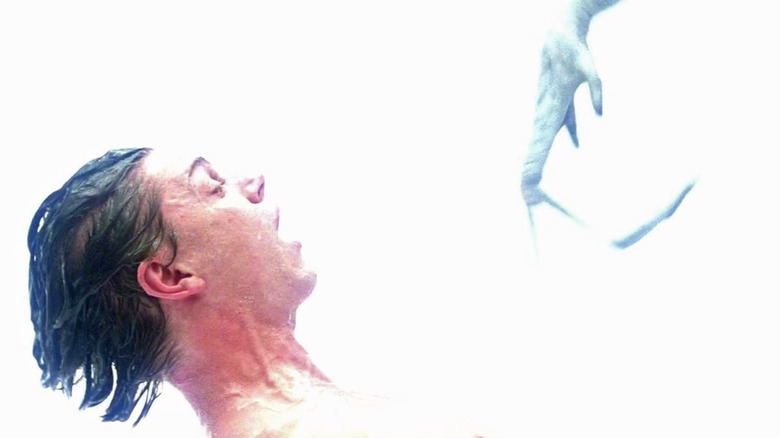 FX
Aliens make sense for a season named "Double Feature." The name refers to the practice of programming two movies to run at a movie theater or drive-in. The A-feature would be a mainstream movie, and the B-movie would most likely be a cheaper horror or (especially in the '50s) sci-fi movie. Alien invasion stories really took off in the B-movie world, so of course Murphy is delving back into sci-fi for this season.
Aliens have appeared in the "AHS" mythos before. In "Asylum," Evan Peters' character Kit Walker had been abducted by aliens. They seemed relatively harmless, compared to the humans who had power over Walker at Briarcliff.
But who are the other monsters in the "Double Feature" poster? Ryan Murphy shared pics of some bald, longcoat-wearing freaks to his Instagram, captioning the creepers' "Night Moves." Some fans are guessing vampires, others note the Atlantic seaside locale and think Lovecraftian fishpeople. We'll just have to wait and see.