Superman And Lois Season 2 Has Begun Shooting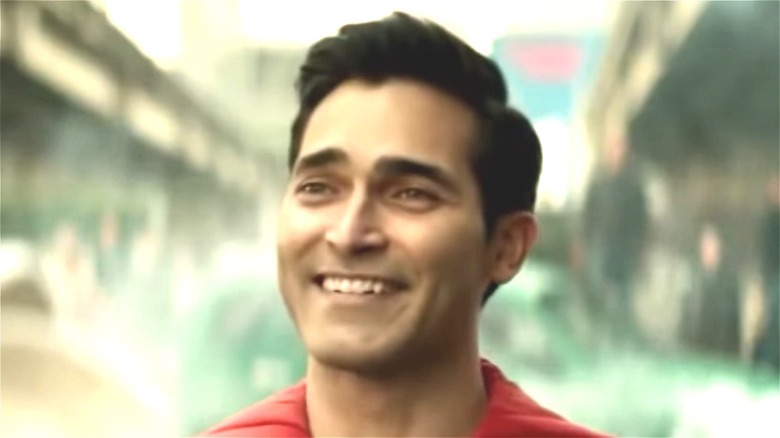 The CW
Thanks to Lois Lane herself, we now know that "Superman & Lois" has officially begun filming Season 2. The news comes several months after the hit superhero series was originally renewed for a second season by the CW in March 2021 (via Deadline).
Star Elizabeth Tulloch announced the start of filming on "Superman & Lois" Season 2 on her official Twitter account this Tuesday, a little less than a month after the show's Season 1 finale aired. With that in mind, the fact that Season 2 has already started production is undeniably great news for fans. Notably, the show's first season started filming in October 2020 and concluded the following July. However, the show's Season 1 production schedule included the work that needed to be done on its 90-minute pilot episode and was also subject to multiple COVID-19-related delays. Taking all that into account, it seems safe to say that Season 2 of "Superman & Lois" won't take nearly as long to shoot as the show's first season did.
Tulloch's tweet also included a very early tease of what to expect from the Season 2 premiere that — combined with what we already know about the show's sophomore season — helps give us a pretty good idea of where things are headed on "Superman & Lois."
Progress is finally being made on Superman & Lois Season 2
Elizabeth Tulloch's tweet featured a photo of the cover page for the "Superman & Lois" Season 2 premiere script along with the caption, "Day one, Season Two! #SupermanAndLois." The episode is titled "What Lies Beneath" and is written by showrunner Todd Helbing along with Brent Fletcher, both of whom also wrote the script for the "Superman & Lois" Season 1 finale.
Helbing gave an interview with TV Line the day the Season 1 finale aired, and in it, he shared some hints about the direction that the show's second season will take. The showrunner specifically said in that interview that the show's Season 2 premiere will continue the storyline last explored in "Holding The Wrench," which saw Lois go to therapy to try to process her emotions over an earlier miscarriage, only for her to discover that her miscarried child, Natalie (Tayler Buck), was actually alive on an alternate version of Earth. That version of Natalie later showed up in the series' Season 1 finale.
Additionally, fans can likely expect the "Superman & Lois" Season 2 premiere to begin setting up the show's next big bad, especially now that Superman (Tyler Hoechlin) has defeated Tal-Rho (Adam Rayner). While Helbing hasn't said who the show's next villain will be, he did say in his TV Line interview that it (probably) won't be another powerful Kryptonian and won't be a villain who appeared on "Supergirl" either.
Fortunately, with "Superman & Lois" Season 2 officially in production, fans are just one step closer to finding out where the series plans on taking them next.