Marvel Studios' Head Of Visual Development Dishes On What If...?'s Early Concept Art - Exclusive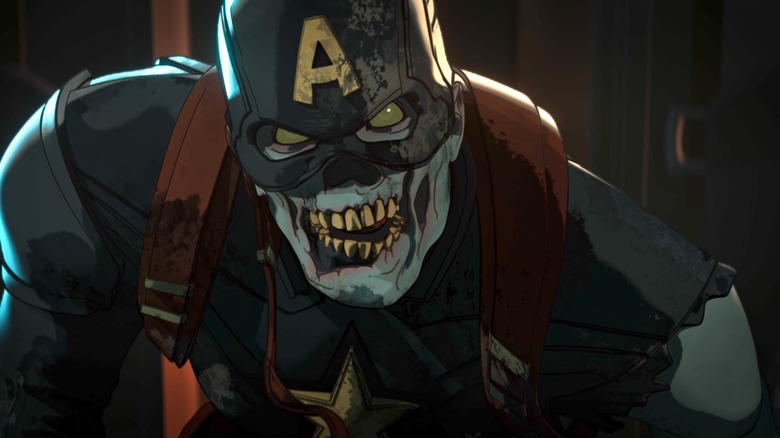 Marvel Studios
It felt like fans waited an eternity for Marvel's "What If...?" to drop before getting their hands on the first episode, which debuted back in August. The amount of time we had to wait for the MCU show to make its Disney+ premiere may have felt long, but for the Marvel creators behind it, the wait was even longer. "What If...?" was officially announced during Disney's Investor Day 2020. However, production on the show was already underway, with the earliest concept art completed a year before the announcement.
Currently, "What If...?" is halfway through its first season. In the six episodes that have aired, fans have been watched Peggy Carter become a hero, they've discovered T'Challa in his new role as Star-Lord, and have glimpsed what would happen in a world without Iron Man. Viewers have also looked on in horror as a grief-stricken Doctor Strange tries to change a loved one's fate and, in a highly-anticipated episode, followed Peter Parker as he battles the zombified Avengers.
During an exclusive interview with Looper, head of visual development Ryan Meinerding revealed which characters were the first ones selected for animation, how long the "What If...?" project was in the works, and how his early years with Marvel helped inform the Disney+ show's direction.
In the beginning, there was Captain Carter, Steve, and the Hydra Stomper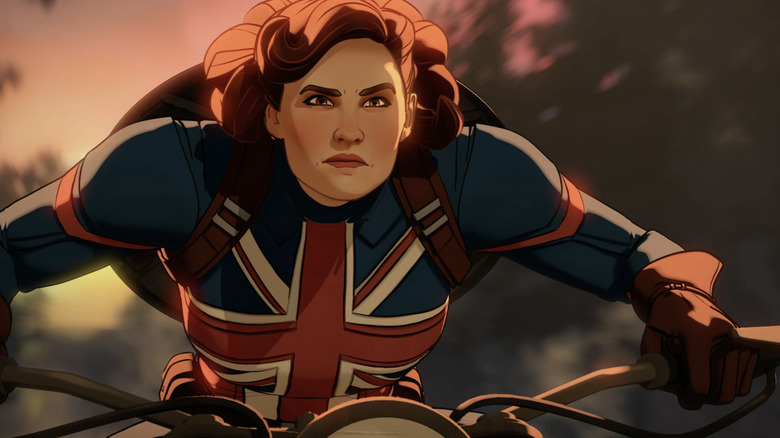 Marvel Studios
Meinerding opened up about the earliest pieces of concept art for "What If...?" and how far in advance he started working on this project, telling Looper, "Wow. I feel like my brain has not quite computed the pandemic time period, so it's challenging to actually remember exactly, but it might've actually been back to late 2018 when we started." 
He added, "I had a list of probably about seven characters that Brad Winderbaum mentioned to me that they were excited about, including Peggy and Steve and the Hydra Stomper, and Star-Lord T'Challa, and Zombie Cap, and Doctor Strange. So, I think that was kind of sort of the first set of characters that we were working with, and specifically, with Peggy and Steve and the Hydra Stomper. It was where we were trying to find the style of the show as well."
On the style of animation, Meinerding remarked, "Animation is challenging in a lot of ways, but the notion of designing characters while you're trying to figure out a style makes it even slightly more challenging because the look of the show is going to be dependent on really nailing those characters. That was kind of the starting point. Lots of variations, lots of explorations about how stylized versus how realistic, how cartoony should it be versus landing on that sort of more illustrative Leyendecker style." 
Ryan Meinerding's long history with the MCU helped on What If...?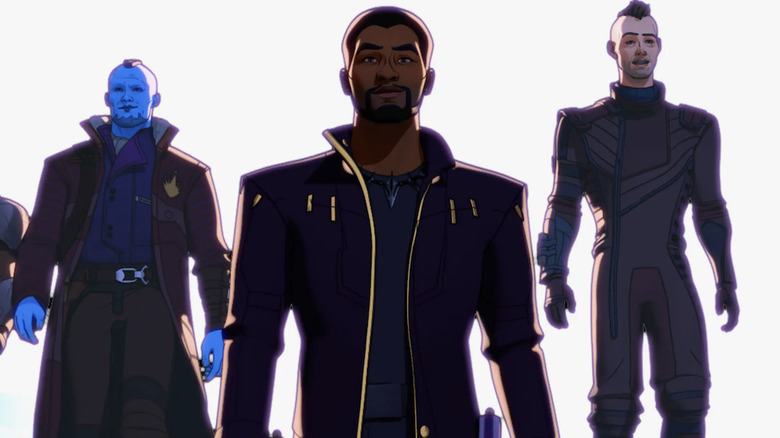 Marvel Studios
Meinerding revealed how his involvement with the MCU from the very beginning helped inform his vision on "What If...?." The head of visual development shared, "I'd like to think it's very helpful because I have an understanding of where the characters have been and if we're going to tweak them or go a different direction with them, to understand the backstory as thoroughly as possible."
He went on to say, "So, I'd like to think it's helpful that I've been here for so long. It also is helpful in a shorthand with communicating with producers and things about stuff because they have a similar type of understanding of where the characters have been and what it means if they go down a different road."
"But I think, in all honesty," Meinerding continued, "what it also brings from my point of view, is just a love of the characters and a love of the MCU, right? Some of the characters I've worked on are the characters I've loved since I was very small, and the notion of being able to bring that passion and care and love for those characters into a new format, I think, is a lot of what I hopefully brought to the table as well."
Fans can check out new episodes of "What If...?" when they drop each Wednesday on Disney+. The season finale airs on October 6.