DC's Powerless Pulled By NBC, Likely Canceled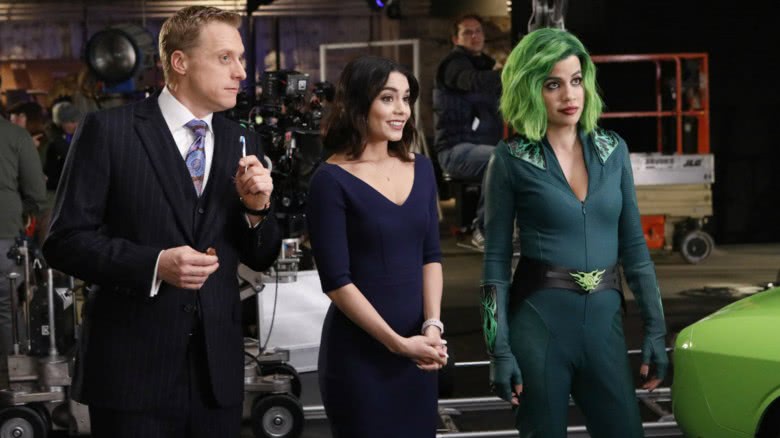 NBC
The producers of Powerless are, well, we won't make things worse for them.
The Inquisitr reports that NBC has quietly pulled the DC Comics comedy from its weekly lineup, signaling a potentially dark future for the series that stars Vanessa Hudgens and Alan Tudyk. Although there are only two episodes left in season 1, it's not clear when fans will get to see them.
Executive producer Patrick Schumacker confirmed the news on Twitter, and admitted that things look bleak. "Powerless will not air this week or next," he said. "This, I know for sure. I can guess some other things, but they're not good. Thanks for watching."
The comedy centers on Wayne Security, a subsidiary of Batman's Wayne Enterprises that specializes in products that make regular people feel safer. Hudgens stars as Emily Locke, the company's new director of research and development, while Tudyk plays her boss (and Bruce Wayne's cousin) Van Wayne. The latter character first appeared in a 1962 Batman comic book.
Powerless was heavily revamped after series creator Ben Queen departed the series, and it wasn't a hit with critics or fans. It currently has a 64 percent approval rating on RottenTomatoes. About 3 million people watched the pilot when it premiered in February, but that dropped to under 2 million by the sixth episode. The show picked up a little steam after that, but not much.
One of the upcoming episodes features Adam West, who plays an executive at Wayne Security. It's entirely possible that NBC will still air the final two episodes at some point (or post them online), but a renewal for season 2 seems unlikely.
While we wait for more details, find out the dumb reason the original Batman series was canceled.