Who Is The Actress In The Phexxi 'Welcome To My Vagina' Commercial?
Phexxi is a relatively new non-hormonal birth control product. The gel requires a prescription but is a use-and-go substance that can be inserted right before sexual congress as opposed to being taken hours beforehand.
To promote this new kind of protection, the brand has launched an ad campaign with the tagline "You Make the Rules," featuring a very in-demand and well-known actress. In fact, she recently won some high-profile awards for a part that's already entered the pop-culture pantheon. She's been in two recent hit television shows and will add a third to her resume sometime next year. The commercial features her lounging in a pink-curtained, pink-upholstered room that resembles a bed chamber. Informing the consumer about the benefits of the product while underlying the side-effects of the aide, she happily prepares for an upcoming date night in a golden robe.
Who is the familiar face appearing in Phexxi's "Welcome to My Vagina" commercial?
This actress has a little bit of Alexis even when she's not playing the role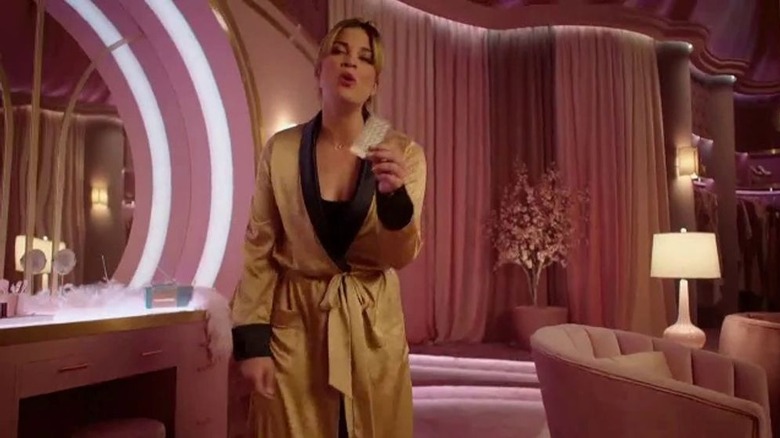 Phexxi/ispot.tv
Your eyes are not deceiving you – that's actress Annie Murphy in Phexxi's "Welcome to My Vagina" ad.
Murphy's career has been on one heck of an upswing lately. The performer, fresh off of her Emmy and Screen Actors Guild-winning (via Deadline) role as socialite Alexis Rose on the CBC and Pop TV comedy "Schitt's Creek," is currently starring in AMC's "Kevin Can F*** Himself." Her performance as Allison McRoberts, a dissatisfied housewife whose cheerful sitcom existence is belied by her plan to kill her loutish husband for some insurance money, has helped the show get renewed for a second season (via Deadline). She's also done voice work on Comedy Central's "Crank Yankers" revival, Adult Swim's "Robot Chicken" and TBS' "American Dad!" over the past year.
Murphy has another upcoming part in the hopper as well — she's set to appear in eight episodes of the forthcoming second season of Netflix's Russian Doll, which filmed this past March (via PopSugar). She's been announced for the upcoming film "Witness Protection," which as of press time remains in pre-production. That's one busy career, and now she can add the title "spokesperson" to her already packed resume.