Fans Are Going Wild For Elton John And Lil Nas X's Uber Eats Commercial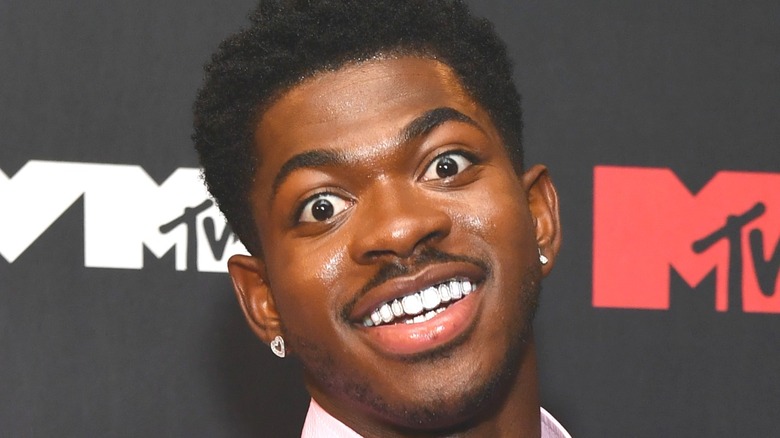 Noam Galai/MTV VMAs 2021/Getty Images for MTV/ViacomCBS
UberEats has released a string of brand new commercials featuring music legend Elton John and blossoming pop star Lil Nas X under a single umbrella campaign called "Tonight I'll Be Eating..." Playing on the twosome's penchant for colorful pageantry and leaning into their knowing love of camp, the commercials have fans of both singers welcoming the ads with open arms. The commercials have even received early critical acclaim, earning AdWeek's Ad of the Day honors.
The spots don't simply promote a food delivery service; they also serve as a promotional tool to hype public awareness for the musicians' upcoming project. They collaborated on a song called "One of Me," which is set to be released on Lil Nas X's upcoming album, "Montero" and John's upcoming "The Lockdown Sessions," as noted by Billboard and on Nas' Twitter.
Keep reading to find out how fans of both men are reacting to the clever ads.
Fans want a whole series featuring these two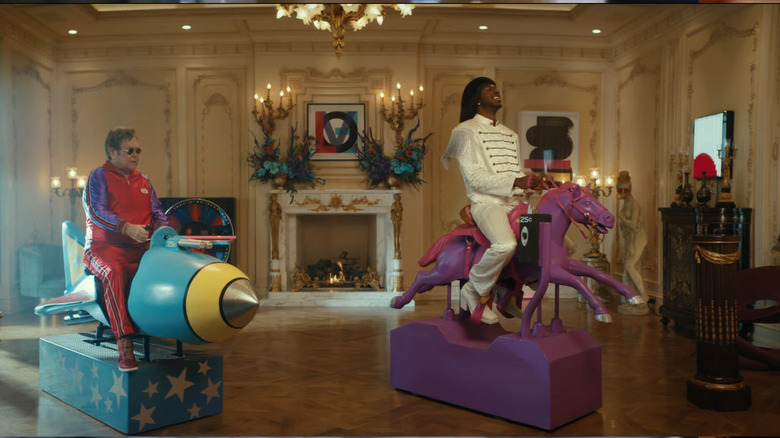 UberEats/YouTube
The first of the three commercials features the men swapping outfits — Lil Nas X wears a costume resembling the feathered one John wore on "The Muppet Show" in 1977, while John sports a look similar to the one Nas wore to the 2020 Grammy Awards. In the second, they can be seen enjoying coin-operated rides, with Elton John's rocket spin coming to an abrupt end when he runs out of cash. The third and last clip has them arguing about the value of dipping your fries in mayonnaise or ketchup. All three ads have resulted in a wide range of gushing comments from fans.
"I love those two!! Icons!!" replied @AprilBendickson to the outfit-swapping commercial on UberEats' official Twitter. "They both look amazing!" agreed @celinacb, adding an array of hand-clapping emoji and faces covered in lipstick kisses. "Aw look at elton tucking lil nas x under his big glorious wings," wrote U Tried It on the YouTube posting of the ad.
"Comedy gold. I need a complete series with these two," replied Bugs Bizz on the YouTube posting of the "Rides" commercial. 
"sitar + flower arrangement + stair case = camp," remarked Isabel Costian in the comments section of the mayo vs. ketchup ad posted to YouTube.
Fans will get to hear more from both singers when "Montero" drops on September 17 and "The Lockdown Sessions" is released on October 22.