The Walking Dead's Lynn Collins Dishes On Playing Daryl's Love Interest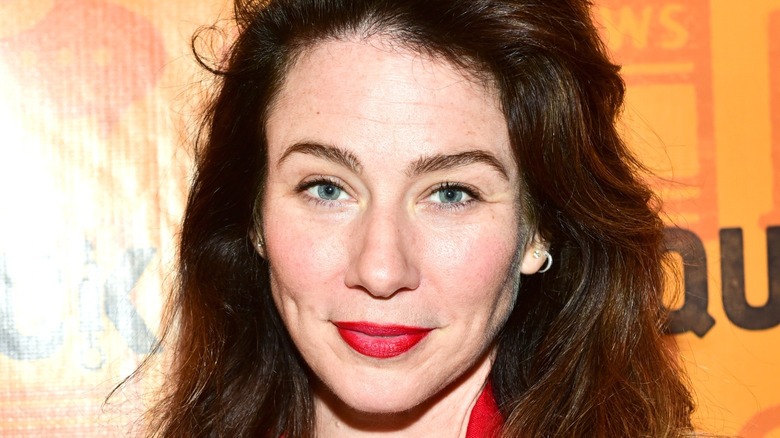 Rodin Eckenroth/Getty Images
When "The Walking Dead" revealed Leah (Lynn Collins) to be Daryl's (Norman Reedus) first official love interest, fans were surprised — especially the ones that ship him with Connie (Lauren Ridloff) or Carol (Melissa McBride,) or who believed him to be asexual. Those fans weren't necessarily happy about the pairing (as certain Reddit discussions proved) and may have even been glad when Leah disappeared. However, the character is officially back as of Season 11 Episode 4, and to make matters even more complicated, she's also revealed to be a Reaper.
The episode, titled "Rendition," saw Daryl and Leah reuniting for a trial by fire, literally. With the head of the Reapers (Ritchie Coster) forcing them into a burning room, the two are expected to fight their way out, after which Daryl will become accepted by the group. However, what's less clear is whether or not Leah is going to accept Daryl back into her life.
"The Walking Dead" showrunner Angela Kang recently revealed to Entertainment Weekly that Leah's story stemmed from Daryl's dog and the idea that the character had gotten the pet from a prairie woman that he had a "complicated" relationship with. "We'd always known she was a Reaper. And so in some ways I was like, 'Well, if people don't like her, that's okay, because she is actually a villain and there's a toxic element to that relationship,'" Kang went on to say.
But how does actress Lynn Collins feel about playing Daryl's first on-screen romantic partner?
Lynn Collins faced backlash from Walking Dead fans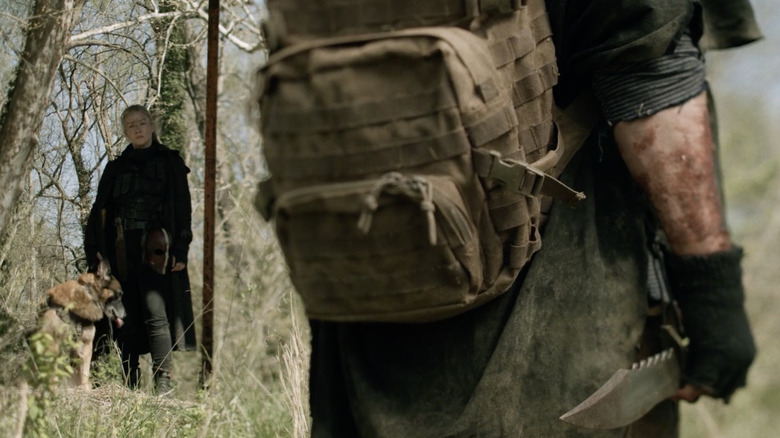 AMC
During a recent interview with Insider, Lynn Collins says she knew she'd be on board for the tenth and final seasons of "The Walking Dead," but had to keep her involvement a secret. She was apparently warned that the show's fans might dislike her because they want Daryl to end up with Carol or someone else. However, she also says that Johnny O'Dell, who ran "The Walking Dead" social media for Skybound, reminded her that working on the series is supposed to be fun and that she didn't have to engage with its fans.
While she acknowledges the importance of the fandom, she dealt with the social media backlash by ignoring the audience's comments and concentrating on the performance. "It's easy to just focus on the work and focus on giving the fans the best show we can possibly give them. Whatever their opinion is going to be about it, we can't control that. We're just here to tell the story," the actress said.
Of course, there were still moments when Collins wasn't sure if she could handle the pressure. "I knew where the character was going," Collins admitted, "and I wanted to be commenting, 'Y'all have no idea. It's not what you think. This doesn't go where you think it goes.' So it's just been a game of how can I keep my mouth shut?"
Her Walking Dead character may be reconsidering her future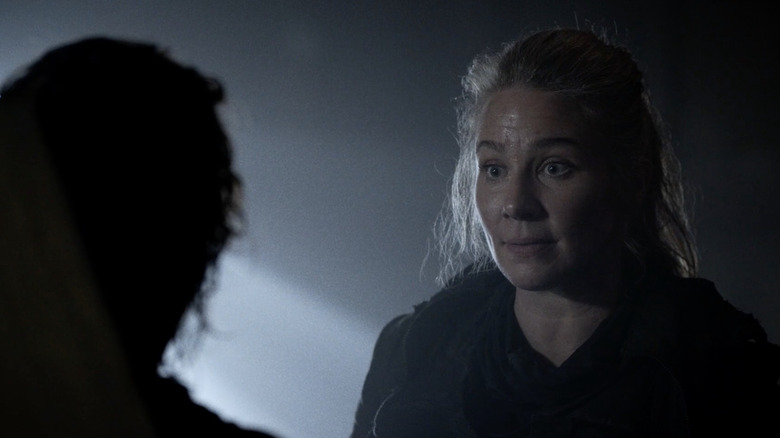 AMC
According to Lynn Collins, Leah is now facing a situation on "The Walking Dead" that forces her to confront her past. "It's that weird situation when you've broken up with someone and there's not a whole lot of closure or no closure at all, and then you see them and what is your expectation in that moment? It's probably a bunch of nausea and weird feelings. I think that's what it is for both of them. [They] never expected to see each other again, but, here they are," the actress explained.
Moving forward, "The Walking Dead" will focus on how Daryl and Leah's relationship evolves now that they're back in each other's lives and she learns that he actually did return for her. "They did have a commitment. It was a relationship. What it becomes now is really what the fun is. I mean, that's why the episode, 'Find Me,' even exists," Collins said. "Does she ever think, 'Should I not be with these people?' Now that Daryl's been reintroduced into her life, she's going to have to think about that. Before, she could just sort of go along with the brainwashing because it's all she had. There was no other choice. It's that or be alone."
Collins added that she thinks Leah works as a character on "The Walking Dead" because it's a show already filled with multi-dimensional people that go beyond hero and villain stereotypes, which is partly why viewers have liked it so much from the very beginning. "Leah's both and she says that in this episode. She's like, 'This is me, the good and the bad, all of it.' I think this speaks to humanity, especially right now," said the actress.
For now, "Walking Dead" fans can look forward to finding out more about Leah's story when the series returns with its next episode on Sunday, September 19.