The Forgotten Sitcom Hidden Gem You Can Binge On Hulu
FX
Some TV shows never really get a chance to capture an audience. They may be too quirky or offbeat to resonate with viewers when they first come out, but every so often, they gain a newfound appreciation years later. You can tell this was the case with the short-lived "Freaks and Geeks," which was canceled after a single season. Even something like "My Name is Earl," which was relatively popular throughout its run, was canceled before it had a chance to air a proper send-off.
Thanks to streaming services, it's easier than ever to check in on these forgotten gems of the past and give them new life. One show that's certainly worthy of more recognition is the 2013 FX series "Legit." It was a critical darling for the two seasons it ran, but that wasn't enough to save it from the ax of network executives. If you're familiar with the stand-up comedy routines of Jim Jefferies, you should already know what to expect with the show. Otherwise, you better not watch these episodes with your parents around.
Legit blended profanity with charm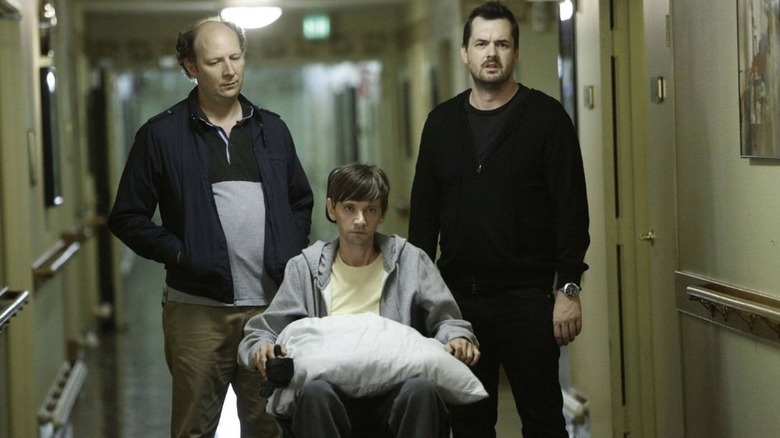 FX
"Legit" sees Jim Jefferies play an exaggerated version of himself. He's a comedian who lives with the depressed Steve (Dan Bakkedahl) and hangs out with Steve's brother, Billy (DJ Qualls). Together, they get involved with all kinds of misadventures, such as driving Billy to a Las Vegas brothel so that he can lose his virginity. However, wacky shenanigans are only part of the story. There's a surprising amount of depth throughout the show's two seasons about what it means to build relationships with others and grow as a person.
As long as you don't mind some politically incorrect humor, "Legit" makes for a worthwhile binge-watch that will keep you laughing from beginning to end. The show was clearly a hit with critics and audiences alike when it was initially on the air, judging by its Rotten Tomatoes scores. Robert Lloyd of The Los Angeles Times wrote, "Jefferies' comedy is by turn smart, obvious, thoughtful and irritating, and quite as much may be said of his series — though his stage demeanor (loud, brash and in control) is softened considerably here by dint of his being a character living among other characters."
"Legit" falls very squarely into the tradition of other outrageous FX comedies like "It's Always Sunny in Philadelphia" and "Dave." If you enjoy those, you owe it to yourself to give "Legit" a chance.