Clint Eastwood Reveals Whether Cry Macho Will Be His Last Film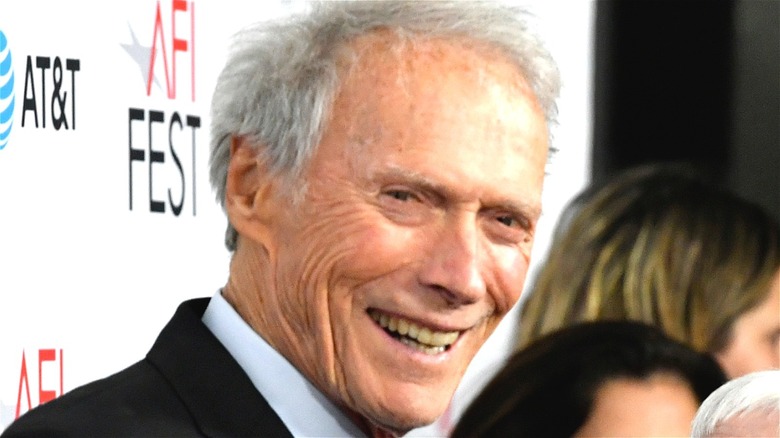 Frazer Harrison/Getty Images
It's a sad thought for many fans, the day when iconic actor-slash-director Clint Eastwood decides to ride off into the sunset after decades in the film business, leaving the string of classic Westerns, the beloved "Dirty Harry" detective series, and dozens of other films in his wake. It's an announcement that the film world keeps anticipating, considering the prolific film hyphenate was born in 1930; but in an interview where he discusses the new Western drama "Cry Macho" — marking his latest turn as an actor and director — Eastwood doesn't appear to be sure whether he wants to hang up his (cowboy) hat just yet.
Eastwood's film debut came in an amusing bit part as a bumbling lab assistant in the Universal Monsters "Creature from the Black Lagoon" sequel "Revenge of the Creature" in 1955. Following a string of small supporting roles thereafter, Eastwood's big break came four years later as cattle driver Rowdy Yates in the TV series "Rawhide."
The actor's rugged good looks when wearing a cowboy hat combined with a looming presence in the series — which ran until 1965 — clearly lit a spark in the film business, and near the end of "Rawhide's" run Eastwood landed a role in what would come to be known as "The Man with No Name," a character in the "Dollars Trilogy" by director Sergio Leone. Dubbed "Spaghetti Westerns" because the films were largely shot in Europe by Italian filmmakers, Leone defined the subgenre with Eastwood's film "A Fistful of Dollars" in 1964, followed by "For a Few Dollars More" and "The Good, the Bad and the Ugly" in '65 and '66, respectively. Before too long, Eastwood took up the mantle of directing films himself.
Cry Macho is only Eastwood's third film as actor and director since 2004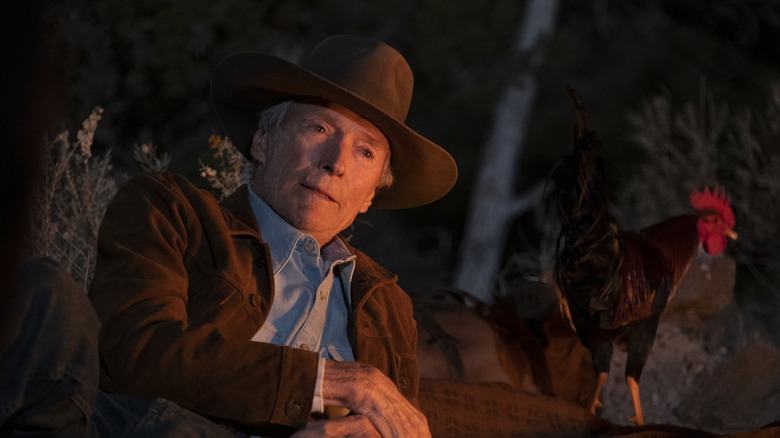 Warner Bros.
Marking his debut in front of and behind the camera for the thriller "Play Misty for Me" in 1971, Eastwood has directed 45 films to date, including the Westerns "High Plains Drifter" and "The Outlaw Josey Whales," and the Oscar winner "Unforgiven," as well as the "Dirty Harry" film "Sudden Impact." After he earned Oscars for directing and producing the 2004 Best Picture winner "Million Dollar Baby"— which finally earned Eastwood his first and only Best Actor nomination — Eastwood acted less frequently, opting to stay behind the camera. Since 2004, Eastwood has only appeared in three films that he's directed: "Gran Torino," "The Mule" and now, "Cry Macho."
Naturally, movie fans have speculated over the years that because Eastwood has appeared in far fewer films than he's directed since he hit mid-70s, that he is done as an actor. Coupled with the fact that Eastwood is in his 90s now, the question has also been raised that he is going to retire from directing, too. Taking on the question of retirement in an interview with the Los Angeles Times to discuss "Cry Macho," Eastwood doesn't seem to know himself whether he's ready to call it a day. It all seems to depend on the potential of what it put before him.
"I don't have anything percolating at the moment," he told the Times, before adding, "I didn't have anything percolating before this one. If something comes along where the story itself, the telling of it, is fun, I'm open to it."
How much longer will Clint Eastwood act and direct?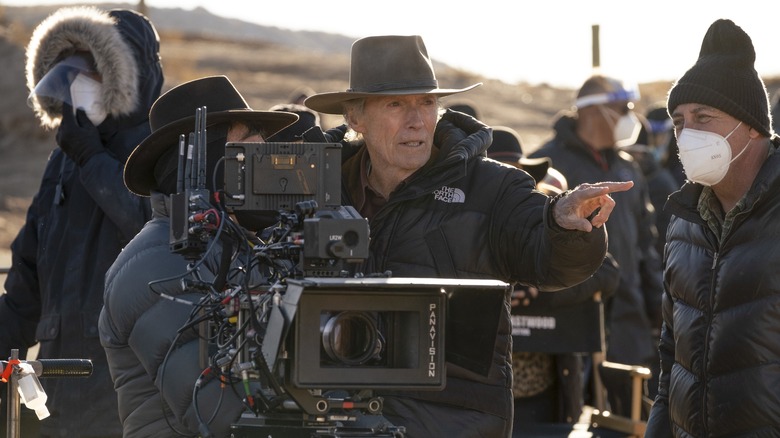 Warner Bros.
Part of the reason Eastwood has directed far more films than he's appeared in since the early 2000s seems to come down to his age: "The whole point of directing was something you can do as an older guy," Eastwood told the Times. Other than that, he added, "I just like it."
However, Eastwood's undying competitive spirit seems to come into play when reflecting on the potential he sees in film projects, telling the Times: "I have nothing against other directors, but I might have a whole different take on things and I don't want to be thinking, 'Why did I give it to him?'"
When it comes to his final turn as an actor, Eastwood seems like he will be leaving that decision up to audiences. According to the Times, one thing Eastwood is mulling is, "What the hell am I still working for in my 90s? Are people going to start throwing tomatoes at you? I've gotten to the point where I wondered if that was enough, but not to the point where I decided it was. If you roll out a few turkeys, they'll tell you soon enough."
"Cry Macho" is new in theaters and debuts on HBO Max on Friday, September 17.