The Universal Studios Monsters Movie You Forgot Clint Eastwood Was In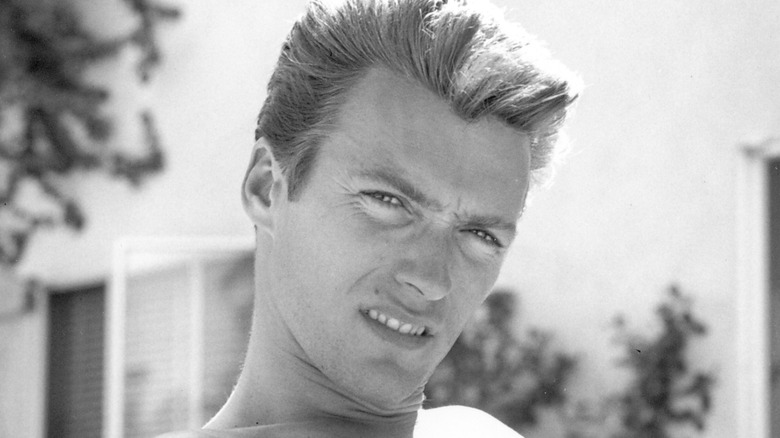 Michael Ochs Archives/Getty Images
Whenever we hear of the Universal Studios Monsters brand, images of Boris Karloff's Frankenstein's Monster or Mummy, Bela Lugosi's Dracula, and Lon Chaney Jr.'s Wolf Man pop into mind. Combined with Elsa Lanchester's shock-haired Bride of Frankenstein and the scaly Creature from the Black Lagoon, the Universal Studios Monsters are among the most indelible characters in horror movie history.
Not only did the films make the lead actors and their characters cultural icons, they sometimes gave young actors their first big break on the silver screen. Among those fresh-faced performers was an Army veteran in his mid-20s by the name of Clint Eastwood, whose appearances in his early films were so inconsequential that he wasn't even credited. As such, Eastwood made brief appearances in films like 1955's giant spider thriller "Tarantula," only known as "Jet Squadron Leader" on reference sites like IMDb.
66 years later, Eastwood is an Oscar-winning director and producer behind such acclaimed films "Unforgiven," "Million Dollar Baby" (which also produced him a Best Actor Nomination), and "American Sniper." In front of the camera, he's the iconic actor in such classics as "A Fistful of Dollars," "The Good, the Bad the Bad and the Ugly," and "The Outlaw Josey Whales." On top of that, Eastwood starred in "Dirty Harry" and its four sequels, "Pale Rider," and "Gran Torino."
Eastwood isn't done yet. In September 2021, the film legend is pulling double-duty as an actor and director once again in "Cry Macho," which chronicles the story of a washed-up rodeo star and horseman seeking redemption. The film marks Eastwood's 72nd screen role — made up of credited, uncredited and cameo appearances — which dates back to one of his first film appearances in 1955 in a Universal Studios Monsters movie.
Clint Eastwood had a bit part in Revenge of the Creature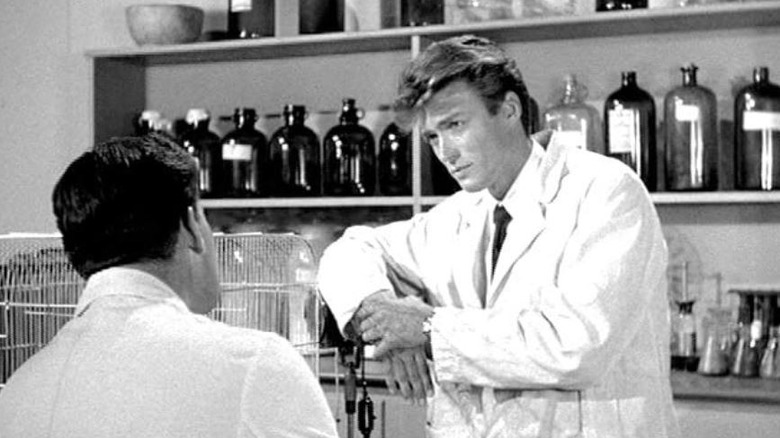 Universal Pictures
Although Clint Eastwood was an Army swimming instructor based at Fort Ord in California during the Korean War, no underwater work was required for the then-newbie actor when he appeared in "Revenge of the Creature." The film was the first of two sequels spawned the 1954 hit "Creature from the Black Lagoon," which won over audiences for the Gill-man's unique design by Milicent Patrick and make-up by Bud Westmore. On land, the towering, ancient creature from the Amazon was played by Ben Chapman, while Ricou Browning handled the character's swimming scenes.
As for Eastwood's place in Gill-man lore, the actor appeared early on in "Revenge of the Creature" as a bumbling lab assistant named Jennings. Appearing with Eastwood in the scene is the film's star, John Agar, as Professor Clete Ferguson, where Jennings attempts to explain to his boss how he thinks one of four lab rats in a cage with a cat went missing. Naturally, Jennings thinks the cat consumed the rat, only to discover that the critter actually crawled into his lab coat pocket.
While the exchange between the professor and his assistant amounted to less than 30 seconds of screen time, it was notable enough for the Universal Studios Monsters movies to lay claim to featuring Eastwood with their already impressive class of Karloff, Lugosi, Chaney, and Lanchester.