The Best American Horror Story Parents According To Fans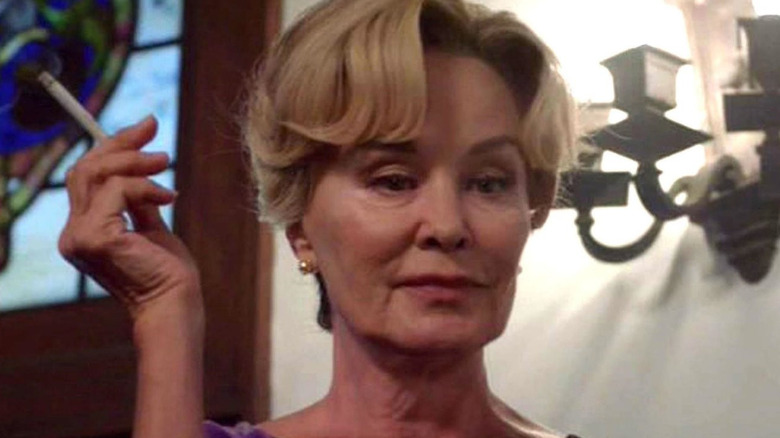 FX
"American Horror Story: Red Tide," part one of Season 10's "Double Feature," showcases a crew of creatives who are literally willing to kill for their art. The story centers around screenwriter Harry Gardner (played by Finn Wittrock), his wife Doris (Lily Rabe), and their daughter Alma (Ryan Kiera Armstrong), who move to Provincetown hoping to find inspiration. Soon, Harry's writer's block is cured, but he learns that to keep those juices flowing he must take mysterious black pills that make him crave fresh human blood. Further complicating matters is Harry's daughter Alma, a violin prodigy, who develops the same affliction after sneaking one of her dad's pills. Disinterested or negligent parents are common on "American Horror Story," although fans do believe there are a few good ones in the AHS Universe.
In "Red Tide," Alma kills without remorse and doesn't bother to cover her tracks. Although Doris has been safely tucked away in the hospital due to pregnancy complications, she's returning home soon, and Alma has been hinting that she feels she'd be better off without her overly solicitous. Lyme-disease obsessed and utterly mediocre mother. Obviously, Harry and Doris have dropped the ball when it comes to parenting: both of them so self-consumed, they allowed their daughter to become a bloodsucking sociopath. No one in this family is winning a Parent of the Year award.
Murphy has introduced viewers to some disturbing parental figures such as "Coven's" Madame Delphine LaLaurie (Kathy Bates) and Fiona Goode (Jessica Lange), "Cult's" Ivy Mayfair-Richards (Alison Pill), and "Freak Show's" Dell Toledo (Michael Chiklis). While choosing the worst seems impossible, fans took to Reddit to cast their votes for the best parents in the AHS Universe, and the results are surprising.
And the best AHS parents are ...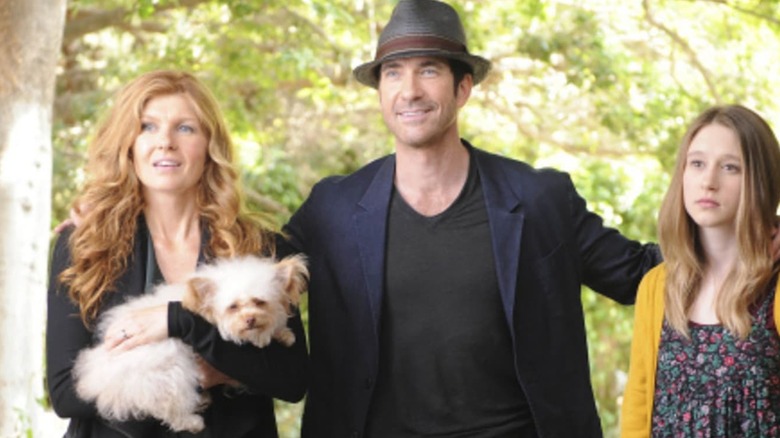 FX
"Murder House's" Vivian (Connie Britton) and Ben Harmon (Dylan McDermott) barely eked out a win over their next-door neighbor and baby snatcher Constance Langdon (Lange) to land the title of best AHS parents. With 228 Redditors voting, Ben and Vivian earned an 86% approval rating, while Constance garnered 85% of the votes. Although Ben and Vivian loved their daughter Violet, they weren't exactly doting parents, failing to notice her romance with the ghost of a serial killer, her self-mutilation, or her depression and eventual suicide. Granted, Vivian was carrying the devil's spawn, and they lived in a house full of malevolent spirits, so maybe fans feel they deserve a pass.
What's more confounding is viewers embracing Constance as a maternal figure. She did pride herself on her mothering skills, and she loved all of her children unconditionally despite any physical, mental, or emotional issues. Constance likely garnered some sympathy after Season 8's "Apocalypse" since the "Murder House" crossover episode revealed that she was so distraught over her grandson being the Antichrist that she took her own life.
A whopping 30% cast their votes for Zachary Quinto's Chad Warwick and his partner Patrick (Teddy Sears), who never had a child: they planned to steal Vivian's twins. Only 27% approved of the job "American Horror Stories'" Michael (Matt Bomer) and Chad (Gavin Creel) Winslow did raising their sadistic daughter Scarlett (Sierra McCormick), even though they handled the disturbing porn they found on her computer pretty well.