The Character On Glee Everyone Forgets Demi Lovato Played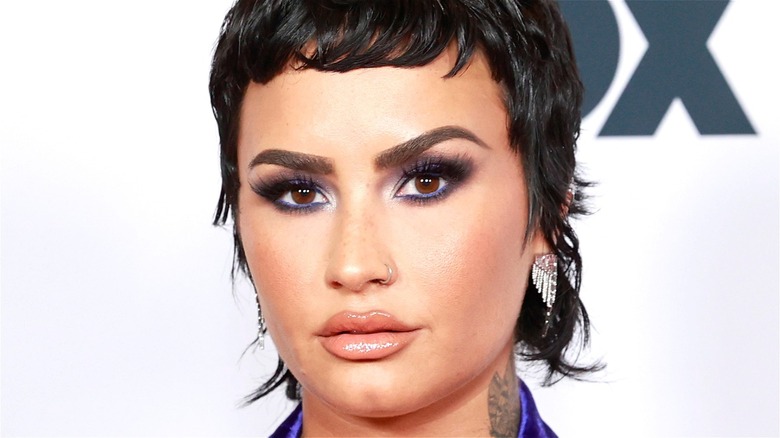 Emma McIntyre/Getty Images for iHeartMedia
"Glee" never met a stunt casting it didn't like. The show — now an essential title in the Ryan Murphy TV catalog — combined the genres of soap opera, jukebox musical, and high school-set satire to create a show that captured the zeitgeist for six years. To fill out the world of the show, the casting department pulled in guest stars from multiple entertainment spheres. By the time the Fox series ended, the guest roster included Broadway stars Idina Menzel and Jonathan Groff, Hollywood A-lister Gwyneth Paltrow, and one icon from the world of mid-2000s gossip culture (via Insider).
Most people will remember early guest stars, like Neil Patrick Harris as Mr. Schue's high school rival, or John Stamos as a dentist who transported students into Britney Spears' music videos thanks to nitrous oxide. But not everyone recalls that the show brought in guest actors from a large group of Disney Channel talent. For example, "Jessie" star Josie Totah played Myron Muskovitz in Season 6, and Josh Sussman appeared as Jacob Ben Israel before joining the cast of "Wizards of Waverly Place" (via CBR). And, if you think back on "Glee" Season 5, you might remember that the titular star of the Disney TV series "Sonny with a Chance" had a brief but memorable role.
Demi Lovato played Dani, a love interest for Naya Rivera's Santana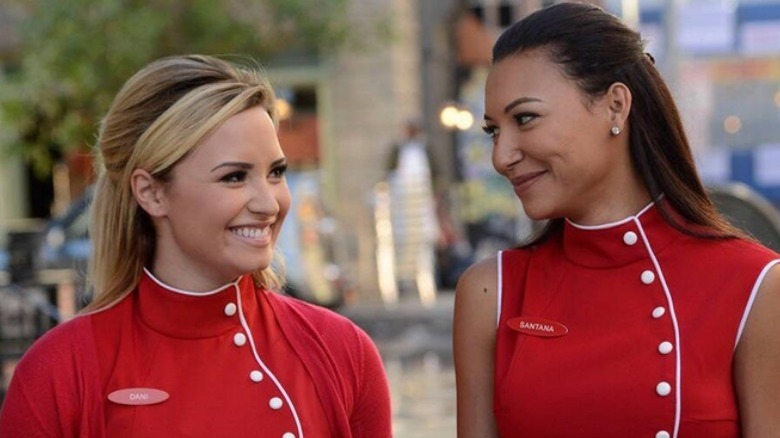 Fox
Demi Lovato, who uses they/them pronouns (via Instagram), played Dani on "Glee" Season 5. Dani was a member of two of Kurt's (Chris Colfer) cover bands. Their character had a romantic thing with Santana (Naya Rivera) at a time when Brittana (the nickname for "Glee" couple Brittany and Santana) was briefly on hiatus. When the McKinley High sweethearts eventually got back together later in the season, Dani faded from the show. In the end, Lovato's Season 5 role lasted just four episodes (via IMDb). 
When Lovato appeared on "Glee," they had just left the Disney fold after their star-making turns in two "Camp Rock" movies and "Sonny with a Chance." As such, Lovato's casting as a queer character was seen as a move to break with their straight-laced House of Mouse image. In a September 2013 interview with E! News, they commented on their "Glee" role, saying, "I don't want people to take from this, 'Oh my god, Demi is kissing a girl.' I want people to take from it [that] this is actually an incredible step in our generation today where I'm able to play a young lesbian on primetime TV."
Years later, Lovato made it known that the role meant a lot as they explored their gender and sexual identity. When Rivera died in 2020, they paid tribute to their former co-star by commenting on Twitter that Santana "was groundbreaking for tons of closeted (at the time) queer girls like me."