The Trailer For The Aquaman: King Of Atlantis Animated Miniseries Will Crack You Up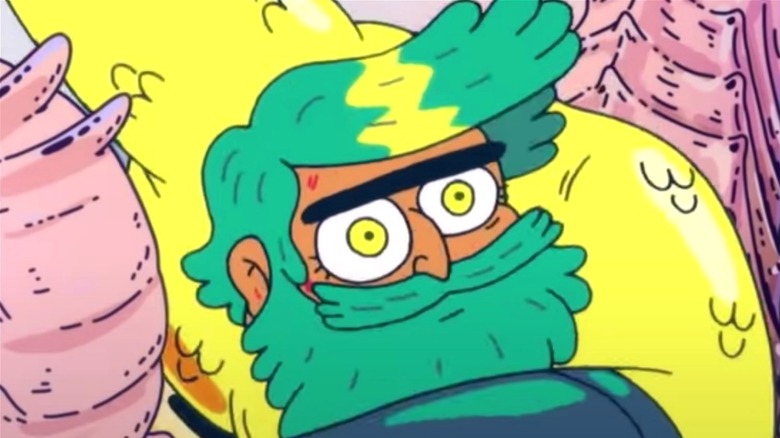 HBO Max
Over the past few years, fans have gotten used to a certain dark tone in most DC adaptations, which makes the new trailer for the family-friendly animated show "Aquaman: King of Atlantis" a breath of fresh air. Released today, the trailer shows that the miniseries will follow Aquaman's first day on the job as the leader of his people. 
Clearly, the TV project has decided to go with an animation style reminiscent of quirky shows that also appeal to adults, such as "Adventure Time," "Rick and Morty," and "Thundercats Roar" — albeit with an even more brightly-hued, glossy sheen to it. The trailer shows that the series going for a campier type of humor, similar to what was in style in comic books when Aquaman was first created. In the trailer, Arthur Curry has his closest companions by his side: Vulko (Thomas Lennon) and Mera (Gillian Jacobs). In a hilarious bit, he also clearly finds that his throne is not particularly comfortable. Dignity is not on display here, and he has not won over his diverse lot of new subjects yet.
Viewers might be surprised at how cute and lighthearted this version seems — and to learn how soon they can check this miniseries out for themselves.
Aquaman debuts on Oct. 14 on HBO Max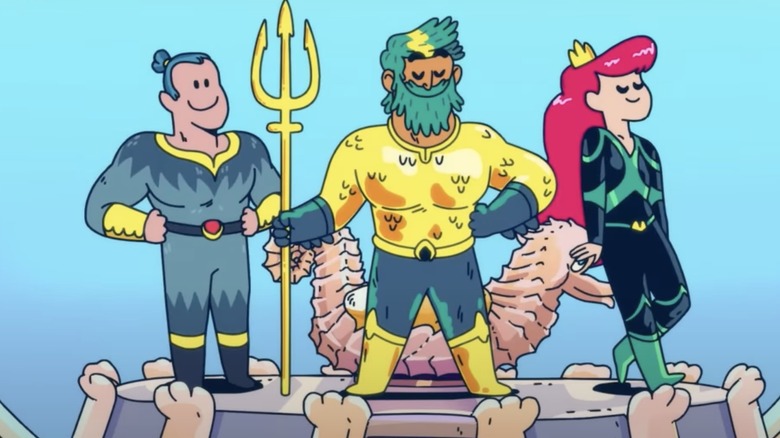 HBO Max
WarnerMedia first announced "Aquaman: King of Atlantis" back in January 2020. "Between dealing with unscrupulous surface dwellers, elder evils from beyond time, and his own half-brother who wants to overthrow him, Aquaman is going to have to rise to the challenge and prove to his subjects, and to himself, that he's the right man for the trident," the press release read. Of course, the creation of this show arrives in the wake of DCEU's edgier take on the character reviving Aquaman's popularity — so it makes sense that some of the same talent is involved in this new series.
The executive producer of this three-episode miniseries is James Wan, who directed 2018's standalone "Aquaman" movie. Victor Courtright ("Thundercats Roar") is acting as co-showrunner with Marly Halpern-Graser ("Batman vs Teenage Mutant Ninja Turtles"), according to Deadline. In February 2021, HBO Max revealed a first look image of Aquaman and Mera's characters that didn't get a whole lot of love on Twitter, mainly due to the "goofiness" of its animation style, but this hilarious trailer may very well change their minds.
"Aquaman: King of Atlantis" will debut on Oct. 14 and will air a single episode every week on HBO Max. It has also joined the ACME Night lineup, which will air Sundays starting at 6 p.m. ET on the Cartoon Network beginning on Sept. 19 (per Animation Magazine). For fans who have been missing the character, it ought to while away some of the time before the second "Aquaman" movie comes out on December 16, 2022.