Where Is Shelley Duvall From The Shining Now?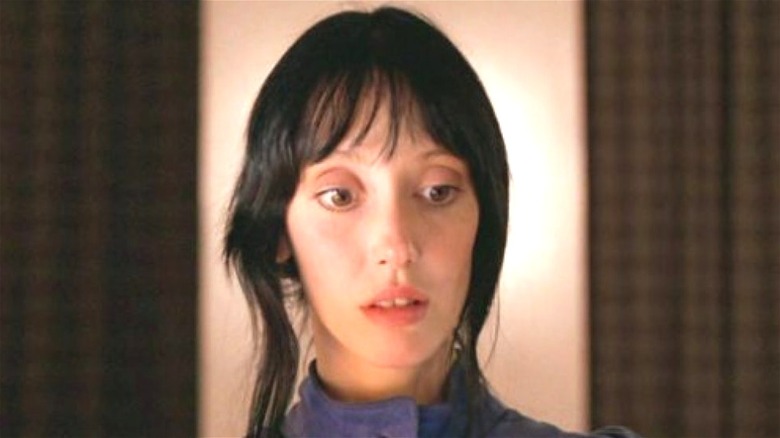 Warner Bros.
Shelley Duvall was a household name in the '70s after quickly rising to fame as one of the biggest movie stars of her generation. She appeared in huge films like "3 Women" as Millie Lammoreaux, "The Shining" as Wendy Torrance, and "Popeye" as Olive Oyl before starring in her live-action fairytale anthology television series "Shelley Duvall's Faerie Tale Theatre." While Duvall's career progressed quickly, her eventual departure from Hollywood and the public eye was just as sudden, and her last acting gig was in the 2002 film "Manna from Heaven."
Duvall moved back to her home state of Texas, where she remained out of the spotlight for years. Then in 2016, she agreed to an interview by the controversial Phil McGraw, better known by his TV persona on his talk show "Dr. Phil." In the interview, Duvall appeared to be struggling with her mental health and made several troubling claims that led viewers to condemn McGraw for exploiting her and express their concern for Duvall.
After that interview, Duvall once again returned to her quiet life away from public scrutiny. However, earlier this year, journalist Seth Abramovitch of The Hollywood Reporter earned the privilege of interviewing Duvall again for a more sincere update on her personal life and what she's been up to over the years after retiring from acting.
Here's where Duvall is now.
The aftermath of Dr. Phil
In the exclusive interview for THR, Shelley Duvall recalled her life following the controversial interview on "Dr. Phil." She became visibly upset before explaining that she "found out the kind of person he is the hard way. My mother didn't like him, either. A lot of people, like [Dan Gilroy], said, 'You shouldn't have done that, Shelley.'" The interview sparked dozens of rumors about Duvall's mental health, but most of the criticism was directed to McGraw for distressing her to such limits as well as even deciding to release the footage.
Following the disapproval and general outrage the interview prompted, McGraw began to reach out to Duvall yet again for a follow-up discussion. "He started calling my mother," Duvall revealed. "She told him, 'Don't call my daughter anymore.' But he started calling my mother all the time trying to get her to let me talk to him again."
A representative for "Dr. Phil" did reach out to THR and explained that they didn't intend to sensationalize Duvall's mental illness, mentioning that she rejected their offers for professional treatment as well. Part of their response states: "After many months of follow-up, in collaboration with her mother, she ultimately refused assistance. We were of course very disappointed, but those offers for help remain open today." No apology was included in the statement.
Duvall was understandably wary of attention following that media frenzy, but she nonetheless agreed to the newest interview with THR.
Shelley Duvall is enjoying life in Texas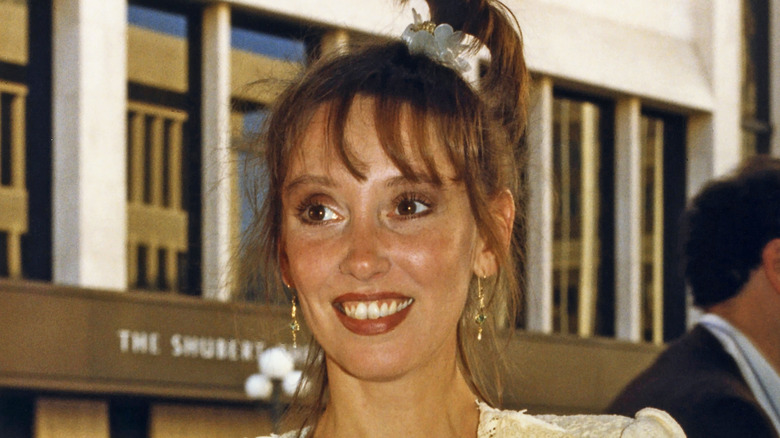 Vicki L. Miller/Shutterstock
As for where Shelley Duvall is now? She moved back to Texas, where she's originally from, and currently lives in the Texas Hill Country area. According to THR, she spends a lot of time driving around her community, chatting with locals who've grown protective of the kindhearted now-71-year-old. She's also still with her longtime boyfriend Dan Gilroy, who used to play in the band Breakfast Club.
While Duvall didn't explain why she and Gilroy decided to leave their Los Angeles home for Texas, Seth Abramovich theorized it was partly due to the 1994 Northridge Earthquake. Whatever the reason may be, she's been back in Texas for a few decades now and seems to be enjoying the quiet life in her small town. She's also made new friends, including a fan named Ryan Obermeyer, who's managed to both track down film memorabilia to gift to Duvall as well as re-connect her with past castmates, such as Paul Reubens of "Faerie Tale Theatre."
No matter where she decides to live, we hope Duvall has all of the love and peace she deserves.
If you or someone you know is struggling with mental health, please contact the Crisis Text Line by texting HOME to 741741, call the National Alliance on Mental Illness helpline at 1-800-950-NAMI (6264), or visit the National Institute of Mental Health website.