The Real Reason Ben Kingsley Returned To The MCU For Shang-Chi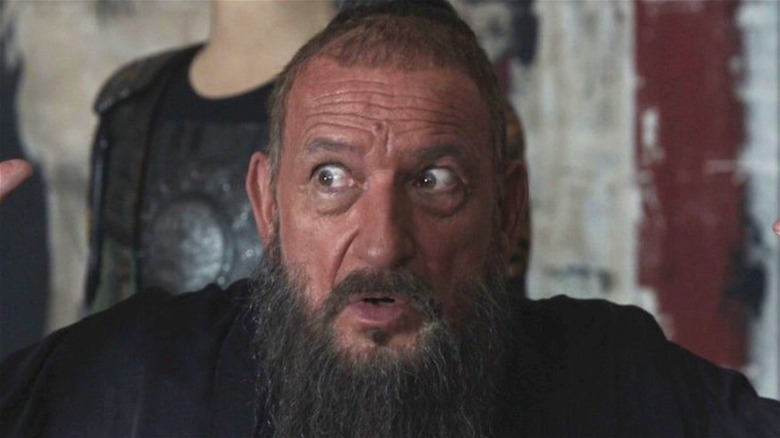 Marvel Studios/Disney
Contains spoilers for "Shang-Chi and the Legend of the Ten Rings"
Marvel's "Shang-Chi and the Legend of the Ten Rings" exceeded most expectations recently by taking in $94.4 million over the Labor Day Weekend. The film also, notably, found room to surprise Marvel fans everywhere by bringing back Sir Ben Kingsley as Trevor Slattery. 
At first glance, it wouldn't seem like Trevor Slattery would have a place in the world of "Shang-Chi." The character first appeared in 2013's "Iron Man 3" as an out-of-work actor hired to impersonate The Mandarin by the villainous Aldrich Killian (Guy Pearce). "Shang-Chi," meanwhile, introduces the real Mandarin, Wenwu (Tony Leung), and it's eventually revealed that he didn't appreciate Slattery pretending to be him in "Iron Man 3." In fact, he even went so far as to capture Trevor and throw him in a dungeon. Despite that, Trevor's appearance in "Shang-Chi" isn't just a cameo. Instead, once the film's heroes cross paths with him, Trevor actually helps them to locate the fabled mystical village of Ta Lo.
Kingsley is, obviously, one of the most decorated and revered actors to ever appear in the Marvel Cinematic Universe, and he doesn't seem at first glance to be someone who would reprise his "Iron Man 3" role simply because Marvel wanted him to. With that in mind, "Shang-Chi" screenwriter Dave Callaham recently revealed exactly how he and the rest of the film's creative team lured the legendary actor back to the MCU.
Ben Kingsley likes playing Trevor Slattery in the MCU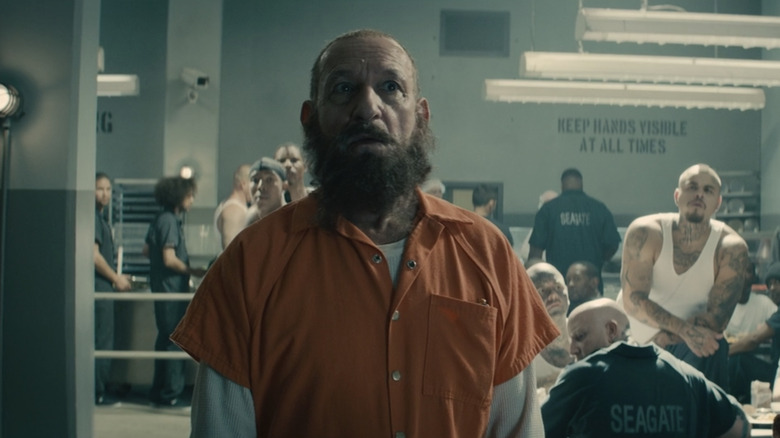 Marvel Studios/Disney
During an interview with The Hollywood Reporter, "Shang-Chi" screenwriter Dave Callaham was asked how Sir Ben Kingsley's participation in the movie came to be. Callaham explained that the "Shang-Chi" team wanted to bring the character back for the film because, with Tony Stark (Robert Downey Jr.) dead, Trevor was the only remaining, pre-existing connection to The Mandarin and the Ten Rings in the MCU. Despite that, he wasn't initially sure if Kingsley would be interested in returning.
"We knew we wanted to use Sir Ben if it was possible, and that was a question we asked very early. 'Would Marvel be open to that? Was that a good experience? Did he enjoy playing Trevor Slattery?' It's been some time since he was in 'Iron Man 3' so I didn't know what his appetite is for coming back to a role like that," said Callaham. Marvel Studios president Kevin Feige apparently gave Callaham his blessing to bring back Slattery, but with one condition. "Kevin said, 'Sounds great. We all love Trevor here. We'd love to see him again. But you guys need to craft the story and then lure him in. And that will be on you guys creatively, to give him something juicy,'" Callaham recalled Feige telling him at the time.
Callaham went on to say that he can't remember if the script had already been written when "Shang-Chi" director Destin Daniel Cretton had his first meeting with Kingsley about appearing in the film. It doesn't matter though, as the meeting clearly went well, with Callaham noting, "It turns out Sir Ben very much likes to play Trevor Slattery." Indeed, it doesn't sound like it took much to convince Kingsley to reprise his Marvel role in "Shang-Chi."