Jurassic World 2 Might Include An Underwater Scene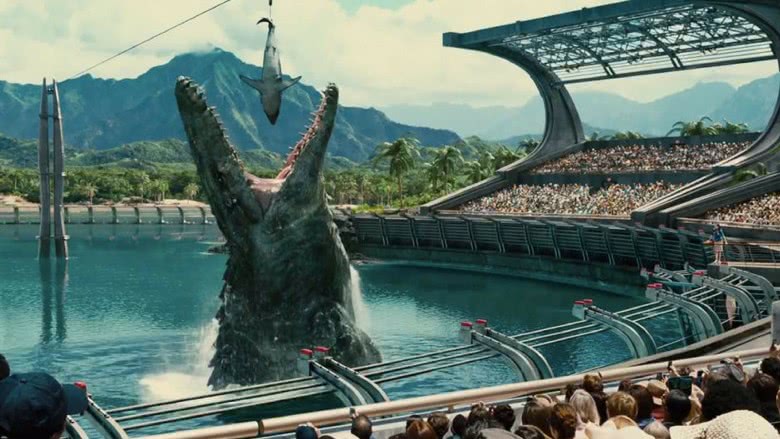 A Jurassic World 2 actor might have just given a huge hint at the film's plot. Kevin Layne, a British actor with past credits in Geurrilla and As Bad as Me, recently told a talent agency that he had landed a role in the upcoming Jurassic World sequel, playing a submarine pilot– and hinting that the movie may be going underwater. (h/t Yahoo! Movies UK)
"I read for two parts, and ended up getting the role of 'submarine pilot,' which was the role I wanted as it is quite an epic scene," Layne said. Although he couldn't offer many specific details, he did say that he will start filming the role in May, adding, "Hopefully I'll be in one of their amazing contraptions, pretending that there's dinosaurs around me."
While it's hard to say for sure if Layne's comments are accurate, the idea of the movie going underwater would actually fit pretty well with the big scale filmmakers are trying to achieve in Jurassic World 2. The possibilities of sea residing dinosaurs were already hinted at in the first film, which showed the Mosasaurus pretty epically devouring Katie McGrath's Zara in one of the film's most memorable deaths. While the Mosasaurus didn't play a huge role in Jurassic World, the mega-monster could easily become more of a factor in the sequel.
Plot details for Jurassic World 2 have been kept tightly locked away, but writer Colin Trevorrow has teased that the movie will go to places the franchise has never gone before (a long list which includes going underwater). He also teased that the movie will be a "parable for the treatment animals received today," a comment which could mean that the animals, used and abused by humans, are forced to become weapons, as was teased in the first film. Star Chris Pratt recently reiterated Trevorrow's comments about the film's scale, also noting that the movie will be "scarier" and "darker" than Jurassic World. 
Jurassic World 2 will roar into theaters on June 22, 2018, so it will be a while before we know for sure if the movie will be going under the sea. In the meantime, head over to Grunge to see some of the dumb things in Jurassic World that everyone just ignored.