The First Trailer For Mike Flanagan's Midnight Mass Is Here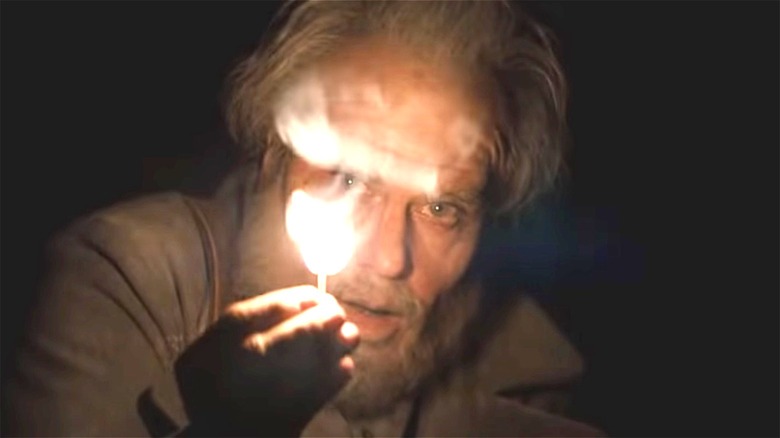 Netflix
Horror maestro Mike Flanagan — the creator of Netflix's acclaimed "Haunting" anthology series and the director of a number of quality films including "Hush," "Gerald's Game," and "Doctor Sleep" — is returning to the streaming service with a new horror project. The writer-producer-director recently tweeted confirmation that there are currently no plans for another season of "Haunting," but he just dropped a cryptic trailer for his new limited series "Midnight Mass," which is coming to Netflix on September 24.
The trailer introduces the decaying seaside village of Crockett Island, a bleak place where life is going from really hard to really weird. Ever since an energetic new priest arrived on the island, strange things have been occurring. Some are miraculous, while some are disturbing — like dead animals washing up on the beach. The strange happenings are deepening the divisions on the island, where things were already tense before the priest's arrival.
The trailer is heavy on mood and mystery, with 15 seconds of the priest ("Legion" star Hamish Linklater) asking "Why?" over quick-cutting footage of unsettling images. The series seems like it will have Flanagan's signature blend of terrifying horror and emotionally heavy drama.
Midnight Mass is special
Here's Netflix's official description of the seven-episode series, which is created and directed by Flanagan: "From 'The Haunting of Hill House' creator Mike Flanagan, 'Midnight Mass' tells the tale of a small, isolated island community whose existing divisions are amplified by the return of a disgraced young man (Zach Gilford) and the arrival of a charismatic priest (Hamish Linklater). When Father Paul's appearance on Crockett Island coincides with unexplained and seemingly miraculous events, a renewed religious fervor takes hold of the community — but do these miracles come at a price?"
In addition to Gilford — who's best known for playing introverted Dillon High quarterback Matt Saracen on the classic TV series "Friday Night Lights" — and Linklater, the cast includes a number of "Haunting" alumni, including Kate Siegel, Henry Thomas, Annabeth Gish, and Rahul Kohli. Other cast members include Rahul Abburi, Crystal Balint, Matt Biedel, Alex Essoe, Kristin Lehman, Robert Longstreet, Igby Rigney, Annarah Shephard, Samantha Sloyan, and Michael Trucco.
In a note accompanying the trailer, Flanagan called "Midnight Mass" his "favorite project so far."
"As a former altar boy, about to celebrate 3 years of sobriety, it's not hard to see what makes this so personal," Flanagan writes. "The ideas at the root of this show scare me to my core."
He writes that there's some "supernatural" evil on Crockett Island, but unfortunately the worst evil in the community is human in nature. But the show is also about faith, "one of the great mysteries of human nature," and how humans have the capacity for faith even in our darkest moments. Sounds like a series that horror fans won't want to miss.