The Surprising Way Christopher Lloyd Compares Doc Brown To Rick Sanchez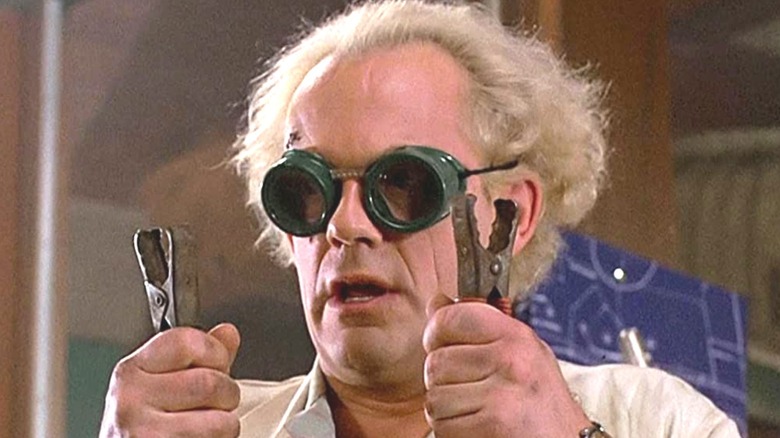 Universal Pictures
In true Adult Swim fashion, the late-night channel has been releasing live-action shorts of Rick and Morty – without any elaboration, beyond including the names of various dimensions within the cartoon show's established multiverse — starring Doc Brown himself as Rick Sanchez. 
Fortunately for fans, the director of these shorts, Paul B. Cummings, has supplied a bit more info on the making of them, albeit not spilling too much detail on what they mean for the series mythology itself. This information came via Cummings answering some questions from Gizmodo's entertainment section, io9, and while (presumably due to a non-disclosure agreement) he couldn't go too deep with any of the specifics that are currently keeping fans up at night — for instance, he could not answer whether the shorts are somehow canon, or whether there are on the way, and any of that stuff — he did share some intriguing tidbits about Christopher Lloyd's approach to playing Rick.
Lloyd's inclusion, of course, is a fun reference to how the animated character is very clearly a homage to his famed Dr. Emmett Brown from "Back to the Future." However, there are some notable differences between the two fictional mad scientists, and this played directly into how Lloyd approached the twisted personality of Rick, and why he was able to so definitively embody the parody version of his classic character during the filming of these 15-second shorts.
Christopher Lloyd views Rick as an 'unhinged' brother to Doc Brown
Paul B. Cummings told io9 that Christopher Lloyd said "he felt that Doc Brown and Rick Sanchez were like brothers that took two very different paths in life" — basically, Lloyd approached it almost as if Rick is an evil twin to Doc Brown, who chose a path of darkness whereas the original Doc chose the light. This fits well with the recent Season 5 finale, as we now know a little bit more of Rick's backstory and why he's such a tortured individual, but that of course doesn't erase all the abuse and murder he has been responsible for over the course of the series.
The director also told io9 that he specifically directed Lloyd to act "unhinged" while filming the "Rick and Morty 100 years" short, based on a scene in the real "Rick and Morty" series in which Rick comically — but also darkly — goes into a drunken monologue about how he and Morty will keep on going on adventures forever and ever, regardless of the consequences.
"Everything was pretty scripted out with not much riffing, but when we shot the '100 years' bit I told Chris to just run with it and repeat the lines over and over and try to get a little unhinged," Cummings explained to io9. "We watched that clip from the show a few times right before shooting it."
Season 5 of "Rick and Morty" concluded on this past Sunday, September 4, and while a sixth season is confirmed, there is no current word on its expected release date.