Tye Sheridan Talks His Intense New Thriller The Card Counter, His Future With The X-Men, And More - Exclusive Interview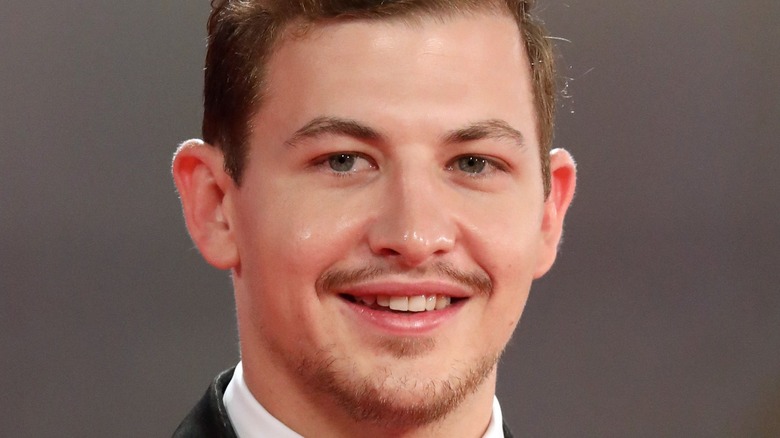 Elisabetta A. Villa/Getty Images
At the relatively young age of 24, actor Tye Sheridan has already amassed a striking resume of film roles while working with some of the most well-known directors around. His feature debut came under the direction of Terrence Malick in "The Tree of Life" (2011), while other major roles include leads for Steven Spielberg in "Ready Player One" (2018) and Jeff Nichols in "Mud" (2012), along with co-starring appearances in David Gordon Green's "Joe" (2013) and numerous others.
Sheridan's new film, "The Card Counter," finds him working with legendary writer and director Paul Schrader, whose own filmography includes penning the screenplays for "Taxi Driver," "Raging Bull," "The Last Temptation of Christ" — all directed by Martin Scorsese — while also writing and directing his own acclaimed dramas like "Blue Collar," "Affliction," "American Gigolo," and "Light Sleeper."
"The Card Counter" stars Oscar Isaac as William Tell, a professional poker player who wanders from casino to casino, tournament to tournament, while haunted by the atrocious sins of his past. Along the way he meets Sheridan's Cirk (pronounced "Kirk"), a young man with demons of his own who proposes a dark plan through which both men can exorcise their psyches and clear their consciences.
Of course, many moviegoers know Sheridan as the young Scott Summers/Cyclops in "X-Men: Apocalypse" and "Dark Phoenix," the last two "X-Men" movies released by Fox before Marvel Studios reclaimed the characters. Looper asked Sheridan whether he'd like to revisit the franchise, and also for his thoughts on working with Schrader and moving between independent films and studio blockbusters. "It's mostly about telling a good story at the end of the day," he says. "If you're telling a good story, I could tell it on a small scale, or big scale, or whatever the movie calls for."
Why Sheridan wanted a seat at the table for The Card Counter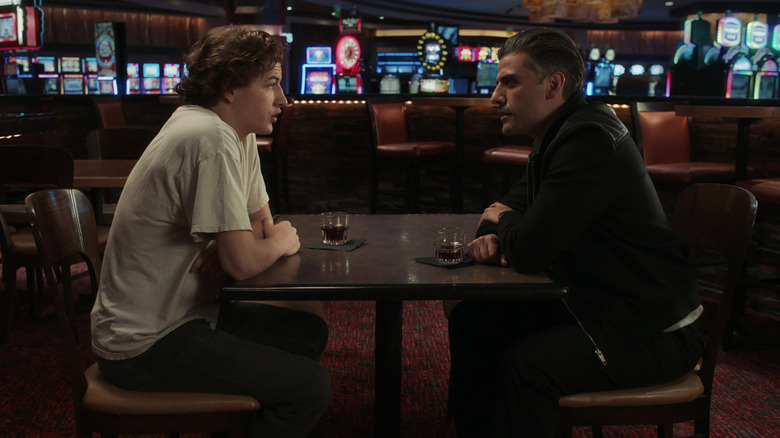 Focus Features
What was your immediate reaction to the script and what struck you the most about "The Card Counter"?
I think mostly these themes about guilt, and past trauma, and how to overcome past trauma. I think that's what the movie is at its core. You have all these characters dealing with it in their own way. I think that is the connective tissue to their dynamic. Obviously, the movie being written and directed by Paul Schrader was super exciting. And I had done a film with Oscar once before, and he's a super great guy and a great actor. So yeah, all those things were exciting.
How familiar were you with Schrader's work as a director and writer? What were the films of his that really got to you?
Probably "Taxi Driver," but also "Raging Bull," "Blue Collar." I love "Blue Collar." I think there were some films of his that I hadn't seen, but some that I had. Obviously, he's got such a varying kind of resume. But I was just super excited about the opportunity to work with somebody like that.
What it was like to make a movie with Paul Schrader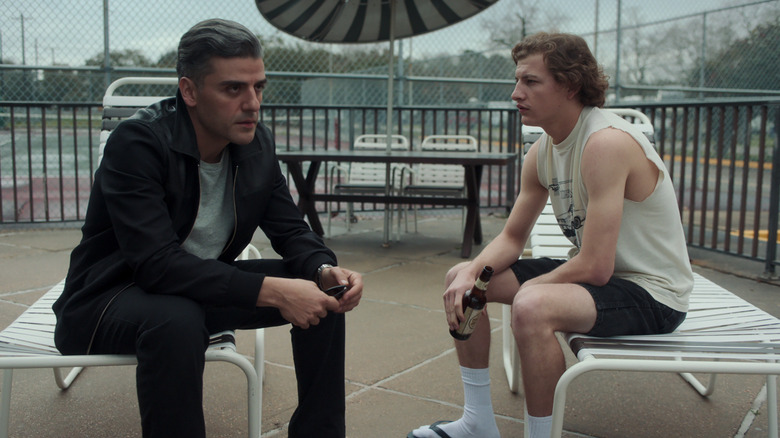 Focus Features
What was it like to meet Schrader and work with him? Was it intimidating in any way or did you hit it off right from the start?
I think that he's a super charismatic guy and he's fun to be around. He does have a very unique style, in the sense that it's very economical, and I think that takes a little bit of getting used to the first couple of days. I think that was just to make sure I can get my footing. I knew I had to be on my toes because I think Paul, he trusts his actors so much that he's going to do a couple takes, and if he feels something, he's going to move on to the next shot. There's no room for "Hey, can I get one more?" So he's funny in that sense. He keeps everybody on their toes.
Do you consider yourself an actor who likes to get through a lot of takes and find the right one as you go along? Or did you have to adjust to be able to nail it as quickly as possible?
Oh, I mean, not necessarily. I don't like to do a lot of takes necessarily. I mean, if you can get it in two takes, it's great. If you can get it one, that's great. You better do two for safety, though [laughs]. I think that's just my philosophy. But no, I think that sometimes it doesn't necessarily ... If there's something that takes a little bit more time to figure out, if there's a scene that's not working or something you need to work out, then iron it out.
But I think with Paul, you definitely know that you're probably going to get a couple of takes. So you come ready, you know your lines, you're focused, and you know what you want to do and you do it. I think if he gives you a compliment, his compliments come few and far between, so they're pretty rare. Not because he's not a nice guy or something. He's not overcompensating on his compliments. So it feels good when you get one.
Reteaming with Oscar Isaac and thoughts on the X-Men movies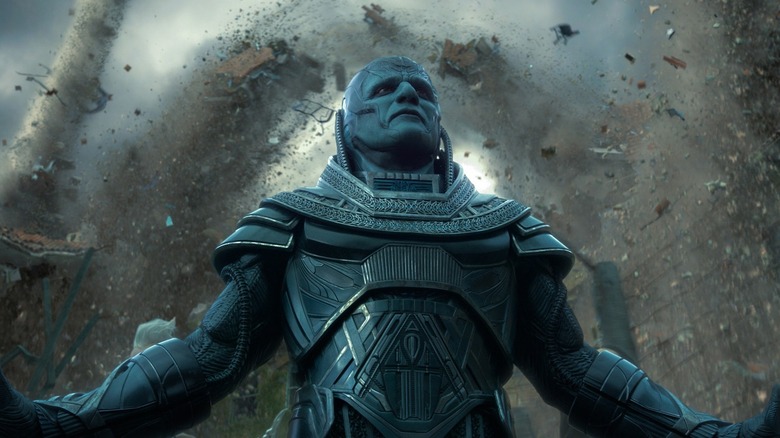 20th Century Fox
You and Oscar, as you said, worked together before on "X-Men: Apocalypse." Was it nice to interact with him when he wasn't covered in prosthetics or CG pajamas or that sort of thing?
Oh yeah. I just felt so bad for him [on "X-Men"] because we were outside shooting in Montreal in the summer. It can get really muggy and warm. It's a bit like New York. He just had all these prosthetics and this crazy cape thing, and I remember the way he would sit down. He couldn't even sit in a chair. He just had to sit on a stool that was elevated. He just looked uncomfortable all the time. I just remember looking at him sometimes and feeling so sorry for him. So this was a much better experience as far as comfort.
Do you feel like you have some unfinished business with the "X-Men" movies? Would you like to go further with it, if Disney wanted to bring some of your cast into the MCU?
I don't really know. I mean, I think what I love about the "X-Men" franchise is that it's exploring really important things, I think historically, if the franchise kept that going, that would be really interesting to me. But I think it's obviously, the context of who's involved, what the films are about — I think it's hard to say.
You'll do smaller films, like "The Card Counter" or "The Night Clerk," and then you'll do something like "Ready Player One" or an "X-Men" movie. Do you feel comfortable moving between the two? What do you like about each?
I don't really have a preference, whether it's a big movie or a small movie. I think that mostly what's important to me is who's involved and how much am I challenging myself. Yes, I think they're different beasts. But I don't really have a preference. It's mostly about telling a good story at the end of the day. If you're telling a good story, I could tell it on a small scale, or big scale, or whatever the movie calls for.
What Sheridan enjoyed about working on George Clooney's new movie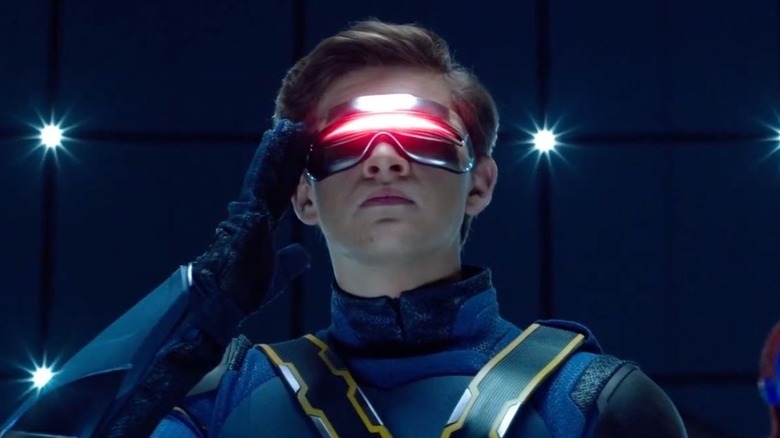 20th Century Fox
You recently worked on "The Tender Bar," with you in the lead role and George Clooney directing. What was that experience like?
We wrapped earlier in the year in April. It was so much fun. It was a great experience. Everybody had a lot of fun, even though we were making the movie in the midst of the pandemic. I had a great time and I was super excited about the film.
Is it different working with a director who's also an actor, like George?
Yes. And I don't think I've ever done that before, so that was fun. I think you could think about it two ways. You could think, "Well, George Clooney is a really great actor and he's going to be watching every take that I do," and you can feel a bit intimidated by that, but it's the total opposite. He does a really good job of making people feel comfortable. He gets it. It's almost like he's right there acting with you and it becomes really fun. So it had a different dynamic. I think our relationship had a different dynamic than I'd ever had with any other filmmaker before, so I really enjoyed it.
"The Card Counter" opens in theaters Friday, September 10.