Kevin Hart Was Reportedly Considered For Genie In Disney's Live-Action Aladdin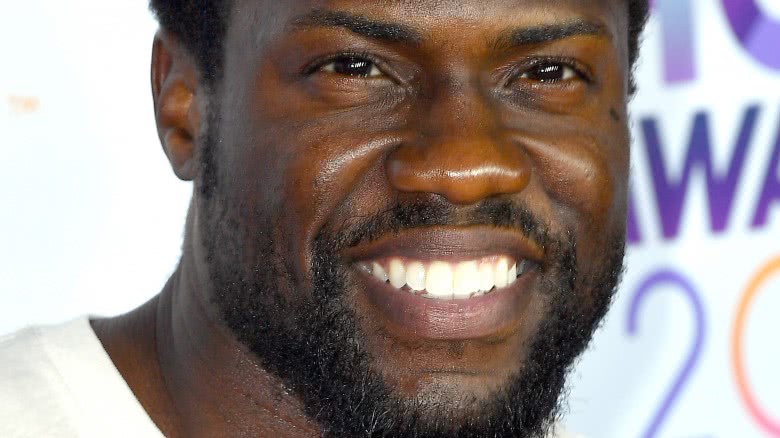 Getty Images
Small man, larger-than-life role.
Following news that Will Smith is reportedly circling the role of Genie in Disney's live-action adaptation of Aladdin, it's been revealed that comedian-turned-actor Kevin Hart was up for the role originally.
Variety film reporter Justin Kroll posted on Twitter that Hart was previously in consideration to play Genie in the film, a part made iconic by the late Robin Williams in the smash-hit 1992 animated movie. Kroll's revealing tweet was in response to Jeff Sneider and Simon Thompson, who speculated on Meet the Press that Hart would be a perfect fit to play Iago (originally voiced by Gibert Gottfried), the nagging pet parrot of nefarious villain, Jafar.
Kroll mentioned Sneider and Thomspon by their Twitter handles in his post, stating, "[It's] funny you said Kevin Hart for Iago in Aladdin 'cause they actually went out to him for the Genie [before] Will [Smith]."Hart hasn't yet confirmed if Disney really did tap him for Genie before they set their eyes on Smith, but it appears he's now no longer in the running for the role. Some have speculated that Hart may have passed on the part altogether or that negotiations fell through due to unforeseen complications. Though Smith hasn't officially signed on for the live-action Aladdin, it certainly seems he's being wooed by Disney to slip inside the magic lamp for the upcoming flick.
Whomever ends up playing Genie, they'll have massive shoes to fill. Remaking a classic animated film for a new generation of filmgoers is tough as it is, but factoring in the task of replacing Williams in the role is even more difficult. This could very well have been a reason Hart turned the project down. Maybe he didn't feel comfortable taking on the part Williams performed so perfectly, or perhaps he felt too much pressure to live up to Williams' legacy.
The actor who decides to climb aboard the Guy Ritchie-directed flick will be in for an "ambitious and nontraditional" spin on the animated classic, working from a script penned by Big Fish writer John August.
As we wait to find out who will play Genie, brush up on all the live-action adaptations Disney has planned for the future. (There's a ton of 'em.)