Who Is The Masked Person In Shang-Chi?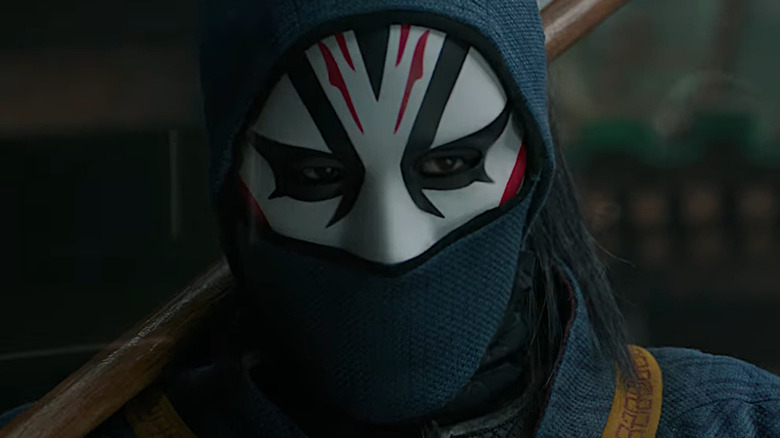 Marvel Studios/Disney
Marvel's newest smash hit, "Shang-Chi and the Legend of the Ten Rings," changes a lot of details from the source material. To be clear, the movie really only uses the bare bones of the 1970s "Shang-Chi" comics, changing and updating the storyline as needed to create a superhero story free of the harmful stereotypes that were baked into the original incarnations of the characters. As such, the depiction of many of the movie's heroes and villains are a major departure from their comic counterparts, who were already not widely known. 
Among these characters is a mysterious masked fighter who challenges Shang-Chi (Simu Liu) throughout the movie — and here's that mystery, solved.
Among Wenwu's (Tony Leung) Ten Rings army, two stand out for their skill and importance: Razor Fist (Florian Munteanu) — aka the giant dude who attaches a blade to his hand — and a nameless masked person, who helped train Shang-Chi in his youth. Within the movie's flashbacks, we see that besting the masked fighter is a sign of Shang-Chi's prowess in martial arts — and success in his training — but it's also clear that the young boy suffered at this person's hand.
The two of them have a spectacularly lit battle in Macau right before Wenwu shows up to bring Shang-Chi home, which concludes right after Shang-Chi gains the upper hand. Then, the masked fighter perishes in Ta Lo, when one of the Soul Eaters does what it does best and eats his soul. He's a short lived character, but he provides plenty of conflict with his blade and flashiness with his killer costume. 
This mysterious figure came into the MCU and left it in the course of one movie, without saying a word, so just who is it behind the mask?
The masked adversary is Death Dealer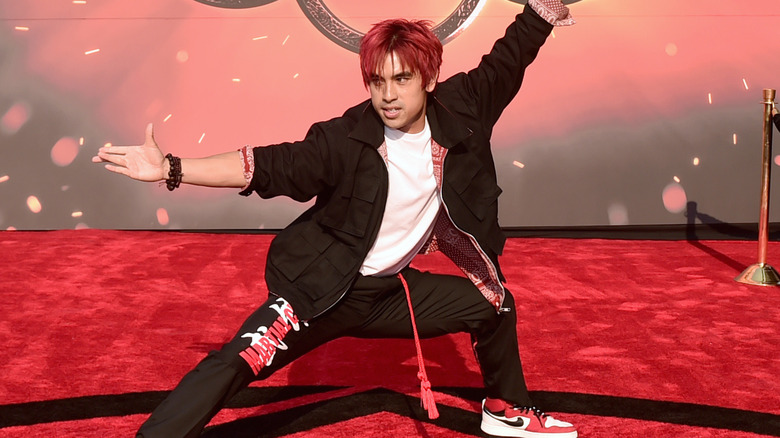 Alberto E. Rodriguez/Getty Images
While the masked person is never given a name in the movie, and we never see his face, he is in fact the character known as Death Dealer, played by martial artist, stuntman, and actor Andy Le. Outside of "Shang-Chi and the Legend of the Ten Rings," Le is known as one of the founding members of Martial Club, a YouTube channel that dabbles in filmmaking, tutorials, and other martial arts-related content.
Le has posted several behind the scene clips from his time filming "Shang-Chi" on his Instagram, as well as a compilation on the Martial Club YouTube account. In case you were wondering, yes, he had to do those stunts in full costume, which is a pain that anyone who's had to exercise in a mask over the last two years can commiserate with. In one post, he wrote, "PAIN IS TEMPORARY BUT FILM LIVES FOREVER. Its a different ball game when you're in full costume, mask and can't breathe." He added that he channeled his "warrior spirit" to do the tough role.
As for Death Dealer in the MCU, little is known about the character other than he was one of Wenwu's most trusted and highly skilled subordinates, evidenced by the fact that he trained Shang-Chi. What about the comics version of the character?
Death Dealer also had a short lived run in the comics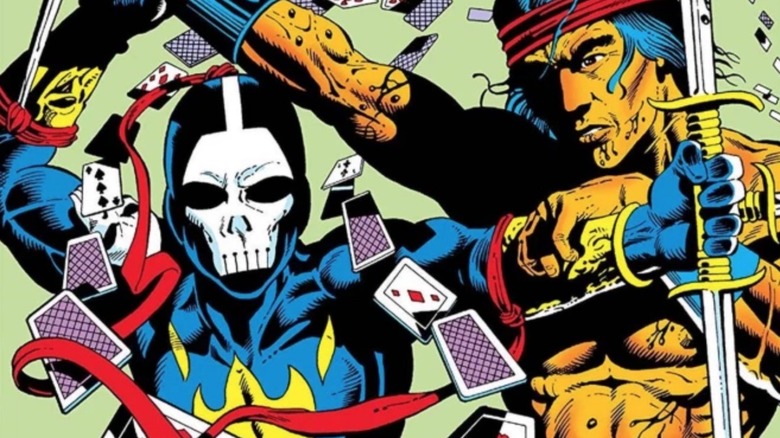 Gene Day/Marvel Comics
The character of Death Dealer made his first appearance is in 1982's "The Hands of Shang-Chi: Master of Kung-Fu" #115, in which he is sans mask and sans fancy name, according to Variant Comics. He's simply Li Ching-Lin, a double agent within MI6, the UK's Secret Intelligence Service, who's actually working for Shang-Chi's father (keep in mind that, in the comics, Shang-Chi's father is not the complex antagonist Wenwu, played by Tony Leung and adored by fans, but a racist caricature named Fu Manchu).
However, Li Ching-Lin isn't doing a great job as an MI6 agent because he's known for being particularly brutal and dangerous even to his fellow agents, so the director of MI6 — Shang-Chi's sister Fah Lo Suee — hires Shang-Chi to take him out. After Li Ching-Lin escapes their fight, he reunites with Fu Manchu, who tells him to become a masked agent called Death Dealer. His first mission is to kill Shang-Chi, but he fails. They fight a few more times before Shang-Chi kills Death Dealer in a fiery act of self defense in issue #118.
Evidently, the MCU version differs drastically from this iteration of the character — even their masks are different — but they share the important things: an allegiance to Shang-Chi's father, and inferior skill to Shang-Chi himself.
"Shang-Chi and the Legend of the Ten Rings" is now playing in theaters.