The Beloved Jack Black Comedy That's Crushing It On Netflix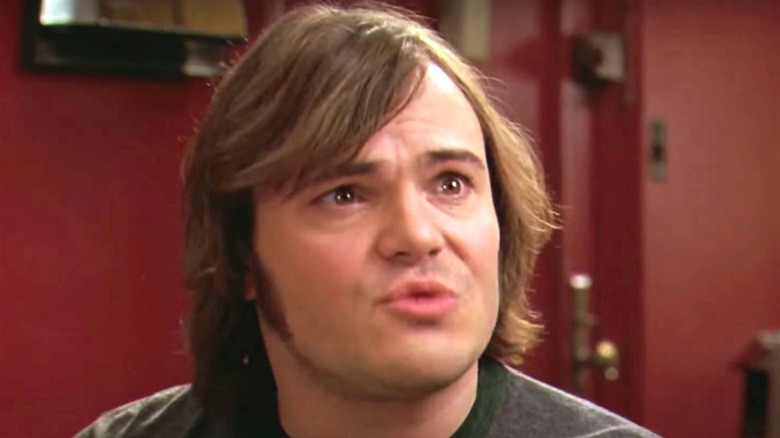 Paramount Pictures
One might legitimately be hard-pressed to find an actor with as varied a movie career as Jack Black. You'd be just as hard-pressed to find one with as many intriguing movies spotting their resume, or even one boasting such a broad range of films, considering the fact that his oeuvre covers everything from raunchy adult comedies to more family-friendly ventures.
Black, of course, made a name for himself in the '90s largely as a comedic supporting player, not to mention as half of the hard-rocking comedy duo Tenacious D (along with Kyle Gass). He broke out and then some in the year 2000 via a scene-stealing turn opposite John Cusack in the beloved indie comedy "High Fidelity," after which the cinematic world was essentially his oyster. 
The actor wasted little time in bringing his outlandish schtick to comedies of all shapes and sizes, even scoring his first leading man role in the Farrelly Brothers' divisive 2001 rom-com "Shallow Hal" (which Black regrets filming). Two years later Jack Black took the lead again, this time fronting a crowd-pleasing hit that put his love of the rock & roll lifestyle front and center. And yes, said film is currently rocking harder than ever on Netflix.     
School of Rock is one of Jack Black's best movies to date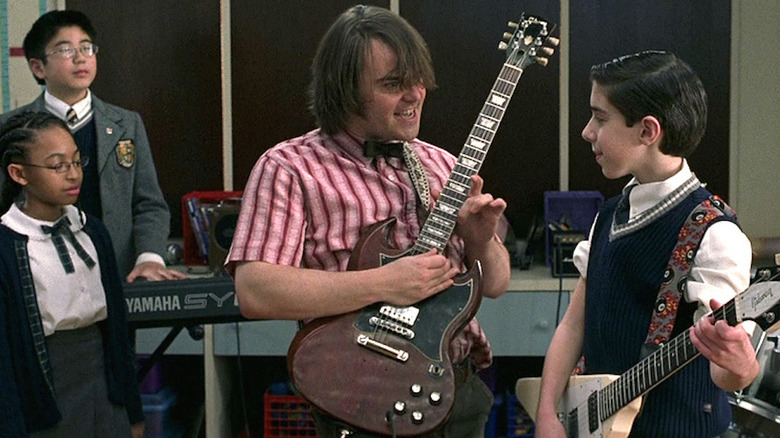 Paramount Pictures
That film, naturally, is the classic 2003 comedy "School of Rock," which found Black playing an egocentric, down-on-his-luck slacker with little ambition beyond rocking out. Directed with boundless style and energy by indie auteur Richard Linklater "School of Rock" also found Black balancing his frequently over-the-top screen persona with more restrained dramatic instincts barely teased in earlier films. 
In dialing back some of his antics, Black delivers one of his most iconic performances (per GQ) as Dewey Finn, the lovable loser at the heart of "School of Rock" narrative. As the film opens, Dewey is unceremoniously booted from his own band and is forced to forge ahead in his quest to "service society by rocking" more or less on his own. He's also forced to get a paying job, since his roomie Ned — "School of Rock" scribe and co-star Mike White — gives an ultimatum to pay the rent or get packing. 
Dewey does so by impersonating Ned and booking a substitute teaching gig at a posh private school. Once there, he's seizes on his students' musical skills, schooling them in the ways of rock in hopes of making them his new backing band. Things get about as hilariously complicated as you might imagine from there as Dewey builds a rock-&-roll house of cards that inevitably comes crashing down around him. Along the way, Black, White, and Linklater craft a razor-sharp, family-friendly-ish comedy with heart, soul, and hilariously hard-rocking energy to spare.    
While fans (and Black himself) have hoped for a sequel to the beloved movie, it doesn't look likely. However, much of the cast of "School of Rock" have gone on to create successful careers in film, comedy, and music.