This Is How Alaqua Cox Is Getting Ripped To Play Marvel's Echo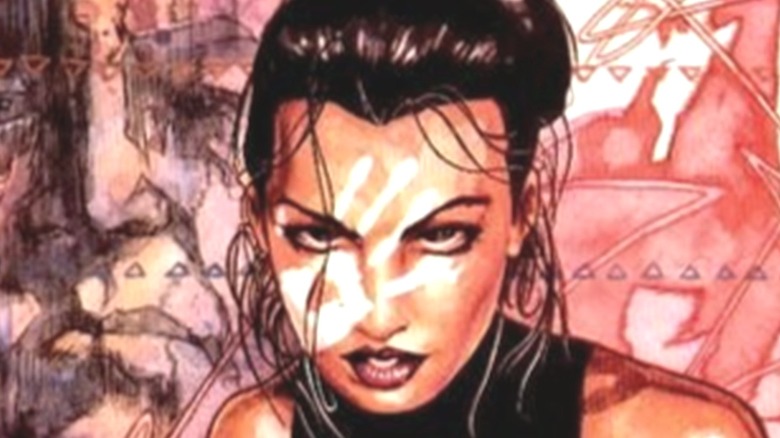 Joe Quesada/Marvel Comics
Created by the duo of David Mack and Joe Quesada, Maya Lopez made her Marvel Comics introduction in May of 1999. As a youth, she watched her father die right in front of her and was then raised by the man responsible: Wilson "Kingpin" Fisk. Adopting the alias of Echo, his guidance coupled with her photographic reflexes made her a skilled combatant capable of going toe-to-toe with the likes of Daredevil the Avengers — all despite her deafness. She has been a hero, a villain, and a Ronin, and now she's about to enter the Marvel Cinematic Universe.
As the MCU has continued to expand, it has bled over into other mediums besides the cinema. Most prominently, Disney+ has become the place to be for long-form, character-driven stories centering on lesser-known Marvel favorites. "WandaVision," "The Falcon and the Winter Soldier," and "Loki" have proven massively successful, prompting Marvel Studios to move forward with a host of impending titles. Once "What If...?" wraps up, "Hawkeye" is next on the release slate, where — alongside Jeremy Renner's Clint Barton and Hailee Steinfeld's Kate Bishop – Alaqua Cox will debut her take on Echo.
In the fashion of countless MCU additions before her, Cox is going above and beyond to prepare for the role of Echo. That includes pumping some serious iron to achieve that patented superhero physique.
Alaqua Cox has put in some hard work at the gym to become Echo
To show off her progress in becoming the Marvel Cinematic Universe's Maya "Echo" Lopez, Alaqua Cox posted a video to her Instagram page on September 5, 2021 of her working out. She handles a few reps of well over 200lbs with relative ease, noting in the caption that "I can now dead lift more than my body weight." Among the numerous fan responses, two of her MCU co-stars encouraged her in the comments, with Fra Fee ("Hawkeye") writing "Awesome Alaqua!" and Lauren Ridloff ("Eternals") adding "Fierce!"
"Hawkeye" wrapped up production in April, leading some to wonder why Alaqua Cox is still keeping up with her superhero conditioning months later. Well, that's because Echo and, therefore Cox, will be the star of her own Disney+ show in the future. As revealed by Variety in March, the program is in the early stages of development, with Etan and Emily Cohen serving as both writers and executive producers. At the time of this publication, nothing else is known about what the Echo series will entail, its extended cast, or even its release date, so we'll simply have to keep an eye out for more info as it comes to light.
Even though we'll have to wait a bit for Echo's small screen solo adventure, we can all look forward to seeing Alaqua Cox's rendition of the Marvel Comics favorite when "Hawkeye" arrives via Disney+ on November 24, 2021.