Jeremy Renner Shares An Exciting Announcement About Hawkeye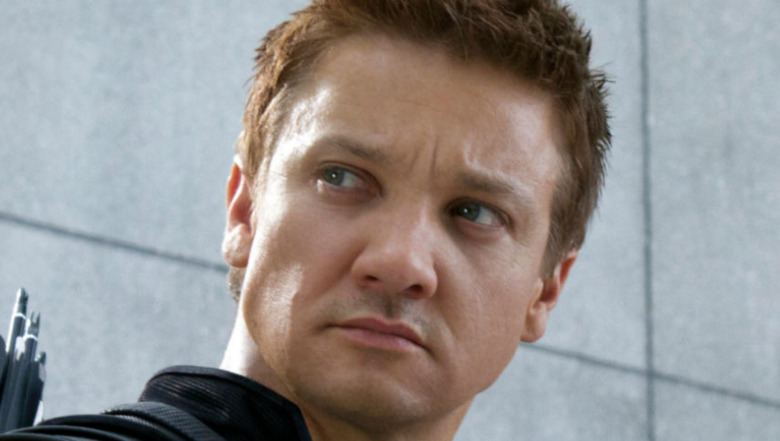 Marvel Studios/Disney
Since the release of "WandaVision" in January, the Marvel Cinematic Universe has set its sights on delivering a constant barrage of new shows via the Disney+ streaming service. They aren't letting up anytime soon, not by a long shot. According to "Avengers" star Jeremy Renner, production for the upcoming "Hawkeye" series has just reached an important milestone, and is presumably set to release on schedule.
This is good news in the wake of the COVID-19 pandemic, which forced several Phase 4 MCU projects to delay production until further notice. Notable examples include the delays of films like "Black Widow" and "The Eternals," which were originally expected to release in summer and fall of 2020 (via Collider). Likewise, the release order of the shows "WandaVision" and "The Falcon and the Winter Soldier" were swapped. Thankfully, it seems like the MCU is back on track after some readjustment, and "Hawkeye" is no exception.
Hawkeye's production jut wrapped, according to Jeremy Renner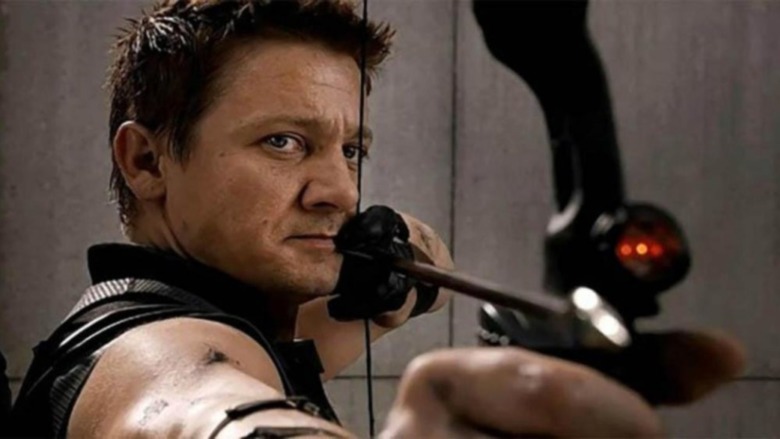 Marvel Studios/Disney
In a recent post on the actor's Instagram Story, Renner uploaded an in-makeup selfie with the caption "Last day, for now ...," suggesting that he has finished filming for the upcoming series. Renner went on to give his thanks to the cast and crew, saying "This is not goodbye, but a see you soon" (via Screen Rant).
Not much else about "Hawkeye" has been officially confirmed by Marvel or Disney, especially in regards to the story. Actress Hailee Steinfeld is confirmed to be joining Renner as Hawkeye's protegee, Kate Bishop. Just like previous shows, their adventures are set after the events of Avengers: Endgame. Additionally, the logo seems to suggest an inspiration from the duo's recent adventures in comics by Matt Fraction and David Aja. Finally, potential set photos pointing towards the appearance of the Tracksuit Draculas as antagonists have spread across the internet (via Twitter). However, the authenticity of these photos cannot be confirmed. 
Regardless, Renner's recent post lines up well with the expected late-2021 release date for "Hawkeye."