The Shang-Chi Relationship That Fans Want To See More Of In The MCU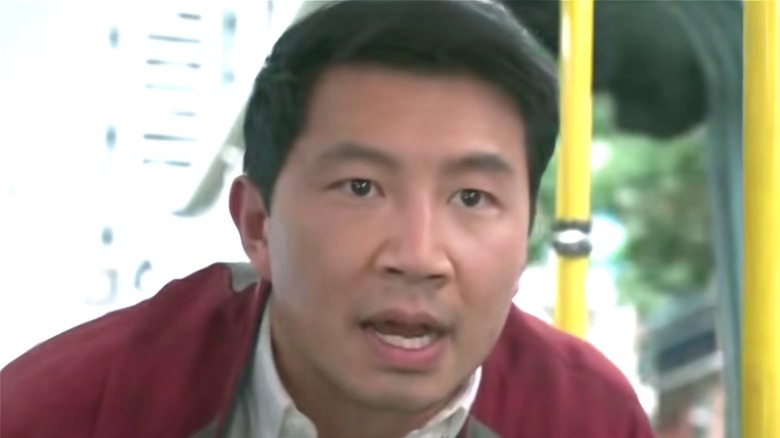 Marvel Studios/Disney
Contains spoilers for "Shang-Chi and the Legend of the Ten Rings."
The Marvel Cinematic Universe has taken over social media in recent weeks, and it's easy to see why. "What If...?" is showing fans alternate versions of our favorite characters from parallel timelines, the long-awaited "Spider-Man: No Way Home" trailer saw its official release, and "Shang-Chi and the Legend of the Ten Rings" is now in theaters — being showered with praise from all sides. Though this was his first and only appearance in the MCU to date, the film has made it abundantly clear that actor Simu Liu's martial artist alter-ego is in for some big things going forward.
After spending much of his young adult life on his own, Shang-Chi is tracked down by his evil father, Wenwu (Tony Leung), and reconnects with his estranged sister, Xialing (Meng'er Zhang), in the present day. Wholeheartedly believing their late mother is alive, Wenwu attempts to bring his kids along to the mysterious Ta-Lo to "free" her. Come to find out, Wenwu was deceived into unleashing an ancient evil capable of taking over the world that lured him in with the voice of his lost love. Thankfully, his children and the people of Ta-Lo save the day, changing the course of their lives forever.
While Xialing picks up the pieces of her now-deceased father's Ten Rings organization, Shang-Chi is about to walk a different path. Now wielding his father's infamous weapons, the Ten Rings, he has convened with the likes of Captain Marvel (Brie Larson) and Bruce Banner (Mark Ruffalo) to become a force for good. All the while, he plans to have his best friend Katy (Awkwafina) by his side, building on their already strong bond. However, it was another more surprising friendship that managed to catch the eye of MCU fans.
Fans want more of Wong and Abomination's history ASAP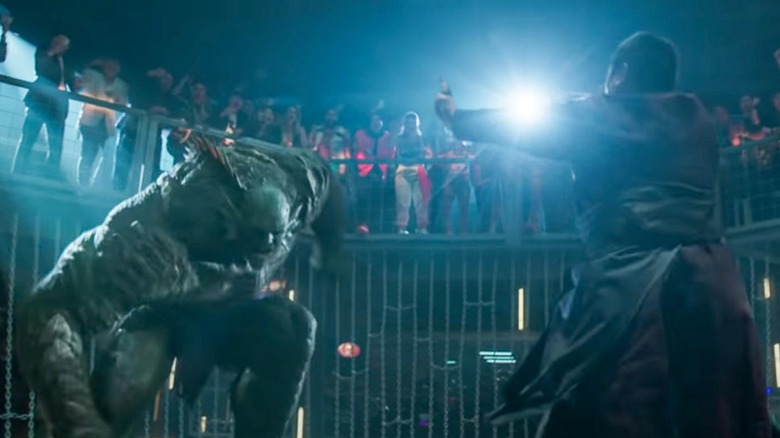 Marvel Studios/Disney
Upon being attacked by Wenwu's Ten Rings enforcers, Shang-Chi and Katy seek out Xialing after she supposedly sent him a postcard with her location written on the back. It leads them to an underground fighting ring where a handful of one-on-one matches are taking place simultaneously. The biggest matchup of the bunch, however, pits Wong (Benedict Wong) against the monstrous Emil Blonsky, better known as the Abomination. The sorcerer takes out the mutated military man with relative ease, and they make their way back to the locker room moments later.
As evidenced by their post-fight interaction, the two MCU mainstays are no strangers to one another. They talked as friends in the locker room and left together via a sling ring portal, with Wong leading Blonsky back to his maximum-security prison cell. Fans on Reddit immediately took notice of their apparent history, prompting a discussion about how they met, why they worked out a deal to throw fights at Xialing's patrons' expense, and, naturally, if we'll ever get to see more of them together. After all, Abomination last appeared in 2008's "Incredible Hulk," so there's plenty of time between then and now that could use some further exploration.
If Marvel Studios has taught us anything over the years, it's that they don't include characters, locations, and the like, without a reason to do so. We'll surely learn more about Wong and Abomination's partnership in the future, and if we're lucky, maybe they'll share more scenes in the coming years too.