Could This Major TWD: World Beyond Crossover Hint At Rick Grimes' Return?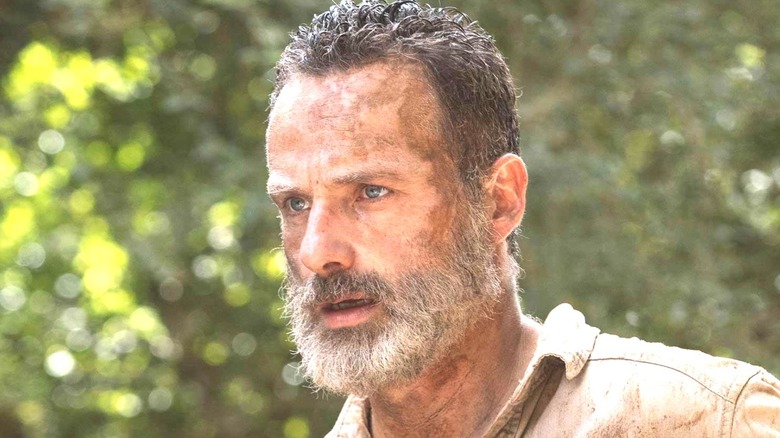 AMC
He hasn't appeared in a single episode of "The Walking Dead" since his shocking Season 9 exit, but fans are still dying to know what became of Rick Grimes (Andrew Lincoln). So too have the steadfast band of survivors he spent the series' first eight-and-a-half seasons fighting alongside, some of whom never gave up hope that he'd somehow survived the deadly bridge blast that sent a flesh-hungry horde toppling into a river, thus saving their lives.
Of course, "The Walking Dead" viewers have known all along that Rick survived the blast. Fans have also known for some time that Rick would return in a "Walking Dead" movie. Unfortunately, the badly-injured Rick was spirited away in a helicopter before he could return to his friends and they all left believing his lifeless body had likely rushed down-river with all the walkers he defeated. That all changed in a season 10 episode of "The Walking Dead" when Michonne (Danai Gurira) unexpectedly found proof of Rick's possible survival among the rubble of a decimated island community.
Said discovery promptly sent Michonne on the hunt to find the man she loved. Coupled with news that Season 11 of "The Walking Dead" would be its last, fans have been theorizing Rick might make his return to the series. With the recent reveal that a key player in his disappearance is coming back to "The Walking Dead" universe, that theory has only gained steam.
The return of Jadis could also lead to Rick's return to The Walking Dead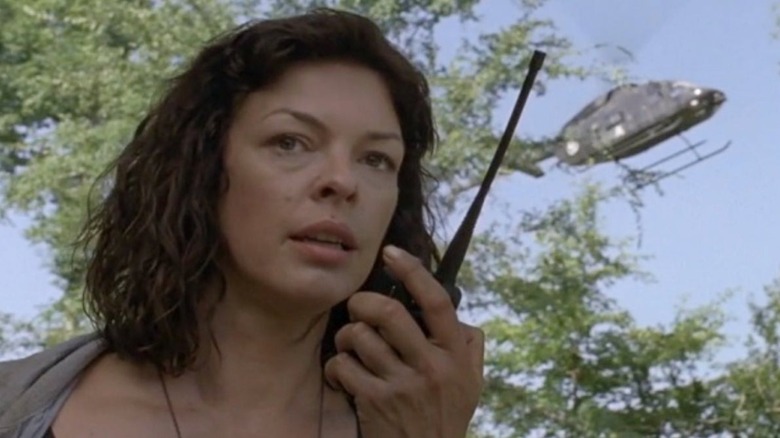 AMC
Pollyanna McIntosh's Jadis (a.k.a. Anne) first appeared in season 7 of "The Walking Dead" leading the junkyard-dwelling Scavengers. After joining Rick's crew in the wake of their war with the Saviors, she was also revealed to have dealings with another powerful group — which fans have since learned was the Civic Republic Military. Yes, it was that very crew who whisked she and Rick away via helicopter in that Season 9 shocker.
The CRM has since taken center stage in "The Walking Dead" universe with the spin-off series "World Beyond," itself set after the events of the main narrative. With the second and final season of "World Beyond" soon to hit AMC+, the recently released Season 2 trailer revealed the unexpected return of Jadis, who now appears to be a CRM heavy. 
As a reminder, Jadis actually offered Rick up to the CRM crew in exchange for that helicopter rescue, so it's unlikely they'd still be pals — assuming he's still in the picture and/or stuck working off a life-debt to the CRM.
In any case, it's pretty unlikely Rick will appear on "World Beyond." Nonetheless, executive producer Scott M. Gimple did tease in a recent statement (via Entertainment Weekly) that "we'll get hints of what happened with that fateful helicopter ride." In other words, even if Rick doesn't appear in the flesh, fans may finally learn what happened to the "Walking Dead" universe's former leading man.