What Netflix's The Chair Gets Wrong About Academia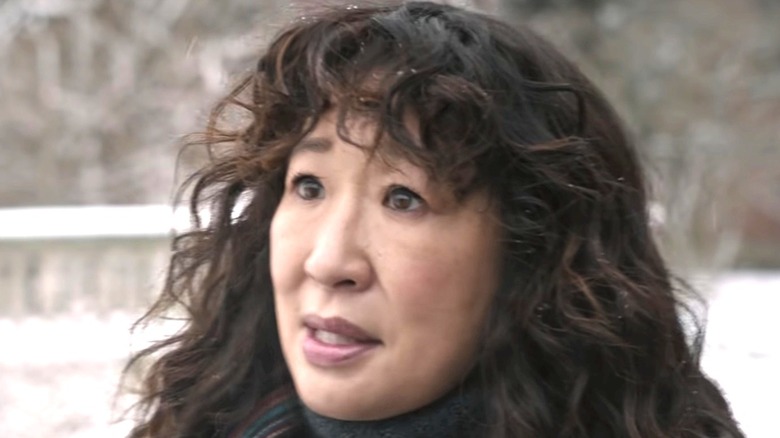 Netflix
"The Chair," one of Netflix's newest shows, is proving that the drama that goes on within a college's English department can be just as compelling as all the medical and legal dramas out there.
Created by Amanda Peet and Annie Julia Wyman, "The Chairs" follows Ji-Yoon Kim (Sandra Oh) as she begins her new position as chair of the English department at the fictional Pembroke College — the first woman to take on such a role. With the department losing out on class enrollments and being scrapped for funding, Ji-Yoon's new job proves challenging right off the bat. She must contend with the tension between younger and older faculty, an uphill battle advocating for the tenure of a professor of color, and a campus-wide scandal involving a colleague named Bill (Jay Duplass), whom Ji-Yoon also happens to have romantic feelings for. Meanwhile, at home, Ji-Yoon struggles to connect with her strong-willed and outspoken adopted young daughter, Ju Ju (Everly Carganilla). Bob Balaban, Nana Mensah, and Holland Taylor co-star as other faculty members in the department.
"The Chair" feels so grounded in reality that some viewers have questioned whether the series is based on a true story or not. And while it's not directly pulled from real life, the series does accurately reflect a lot of what the world of academia looks like, from funding issues to inter-department drama, which was a goal of Peet's and Wyman's. However, even the most accurate shows must have some alterations or exaggerations to make them fit smoothly into a television narrative. Thus, "The Chair" is not without its inaccuracies. Here's what real-life professors have to say about the Netflix series.
Yaz would've faced more hurdles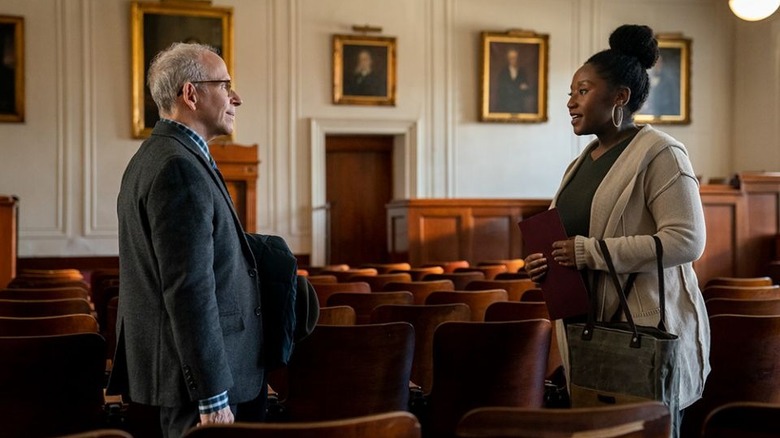 Netflix
On "The Chair," Yaz McKay (Nana Mensah), a young, brilliant, and popular Black professor, is working on getting her tenure. An older faculty member, Elliot Rentz (Bob Balaban), wary of her unconventional teaching techniques and jealous of her popularity amongst students, is reluctant to write her the shining recommendation she deserves, making it harder for her to receive her tenure. Later in the series, Yaz gets a job offer from Yale.
According to some female professors of color who spoke to Business Insider about "The Chair," the Yale offer was one of the most farfetched elements. Nikki Brown, a Black associate professor at the University of Kentucky, said it was one of the things that "didn't make sense" and that it downplayed just how much more of a fight it is for Black women to achieve any kind of "esteemed status" in academia. Racheida Lewis, an assistant professor in the School of Electrical and Computer Engineering at the University of Georgia, added, "Having Yaz get poached by Yale negates her entire storyline about being worried over tenure ... you can be an exceptional person and still be denied tenure. There's a disproportionate amount of brilliant Black women who don't get tenure."
Angel Jones, an Afro-Latina assistant professor at Southern Illinois University Edwardsville, also spoke to Insider about watching "The Chair." She said that while she had "visceral reactions" to how Yaz was treated, finding it entirely relatable, she felt that the series "let white women off the hook" in how they can also contribute to the kind of treatment — including microaggressions — that women of color face in academia.
Where's the adjunct faculty?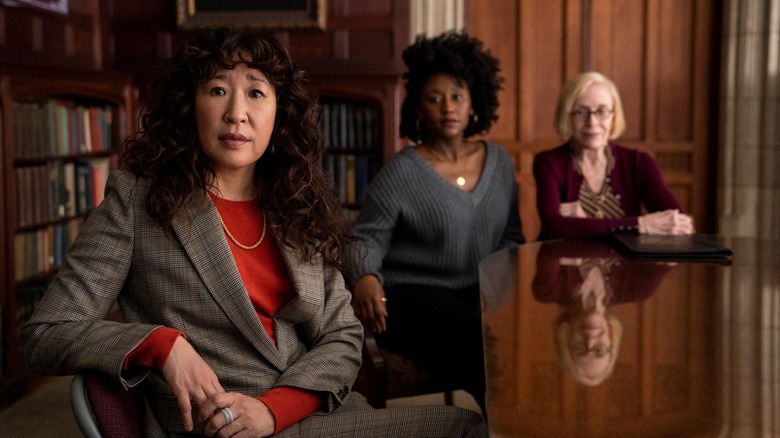 Netflix
Many of the professors that Business Insider spoke to pointed out that "The Chair" doesn't depict any adjunct professors. According to the outlet, 70% of instructional staff appointments in U.S. colleges and universities are "contingent, non-tenure-track positions," which are more "precarious," lower-paying, and oftentimes lacking in health insurance and other benefits when compared to tenured positions. Notably, women and professors of color who have been hired in recent years were more likely to be listed as adjunct rather than tenure-track professors.
Angel Jones told Insider that at a previous institution she worked for, the majority of the adjunct staff were Black women. "There's the misconception that we made it just because we earned our PhDs and that after getting the advanced degree, we don't have any problems," she added. 
If there had been another professor of color on the show who was in an adjunct position, the messaging about what women of color go through in academia may have been even stronger than it already was with Yaz's storyline.
Racheida Lewis concluded with her conflicted feelings on what the series gets wrong, saying, "I noticed the exaggerations because this is my field, and you can't blame them for not getting everything right because there needs to be a certain level of dramatization for entertainment purposes." She added that she thinks the show "has a responsibility to some extent to portray things accurately because even though it's fiction, it's telling the story of things people are actively dealing with today and some people are triggered by those things."