Is Netflix's The Chair Based On A True Story?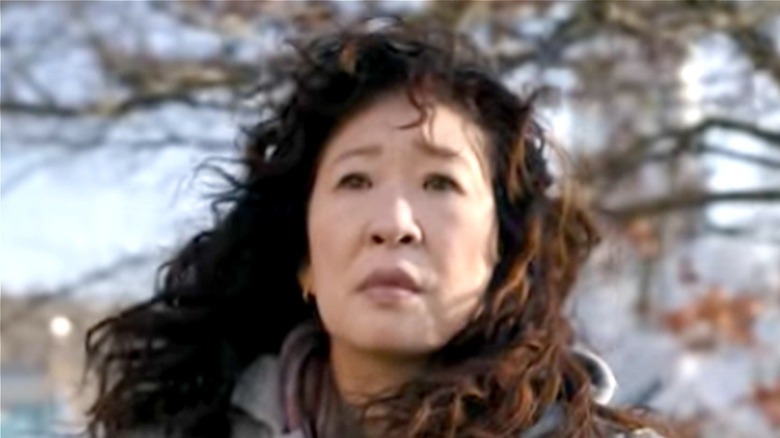 Netflix
One of Netflix's newest shows, "The Chair," immediately began captivating audiences following its August 20 release. The series, created by Amanda Peet and Annie Julia Wyman, stars "Killing Eve" and "Grey's Anatomy" alum Sandra Oh as Ji-Yoon Kim, the newly appointed chair of the English department — and the first woman to ever hold the position — at fictional institution Pembroke College.
In her new role, Ji-Yoon must contend with the English department's decreasing enrollments, tensions between older and younger faculty members, and the progressive student body becoming increasingly outspoken about their professors' behavior. Ji-Yoon must also deal with her romantic feelings for her colleague, Bill Dobson (Jay Duplass). Bill has his own issues as he deals with his wife's death, his daughter's recent departure for college, and a fall from grace after he makes a problematic joke that ignites a school-wide controversy.
Everything about "The Chair" feels authentic. The issues addressed on the show, including those centered on gender in academia and the thin line between theoretical political discourse and actual political statements, reflect our reality. Ji-Yoon is a complex character whose mistakes are as understandable as her triumphs. And it's not just Ji-Yoon who is accessible to audiences. All of the characters, including Bill and Ji-Yoon's strong-willed young daughter, Ju Ju (Everly Carganilla), are similarly vividly depicted. Fans enamored with the show may be wondering if it has any basis in reality; did Peet and Wyman pull from real-life college stories? Here's what we know about the inspiration behind Netflix's "The Chair."
The Chair is not based on a true story, but it does reflect real life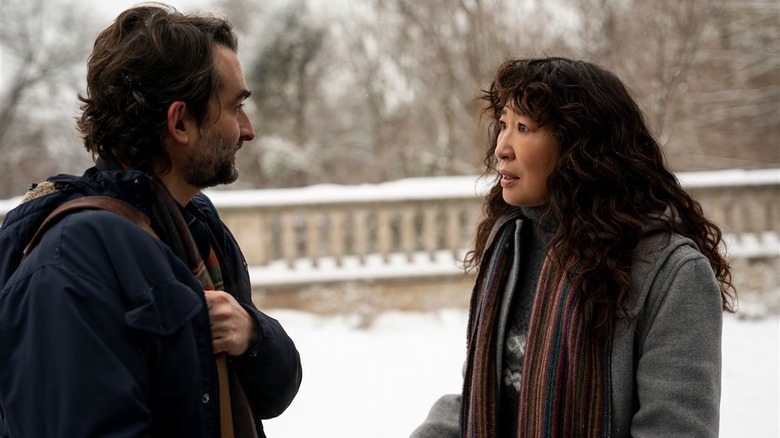 Netflix
A piece from The Ringer about "The Chair" states the show is not based on a true story, but there is truth in the show's exaggerations about the inner workings of a small college's English department. The Ringer explains that Wyman, who has a Ph.D. in English from Harvard, and Peet intentionally set out to make a show full of authenticity and that is "rooted in the concerns of real-life academia."
"The Chair" creators wanted to make sure the show was both timely and covered all sides of an issue. For example, when Bill offhandedly Nazi salutes during a lecture, reactions vary wildly. Bill refuses to apologize, while students insist that the once-adored professor owns his behavior. The differing reactions reflect the varying ages of those working in the show's writers' room. According to Peet, "It was really important to me to have that intergenerational tension. So it was really great to have these different age groups in the room."
Wyman added to this, telling The Ringer, "It came about through a certain amount of both agreement that these stories need to be explored and disagreement about their final disastrous or not-so-disastrous effects on society."
Another major storyline with ties to real-life issues focuses on Yaz McKay (Nana Mensah), a popular and brilliant Black professor. Throughout the season, Yaz struggles to get tenure due to the prejudices of an older faculty member. The Ringer reminds readers that this storyline echoes actual denials of tenure for Black academics like Cornel West (via The Harvard Crimson) and Lorgia García Peña (via The New Yorker). 
Though it's not based on a true story, there's no denying "The Chair" is outrageously entertaining. The dramedy is currently streaming on Netflix.