The Ending Of The Chair Explained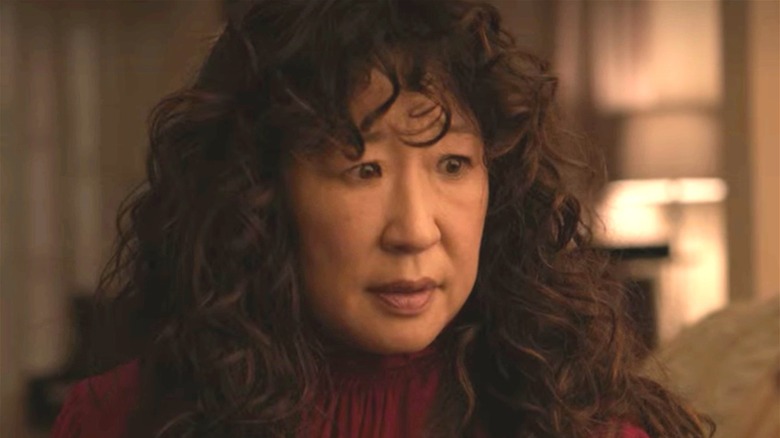 Netflix
Set in a picturesque New England town, the new Netflix comedy-drama series "The Chair" stars Sandra Oh as Dr. Ji-Yoon Kim, the new chair of the English department at a fictional college called Pembroke University. She's the first woman to ever hold the position, and well that is reason to celebrate, her time in office doesn't start off great, as longtime professor and close friend — possibly more — of Ji-Yoon, Dr. Bill Dobson (Jay Duplass), stirs intense controversy after jokingly doing a Nazi salute in one of his lectures. This leads Ji-Yoon, who is also dealing with personal issues at home surrounding her adoptive daughter Ju-Hee "Ju Ju" Kim (Everly Carganilla), to take the blame and make the decision of whether or not to fire Bill. 
The new series, which has six episodes in total in Season 1, has done very well with audiences and critics, earning an 81% on Rotten Tomatoes. Oh leads a very talented cast, with Holland Taylor playing Dr. Joan Hambling, a senior professor in the department who wants to fight back against the sexism she's faced over the years, Bob Balaban as Dr. Elliot Rentz, a conservative male professor who is resistant to change, and Nana Mensah playing Dr. Yaz McKay, a talented young teacher who is up for tenure. The first season of "The Chair" follows Ji-Yoon's journey as challenges continue to build up, with the new chair doing everything she can to fight against a system built to ensure her failure. So how does it all turn out?
Here's the ending of "The Chair" Season 1, explained. 
Ji-Yoon realizes that firing Bill won't fix the broken system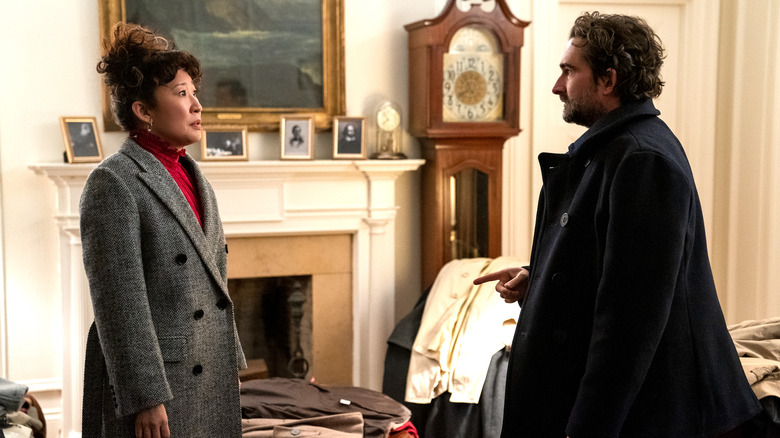 Eliza Morse/Netflix
The end of Season 1 of "The Chair" brings the final hearing over whether or not Bill will be fired. While Ji-Yoon initially thinks that firing Bill is the right thing to do, she later comes to believe — thanks to the help of Ju Ju — that Bill is a good person and teacher, and firing him won't do anything to fix the system in place at Pembroke that lets this type of behavior happen in the first place. This leads Ji-Yoon to risk her career by standing up for Bill in the hearing, but in the end it doesn't make a difference, and he is fired. 
By the time the sixth episode comes along, Ji-Yoon has finally come to realize that despite her love for Pembroke, there are a lot of major issues with the university, and especially the English department. The first season of "The Chair" showcases the history of sexism and racism entrenched in the world of academia, with Ji-Yoon playing a losing game, at least for now. While she is given the position as chair, it's still a "boys' club," which is exactly why Bill initially thinks that he hasn't done anything wrong and should be able to stay on as a professor. After his firing, even Bill learns something, as he doesn't accept the settlement money and instead decides to work hard and earn his way back to teaching at Pembroke. 
Ji-Yoon fights one last battle to make Joan the new chair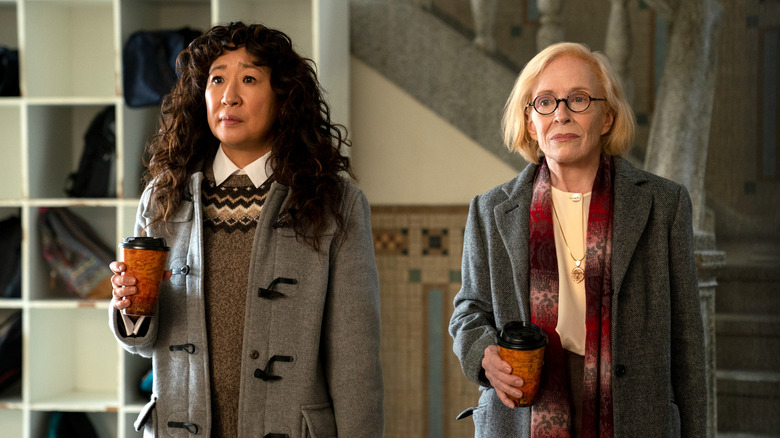 Eliza Morse/Netflix
After Bill's downfall, Ji-Yoon faces off against her peers who intend to replace her as chair. One of the people leading the charge is Joan, who has been repeatedly let down by Ji-Yoon over the course of Season 1. But when the time comes to make a decision, Joan changes her mind and stands with Ji-Yoon to have her stay on as chair, as do all the other women within the department. The problem is that there are only four women out of 12 on staff in the English department, meaning that in the end, their votes don't even matter. Just like with Ji-Yoon as chair, it's as if the idea that these women have a voice or say in the matter is all for show, and in the end it's the white male professors that really have control. 
But Ji-Yoon isn't quite finished trying, and so she ignores Rentz's self-nomination for the position and nominates Joan instead. Throughout all of Season 1, Joan is desperately fighting to be heard, for someone to validate her years of sexist treatment in English academia and do something about it. Now, Ji-Yoon is giving her the chance to do it herself. While we all love seeing Ji-Yoon hold this high position of authority and take charge, it's possible that Joan and her rising anger might be exactly what Pembroke needs to force change — with Ji-Yoon by her side as her supporter, of course. 
What's next for Ji-Yoon and the staff at Pembroke?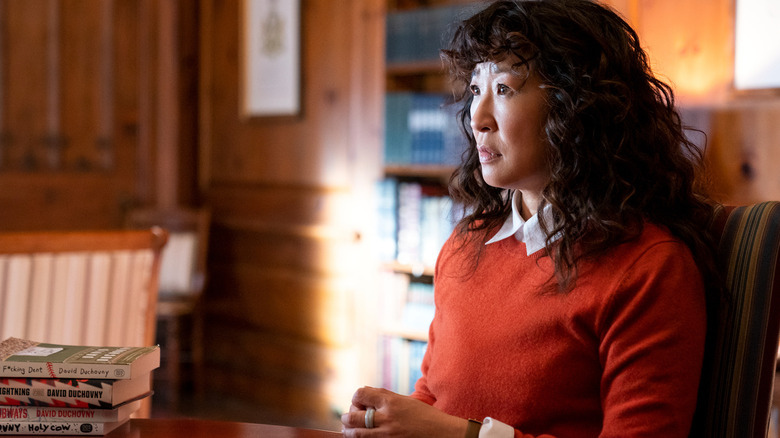 Eliza Morse/Netflix
So what about Ji-Yoon? Well, for starters, it looks like she will be spending more time with her family and building a better relationship with Ju Ju, while also simply focusing on bettering her students as a regular professor. But if there's a second season, Ji-Yoon is sure to be back fighting for change, with Joan leading the charge to get rid of the old and prejudiced system, facing the issues of Pembroke head-on.
There's also the story of the fight for Yaz to get tenure, and what comes after that loss. Yaz is a brilliant professor, a young, enthusiastic woman of color who truly cares for and connects with her students. Unfortunately, Ji-Yoon also fails Yaz, allowing her distinguished lectureship be taken away from her by none other than David Duchovny, highlighting the Dean's desire to make money and get more students rather than support his staff. 
Yaz is also unable to get tenure at Pembroke, as Rentz, the backward thinker who just so happens to be chairing her tenure case, is unwilling to change and allows his old-school prejudices and opinions guide his decisions. As a result, Yaz takes an offer from Yale University for both a distinguished lectureship and a position with guaranteed tenure. It's definitely the better deal, but fans of "The Chair" hope that somehow Mensah will come back as Yaz in Season 2, so start thinking up some theories about how it could happen. 
"The Chair" was originally advertised as a miniseries, but signs seem to be pointing to a second season possibly happening, and there are definitely many directions that the story could go moving forward. Fans will just have to wait and see what happens next.