Yellowstone Season 4 Trailer Teases A Tough Road Ahead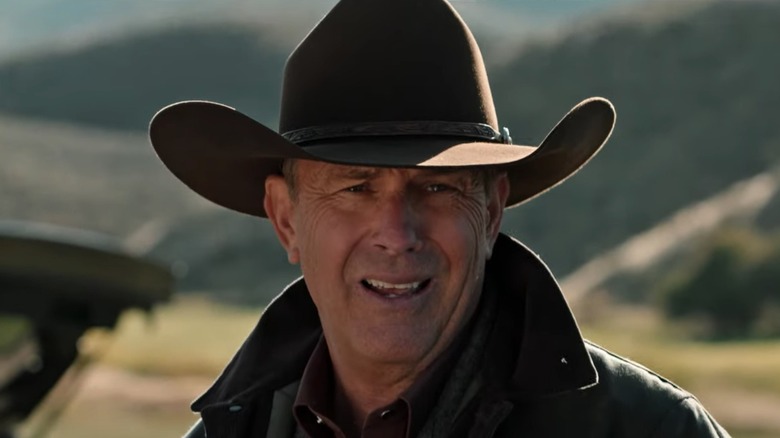 Paramount Network
Over its first three seasons on Paramount Network, "Yellowstone" has become the neo-Western thrill ride the television loving masses never knew they needed. Set largely on a vast Montana cattle ranch, "Yellowstone" tells the tale of the Dutton family, and their ongoing battles to keep that very ranch in their own clutches. To date, those battles have seen John Dutton (Kevin Costner) and his crew have face off against opportunistic reporters, nefarious developers, shady politicians, and all manner of baddies across the board.
Along the way, they've had to do some seriously shady things themselves, which has only lengthened their already long list of mortal enemies. As "Yellowstone" fans no doubt recall, things came to a head and then some with one of those enemies in the series' shocking Season 3 finale, with the fates of every Dutton save for Jamie (Wes Bentley) hanging in the balance after a series of coordinated attacks. All that uncertainty has made for a torturous wait for the show's upcoming fourth season, which is set to make its Paramount Network debut on November 7, 2021 via a super-sized two-hour season premiere. 
Ahead of that momentous event, Paramount has finally released a trailer for the new season of "Yellowstone," and it certainly looks like things are about to get crazy in Big Sky Country.
All hell breaks loose in the Yellowstone season 4 trailer
They're like to get bloody too as the Duttons, nor their allies are the sorts to take such vicious attacks lying down. The season 4 trailer for "Yellowstone" opens with a brief recap of those attacks, showing John gunned down in the street, Beth (Kelly Reilly) caught in a mail bomb explosion, and Kayce (Luke Grimes) ambushed by gunmen. From there, we see Jamie looking shocked upon hearing of the carnage — or at least acting shocked, as he may or may not be directly involved in organizing said carnage.
The trailer doesn't confirm that theory one way or the other, but it certainly doesn't squash the possibility that Jamie turned on his family. Likewise, it doesn't offer any certainties about the Duttons surviving the fray, though John is clearly not yet dead in a brief clip where Rip (Cole Hauser) discovers him bleeding out on the roadside. From there, the trailer goes a bit smash-cut crazy, offering momentary glimpses of what's to come, which is likely all out war between the Dutton factions and whoever called in those Season 3 hits. It all unfolds under an ominous voice-over from Will Patton's Garrett Randle (AKA Jamie's real father) on the virtues of playing fair, and it ends with the more ominous intercutting of the words "Every. Body. Pays." 
Needless to say, this barnburner of a trailer will only make the wait for the fourth season of "Yellowstone" all the more trying for fans — even as it teases untold thrills to come.