Chandler's Most Iconic Scene From Friends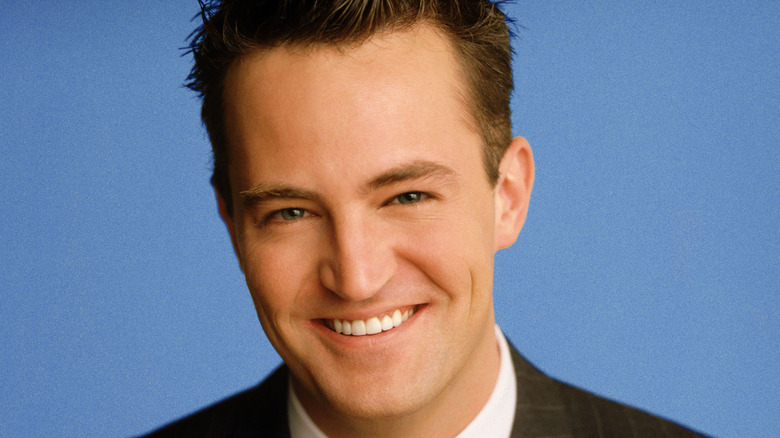 Getty Images
There is no denying that "Friends" has had an enormous impact on television — particularly when it comes to sitcoms. Since its debut in September 1994, its continued popularity has given birth to cookbooks, T-shirts, toys, and fights for streaming rights. The series has found its forever home on HBO Max, whose "Friends" reunion had 5 million viewers tuning in, according to Deadline.
The series follows a group of 20-something adults as they journey through life, love, and several hysterical situations. Each of the friends is highly relatable and each has had their breakout moments that viewers will never forget. Though fans can see themselves in every character, it is easy to identify with Chandler Bing (Matthew Perry). The jokester offers humor and the occasional sarcastic comment to cope with uncomfortable circumstances. There are many scenes that come to mind when one thinks of Chandler, but there is one that stands out as his most iconic.
Chandler has a real turning point in Season 5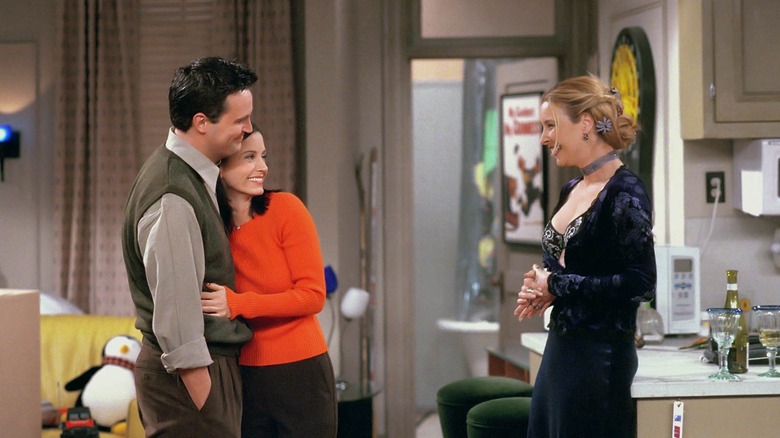 NBC
Chandler and Monica (Courteney Cox) have their first hookup in the Season 4 finale after they jet off to London to celebrate Ross' (David Schwimmer) marriage to Emily (Helen Baxendale). They keep their relationship hidden back home, though eventually everyone finds out in different ways. In the Season 5 episode "The One Where Everybody Finds Out," Phoebe (Lisa Kudrow) and Rachel (Jennifer Aniston) decide to have some fun with Chandler. Phoebe achieves this by acting flirtatious toward him and even coming onto him in his apartment with her bra exposed. Chandler is visibly uncomfortable but kisses her anyway so he doesn't blow his secret. However, he immediately tells Phoebe he can't have sex with her because he is in love with Monica. Phoebe, along with Rachel and Joey (Matt LeBlanc) who have been eavesdropping, are shocked to hear his confession — as is Monica.
Though a lot of Chandler's scenes show off his sarcastic nature, this moment stands out because it signifies his character growth. Throughout the series, he appears to struggle with commitment — falling back on a relationship with Janice (Maggie Wheeler) that he constantly tries to get out of. By openly admitting his love for Monica, Chandler shows how important and how different their relationship is to him. This reveal only allows him to grow further. He and Monica eventually marry, and he does whatever he can do in order to ensure her happiness — including convincing Erica (Anna Faris) to continue as their surrogate despite having lied to her previously.