The Absolute Worst Friends Episode According To 28% Of Fans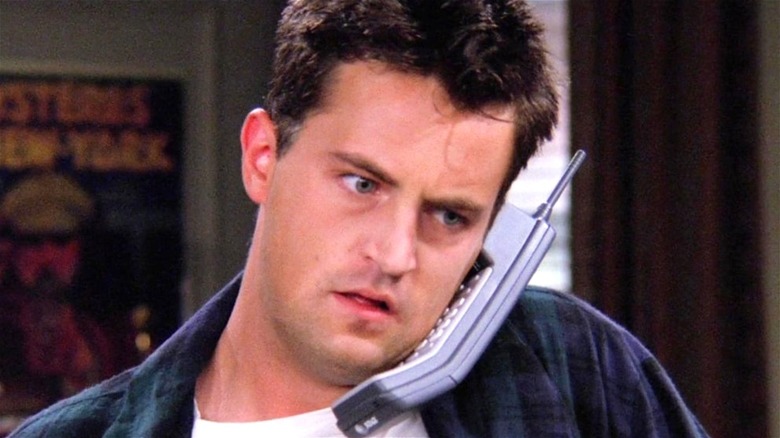 NBC
"Friends" is one of the greatest sitcoms of all time, but that doesn't mean every episode is perfect. Most of the comedy series' catalog is full of winners, but it proved impossible to make all 236 episodes absolutely superb. Each of the 10 seasons has a few duds, but other seasons prove worse than others — ahem, Season 9.
It's hard to contend with top-notch episodes like "The One Where Everybody Finds Out," "The One With the Embryos," and "The One With the Rumor." Fans can agree that those are some of the best "Friends" episodes of all time, and choosing the losers also proves easy for the fandom. We wanted to go straight to the source to find out which episode lies at the bottom of the barrel, so we polled hundreds of viewers to get the answer. Check out which one they selected as the worst below, and see if it falls in line with your own.
Friends fans dislike this Season 9 episode the most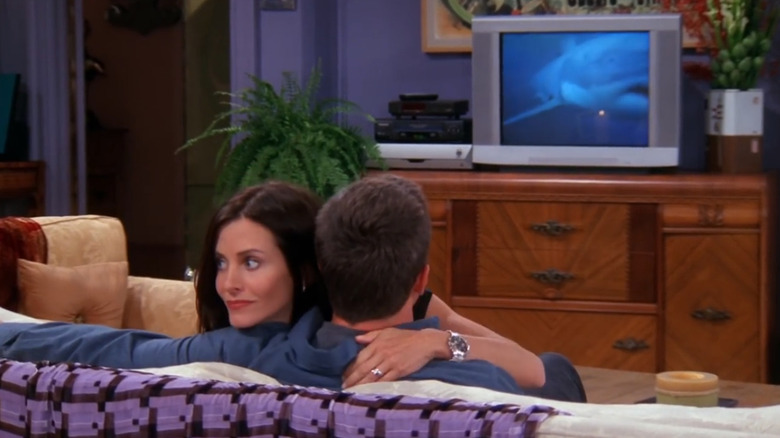 NBC
Recently, Looper polled 630 "Friends" fans and asked them to pick which episode of the series they thought was the worst — and over 28% of voters selected Season 9 Episode 4, "The One With the Sharks," as their least-favorite. It's not a shocker that the worst episode comes from what is universally regarded as the worst season. In the episode, Monica (Courteney Cox) decides to fly out to Oklahoma to surprise Chandler, who was relocated to Tulsa for work. She walks in on him, well, satisfying himself in a hotel room. When she looks at the television, she sees he's watching a shark attack show, prompting her to believe that Chandler "gets his jollies to Jaws."
Trying to be a good wife, Monica rents a shark attack video to show Chandler when he comes back to New York to arouse him. She also offers to get in the bathtub and thrash in a bizarre attempt to satisfy her husband. Totally confused, Chandler asks what is going on with Monica, and she explains she caught him getting pleasure from the shark attack video. He reveals he was just watching regular porn when she came in and switched the channel when he saw the door open. The shark confusion finally ends, with Monica utterly relieved. It is hands down the worst storyline in the series, and we couldn't agree more with the fans on their choice.
Other Friends episodes fans hate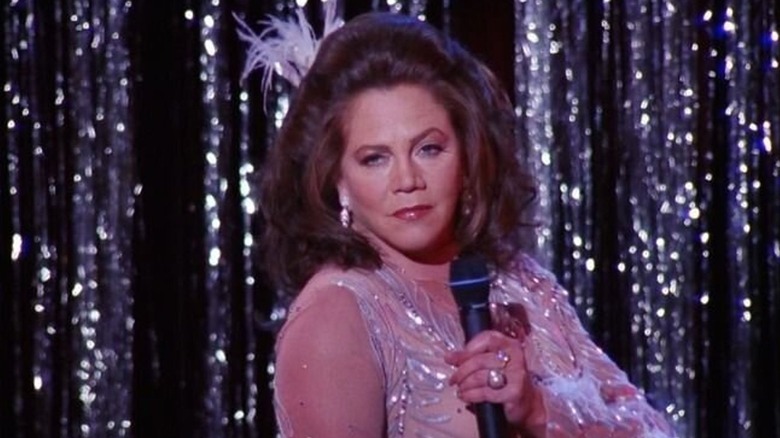 NBC
Landing in the second-place spot on our poll with over 25% of the vote was "The One With Chandler's Dad" from Season 7. It's not that this episode didn't age well; it's that it was never appropriate to begin with. For the entirety of the episode — and the series for that fact — Chandler's father serves as the punchline for being a transgender woman. Monica and her betrothed visit Charles Bing (Kathleen Turner) in this episode, where she works as a performer in a Las Vegas burlesque show. Every scene involving Charles in this episode is cringey, and fans have long agreed that it's a tasteless treatment of an LGBTQ+ character.
"The One With Ross and Monica's Cousin" from Season 7 landed at number three with over 16% of the vote and has been hailed as yet another moment when the show went too far. Ross is attracted to his cousin (Denise Richards) and attempts to kiss her. Why writers thought this incestuous storyline would be a hit is still confusing to this day. "The One With Christmas In Tulsa" and "The One With the Invitation" came in fourth and fifth place, respectively, receiving 14.76% and 14.29% of the vote in our poll. Both serve primarily as clip shows, something that sitcom fans tend to find boring. They can't all be winners, can they? Knowing all of this, we suggest staying away from these bombs on your next "Friends" re-watch and encourage you to stick to the greats.