Fala Chen Talks Playing Shang-Chi's Mother - Exclusive Interview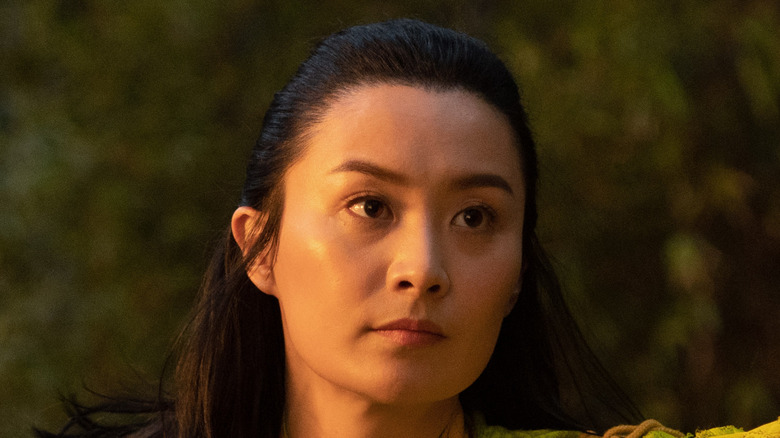 Marvel Studios
"Shang-Chi and the Legend of the Ten Rings" starts with a flashback. We learn, among other things, how Wenwu (Tony Leung) met Leiko: A battle where she tries to stop him from entering the hidden city of Ta-Lo. The two later marry and have a pair of children, including Shang-Chi. Leiko is the first to tell Shang-Chi that he might have the heart of the dragon, and her loving influence looms large over the story. She also acts as a narrator for various parts of "Shang-Chi" and is a major motivation for Wenwu's actions later in the movie.
Leiko is played by Fala Chen, who has recently carved out a career in America after over a decade of acting in Hong Kong and mainland China. Looper spoke with Chen in anticipation of the movie's release. She told us about the deep choreography behind the opening fight scene, working opposite Tony Leung, and how they made a fun work environment for the children on set.
The opening fight/dance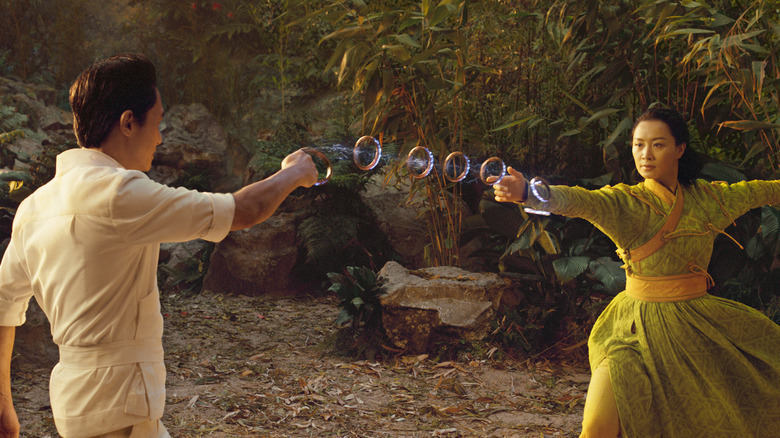 Marvel Studios
Let's start right at the beginning with your opening scene opposite Tony Leung, when you first meet. That was kind of a dance-fight situation. How was that choreographed?
That was actually well planned way before we even started our training. I was amazed. I've never been in a production where they've already had the choreographers and the stunt doubles film the whole scene with real rigs and real special effects. They'd already filmed the whole scene before I even arrived for training. So when I arrived, then they're like, oh, this is what you have to learn. So they just showed me and I watched it. I was like, whoa, oh my God, that's amazing. So I already kind of had a whole mental image. Obviously, then whenever I needed it, they'd send me the file. So I just go, "can I see that again?" But I had a whole picture of what it would look like.
Then we went into the basic stands and the Tai Chi forms for my character. Just started with basic training for over a month before we started shooting that scene. So I had plenty of time to really learn the whole spirit of Tai Chi, the kind of the philosophy behind the Tai Chi form. But also just like the very specific precise movement and knowing exactly what frame they would shoot it. So they prepared us so well that I felt very comfortable filming it. It took us over... How long was it? Like weeks to shoot that one scene. I'm glad you liked it.
Tony Leung, the man who acts with his eyes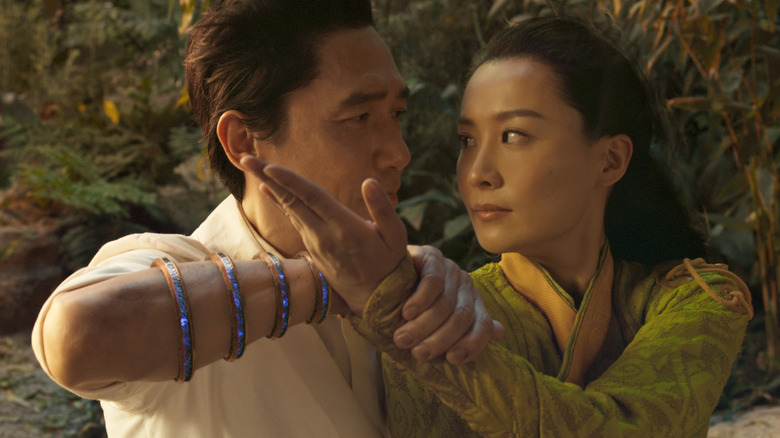 Marvel Studios
You share a lot of these little intimate glances with Tony Leung, who is known in some circles as "the man who can act with his eyes."
[Laughs] Yes.
Tell me a little bit about Tony Leung.
I mean, it's pretty self-explanatory, right? You just suddenly get transfixed into his eyes. When you're looking at him, when you're acting along with him, it's such a learning experience for me to work with the best of the best. He's such a charismatic actor. He does so much preparation that you would never imagine such a veteran actor would need to do, but he's constantly thinking about his character.
Anytime we talk about things, we go out to dinner, he's still talking about his character. He's still talking about that scene that we already filmed weeks ago. He's like this one part, I was thinking, why did you say that? He was still just going over the scenes in his head over and over. He is such a hard worker that people probably don't know about. But he also brings this really calm energy on set. He's always very soft-spoken, very humble. That just made all of us feel much less nervous. I was very nervous in the beginning when I started the first scene with him, but he just made it so easy for all of us.
Acting like a family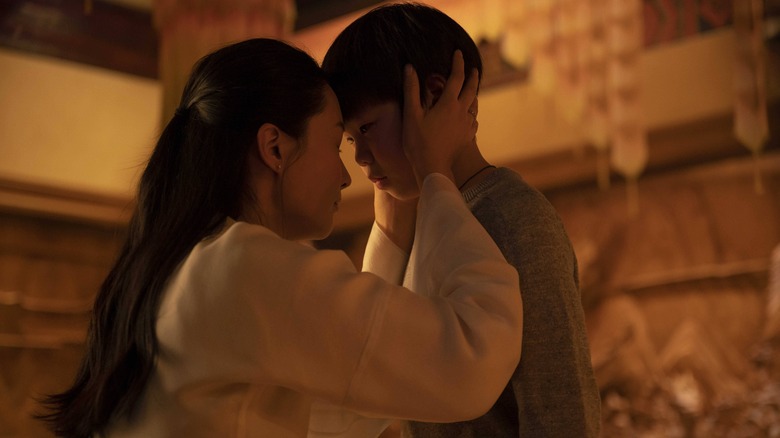 Marvel Studios
Yesterday I spoke with Jayden Zhang. He's a great kid.
Yeah!
He was talking about all the scenes you had together. He said that Tony Leung has the ability to go from scary to peaceful in really natural ways. He was saying the most fun he had was all those scenes where you were a family together.
Awwwwwww.
You were playing DDR and everything. Tell me about those scenes.
Yeah. Those are fun little scenes. We had more of them shot, but we actually really pitched different ideas to [director Destin Daniel Cretton] as well. We're literally part of the creative process, almost. I feel very lucky that Destin invited us to offer input. He literally played the music of different choices. These are the mood music that we can get for the DDR, which one would you like? Dance Dance Revolution? Yes! For sure! So we're just kind of, like, feeling it out and doing some improvs together. Especially with the kids, sometimes we really have to create that comfortable environment for them to really feel that it's real, feeling that it's comfortable and they feel safe. So we, as adult actors, are trying to create that energy around them. The best time I spent was with Tony and the kids, just having a lot of fun on set.
"Shang-Chi and the Legend of the Ten Rings" debuts in theaters on September 3. Stay tuned to Looper for more exclusive coverage.