Nathan Fillion Reveals His 'Deleted' Guardians Of The Galaxy Vol. 2 Cameo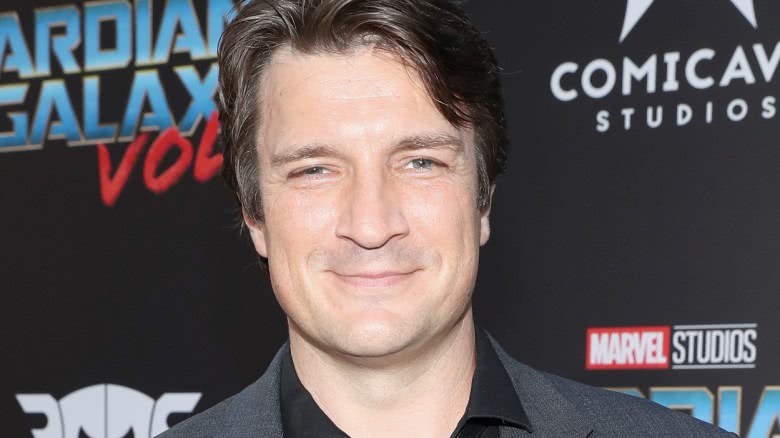 Getty Images
UPDATE 4/20/2017: Nathan Fillion pulled a sly joke on the world. It's been revealed that the photo Fillion posted to his Instagram isn't actually from the Guardians of the Galaxy Vol. 2 set. Rather, he and his brother staged the picture. Fillion hinted at the prank during FACTS Spring Edition 2017, in which he explained that the snap was taken inside a gimbal-rigged spaceship and that his brother used a photo editing app to add in a galaxy background to the green screen. Fillion stated, "Maybe I'll leak some photos that make it look like I have more of a role [in the movie] than I actually do." Sneaky, sneaky.
Guardians of the Galaxy Vol. 2 is fast approaching release, and while there's plenty to be excited about, there's one thing we won't see: Nathan Fillion's intergalactic cameo.
Fillion stated that he filmed a quick appearance in the forthcoming Marvel movie, but it ultimately ended up on the cutting room floor. Though we may never see Fillion flying through the galaxy toward some great unknown, he unveiled an exclusive on-set photo that gives a little more insight into his would've-been Guardians of the Galaxy Vol. 2 character.
Fillion took to Instagram to share the behind-the-scenes snap. It shows the actor wearing a shoulder-length wig and a wide-shouldered, full-fur costume, sitting behind the pilot's seat of a spaceship. Fillion definitely looks like he'd fit right in with the sequel's other characters.
The photo was accompanied by the caption, "From a scene you won't see in Guardians of the Galaxy Vol. 2." Fillion added that while audiences won't get a glimpse of him in action, the film is "still spectacular" without his cameo. What a stand-up guy.Last April, a collection of photos that hinted at Fillion's possible role in the sequel emerged online. The snaps seemed to indicate Fillion would play Simon Williams, better known as Wonder Man. One picture in question was of a fake film poster that featured Arkon, the warlord and ruler of Polemachus in the Marvel Comics world. With Fillion's recent Instagram post, many have noticed that his appearance looks quite similar (especially the bold shoulder piece) to Arkon in the poster from last year's set photos. Perhaps Fillion wasn't playing Wonder Man after all. Unfortunately, now that his scene has been cut, we may never know the truth.
Though Fillion won't pop up in the film, fans can still expect lots of surprises, new characters, and a rockin' soundtrack when Guardians of the Galaxy Vol. 2 flies into theaters on May 5. While we try wait for the sequel, take a look at the actors who were almost cast in the original.