The One Thing NCIS Fans Really Wanted To See Before Gibbs's Exit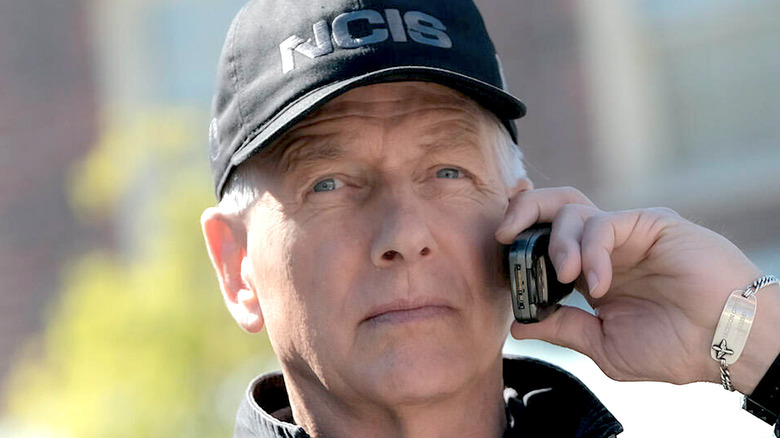 CBS
After the Season 18 finale of "NCIS," there are a lot of things up in the air that need to be answered when the show returns for Season 19. For starters, Emily Wickersham, who plays NCIS Special Agent Ellie Bishop, will not be returning to the show. At the end of Season 18, her character is framed for leaking NSA files, but it is later revealed that she needs the out from NCIS in order to go off on another important mission. She says goodbye to the team, and most importantly, Nick Torres (Wilmer Valderrama), before heading out to who knows where. It's unclear whether or not Wickersham may return in the future, but fans can keep their fingers crossed. 
Then of course, there's everything involving the serial killer case Gibbs (Mark Harmon) is investigating with a journalist named Marcie Warren, played by Harmon's real wife, Pam Dawber. In the final episode, Gibbs and Marcie make a few key discoveries, including the fact that they are being spied on and listened to, and there is likely another victim out there whose body has not been found. In the final moments of the episode, Gibbs is taking his finished boat out for a ride and it suddenly explodes. Thankfully, Gibbs is seen swimming away, very much alive, but the how and they why of the situation is not revealed yet. Hopefully, the case and what's going on with Gibbs will all be figured out in Season 19.
Surprisingly, none of these major events are what fans are really upset about. Instead, there's one longtime mystery that fans are very frustrated that they might never learn the answer to. It does involve Gibbs's boat, but not in the way you might think. 
How does Gibbs get his boats out of the basement?
CBS
Gibbs and his history of building boats have been a major part of "NCIS" for a while now, with him finishing a boat he named "Kelly," after his late daughter, after working on it throughout Seasons 1 through 6. Over the course of the long-running series, Gibbs has likely built at least five boats, with the most recent named "Rule 91." While he doesn't have the best track record for his boats, with Rule 91 getting destroyed by an explosion, there's one small detail that still remains a mystery after 18 seasons. How does Gibbs get the finished boats out of his basement? 
In reality, it's not really the best idea to build boats in a basement with no direct access to outside. Throughout the many seasons of "NCIS," other characters have directly asked Gibbs this question, but he never gives a straight answer. The finale shows the boat finished in Gibbs's basement and then he's off in the lake driving it, without any explanation for how it got from here to there. After the Season 18 finale, fans were still stuck on this mystery, with u/kbstewar proclaiming on Reddit that "After all the years of watching this show and we don't get to see how the damn boat got out of the basement!" 
It looks like many people agree with this fan's frustration, with another commenter saying, "This is all I want to know too." Other fans have a few guesses for how it might work, including "a tunnel with a conveyor belt" or "a retractable or sliding wall in the basement." Many hoped to finally get some answers after Gibbs finishes Rule 91, but it looks like we're out of luck. Here's hoping they at least reveal it by the series finale, but maybe we'll never know.