Why Fans Are So Confused By The Virgin River Timeline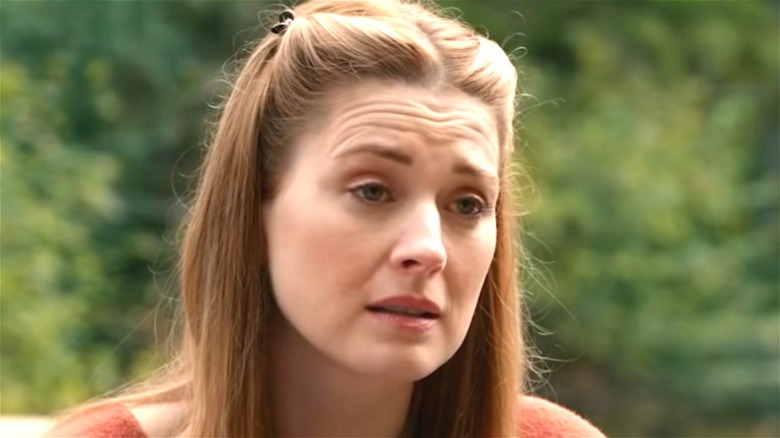 Netflix
Contains spoilers for "Virgin River"
They say time moves differently in small towns, but that doesn't quite capture what is happening on Netflix's extremely popular drama series "Virgin River."
The show, which is based on a series of romance novels by author Robyn Carr, stars Alexandra Breckenridge as Mel Monroe, a nurse practitioner from Los Angeles who moves to a small remote town in Northern California for a fresh start. She's mourning the loss of her husband (played by Daniel Gillies) on the heels of also losing a child, so she hopes that a change of scenery will allow her to finally move on. What Mel doesn't count on happening once she arrives in Virgin River and takes a position working with the town doctor (Tim Matheson) is falling in love with Jack Sheridan (Martin Henderson), a former Marine who owns the only bar and restaurant in town.
There have been three seasons of "Virgin River" so far. The show's main storyline follows Mel and Jack's relationship, and they are already deeply in love, with the former revealing in Season 3 that she wants to try to have a baby. One would assume, then, that they've been together for a while, but when you consider the rest of the show's storylines, it becomes confusing trying to figure out just how long Mel has actually been living in Virgin River.
This is how long Mel has been living in Virgin River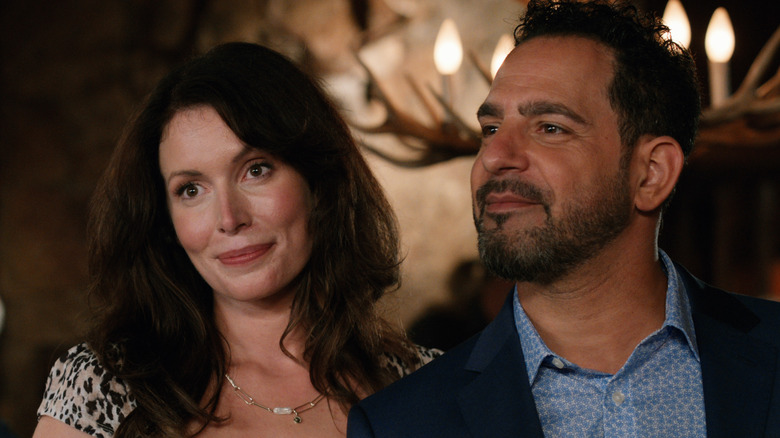 Netflix
Fans of "Virgin River" on Reddit have been trying to piece together the show's events in order to figure out how much time has passed since the series premiere. U/Kreddit762668 believes that each season spans about a month of time in the show's universe. That would mean three months have passed, but in the Season 2 premiere, Mel returns to Virgin River after a trip to LA and tells Jack she needed "a couple weeks" to sort things out. Meanwhile, the Season 3 premiere specifies it has been three weeks since Jack was shot in the Season 2 finale. So, if we also count the time jumps between seasons, this means it has been a little more than four months since Mel first arrived in Virgin River.
This timeline makes sense in some instances but not in others. For example, Charmaine (Lauren Hammersley), whose pregnancy was first revealed at the end of Season 1, still doesn't look all that pregnant by the end of Season 3, so this relatively short amount of time would explain the lack of a large baby bump. But the fact the character is already engaged to another man makes this extremely confusing, as it implies she met a man and got engaged to him in less than three weeks. Now, it's possible this new man has ulterior motives — based on the way he is trying to cut Jack out of Charmaine's life for good, it's definitely fishy — but it's also easy to see why this storyline has viewers confused, especially when you consider everything else that has gone on in the show.
Nothing adds up in Virgin River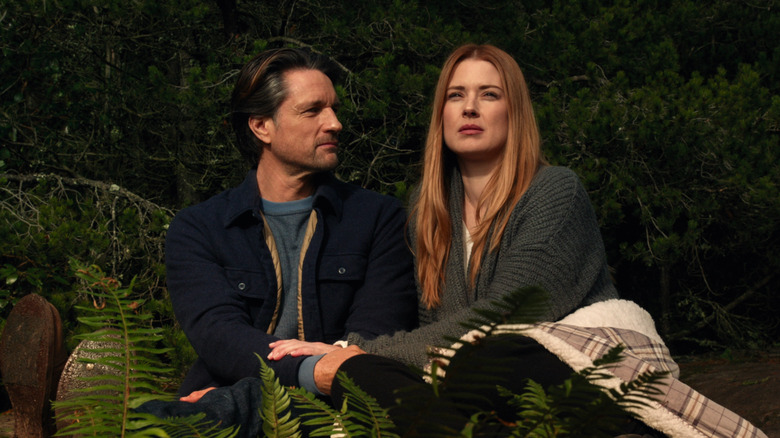 Netflix
Reddit user AchieveUnachievable points out that Jack appears to be fully healed from his gunshot wound in Season 3, which doesn't seem medically possible and would imply much more time has passed than just three weeks. But Lilly's (Lynda Boyd) baby, who was born in Season 1, is still very young, and Paige's (Lexa Doig) son, Christopher (Chase Petriw), is still living with Preacher (Colin Lawrence) in Season 3 after Paige went into hiding to escape her abusive ex-husband early in Season 2.
Knowing all of this, and knowing that Mel is also pregnant as of the Season 3 finale (either by her husband through IVF or by Jack — it's unclear as of right now), it is easy to see why fans of the show have become frustrated with the timeline. "​​It's insanely annoying how off the timeline is on this show," writes u/the_littlehobbit. "It just doesn't make sense and I certainly hope they will make that more clearer [sic] in season 4."
"Only a few months have passed since the first episode," adds u/dreamlacer, "which means that maybe by the end of the final season, Charmaine will have given birth and Mel might just be starting her 3rd trimester, Lilly's baby will have her first birthday party, and maybe, just maybe we'll even find out who shot Jack and what happened to Paige."
We'll obviously have to wait and see what happens (as of publication, Netflix has not renewed the show for Season 4), but if the writers don't want u/dreamlacer's joke to come to fruition, they better speed things along, and they'd better be extra obvious when explaining the timeline. Otherwise, we'll never understand how time moves in Virgin River.