The Heartfelt Romantic Comedy That's Heating Up On Netflix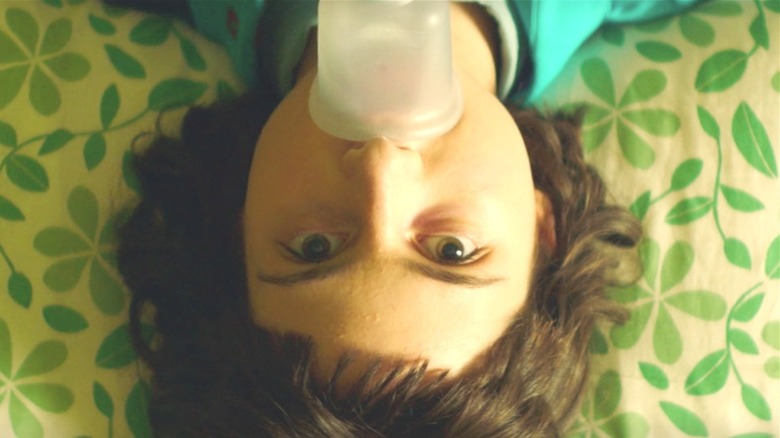 Netflix
When a bad mood strikes, a good old-fashioned romantic comedy is often the perfect remedy. Luckily, Netflix is home to many of the genre's greatest hits, and also, some incredible films that may have otherwise flown under the radar. "Out of My League" is one such lesser-known film, but it's definitely worth a watch.
The 2020 Italian film follows Marta, a young woman facing a terminal illness. Her greatest wish is to fall in love with a handsome man, and thanks to the internet and the support of her friends, she finds him. However, the reality of her illness soon becomes more than she can ignore, and she must reveal her secret to her new beau.
"Out of My League" is not only a heartfelt romantic comedy, but has a gorgeous, colorful aesthetic that will have you wanting to pack your bags to Italy and have your own love story. 
Out of My League is charming romantic comedy
"Out of My League" features some very talented Italian actors, with Ludovica Francesconi as heroine Marta and Giuseppe Maggio as her Prince Charming. The film is only the second feature directed by Alice Filippi, who previously had only shown her talents in TV documentary "'78: The Getaway" about the mafia in Italy. Fillipi has been involved in English-language projects as well, notably serving as Additional Second Assistant Director for the Italian shoot of James Bond film "Spectre."
Filippi's first take at the romantic comedy genre, though, was certainly a success — the film holds a 79% audience score on Rotten Tomatoes.  On Letterboxd, user Fionna called the film "a brilliant addition to the genre" and "a fun, charming romcom with character & that actually gives you feels!" Another user, Francali, had similar praise, remarking that the film is "a very romantic rom-com" and "perfect for a Sunday girl's afternoon."
For fans of "A Walk to Remember" and "The Fault in Our Stars," "Out of My League" is another charming watch of how love can prevail even in times of health crises. You can catch the romantic comedy now streaming on Netflix.