Cinderella Writer-Director Kay Cannon Talks The Film's Modern Twists And Star-Studded Cast - Exclusive Interview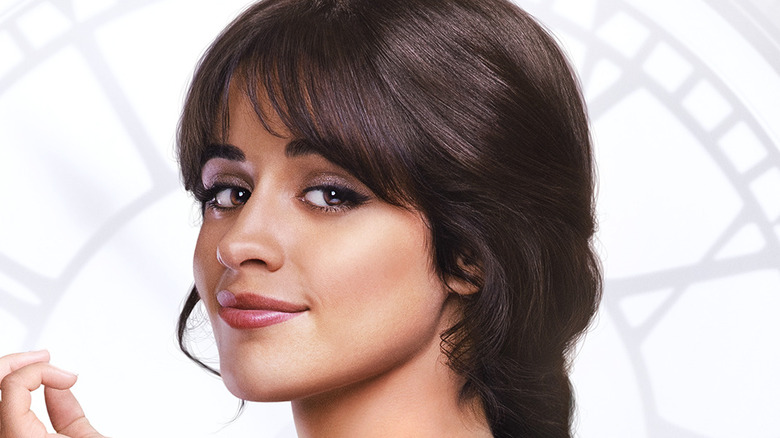 Amazon Studios
We've all seen multiple versions of "Cinderella," but Kay Cannon's new spin on the story has more than a few modern twists. How many times have fairytale fans watched a princess give up everything for a prince? Well, writer and director Kay Cannon ditched that outdated notion when writing her version of the story — and starring the likes of Camila Cabello (Cinderella), Idina Menzel (Vivian the wicked stepmother), and Billy Porter (Fab G the fairy godmother), this "Cinderella" boasts some of the best musical talents and Broadway performers in the biz.
Fans of musicals already know Cannon's work as the scriptwriter of "Pitch Perfect" and the franchise that followed. Cannon has also lent her writing talents to shows like "30 Rock," "New Girl," "Girlboss," and the film "Let It Snow." "Cinderella" marks the writer/director's second directing gig, following the 2018 film "Blockers," but you'd never know it while taking in this massive production.
During an exclusive interview with Looper for "Cinderella," Kay Cannon dished on the film's feminist spin on the classic fairytale and what it was like working with Camila Cabello, Billy Porter, and Idina Menzel. She also talked about her days on "Pitch Perfect" and the heartwarming way the cast honored her during the third film.
From pop princess to actual princess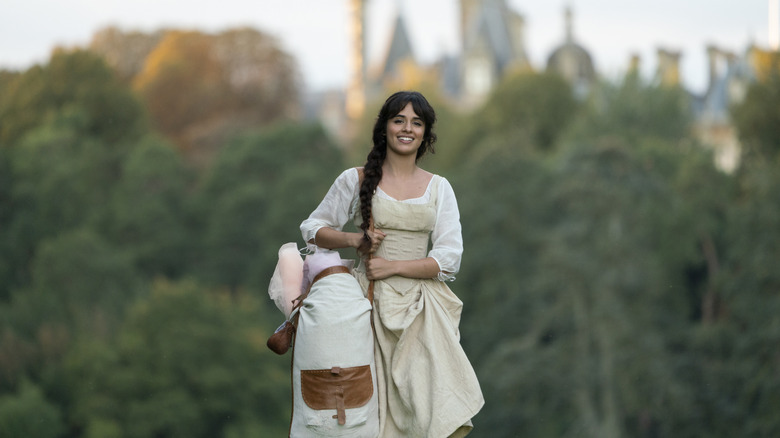 Amazon Studios
This is Camila Cabello's first major movie role. What was it like working with her? Were there any learning curves or hurdles to overcome, and what fresh perspective did she bring to the role that more seasoned actors might not have?
Well, it was amazing working with her. I mean, really, truly. I felt like we were a perfect match. I think we both had a lot at stake. It was her first time acting. And then her first time acting, she's playing Cinderella, this iconic character. And it's a big movie for me, too. I had never directed a musical. So we really connected and we really trusted each other. We have very similar senses of humor, and I think what she brings to the table is this rawness. She's a really hard worker. She's very smart, so she sees the world through these young eyes, but they're informed young eyes, where she's always trying to learn and everything.
Meeting Bond, James Bond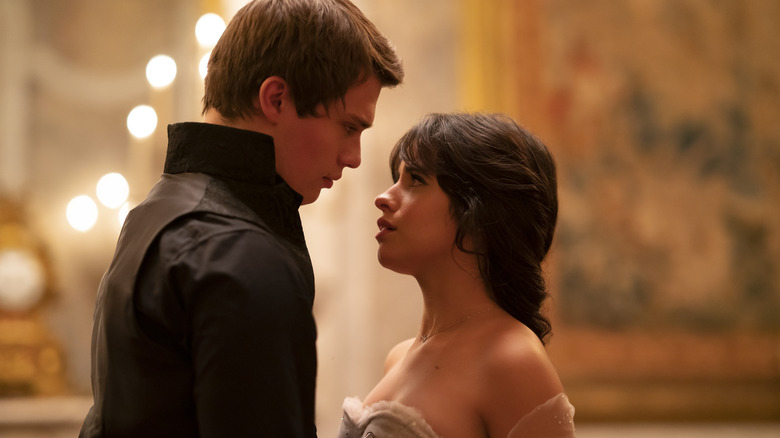 Amazon Studios
I think, you'll have to ask her this, but from my vantage point, some of the hurdles were when she would be doing amazing, and then maybe she was in a scene with Pierce Brosnan, and she has that moment like, "I'm in a scene with Pierce Brosnan." And I could see her maybe tighten up a little bit, and then it would be, "Let's hold on a second. Hey, let's go talk." We had a lot of chats and stuff, where she's like, "I'm just really nervous." It's like, "Yeah, of course you are. You're in a scene with Bond, James Bond."
It was always, "Let's come back to just being a good listener. Let's just come back to being present. Let's just come back to being in the scene and not having this inner dialogue saying, 'That's James Bond, and oh my gosh, he's done a million movies,' because it can be quite intimidating." And not that anybody around her was ... They all were in awe of her. It was really great. And so nobody was trying to be intimidating. It was just the nature of the fact that there's a lot of newness.
A feminist Cinderella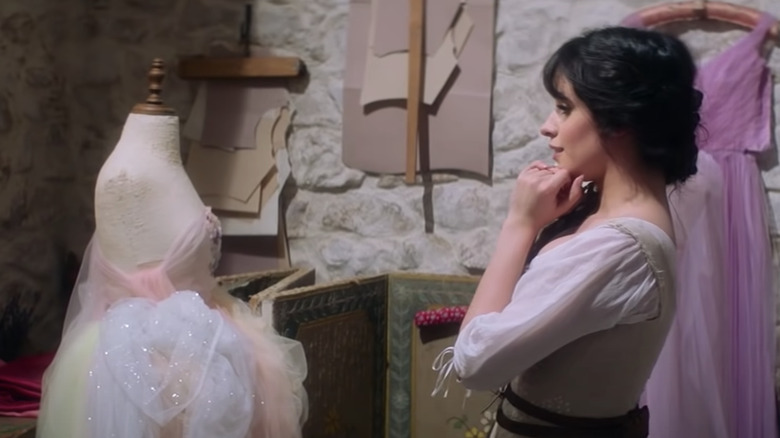 Amazon Studios
I always say that remakes and reboots are only worthwhile if the creators do something wholly new and revitalized, and I really got that from this new iteration of "Cinderella." What inspired this feminist take on the classic fairytale, and which points were most important for you to hit? How do you think this version of the film stands out from what's been done before?
I feel like there would be no reason to just redo what's already been done so well, so successfully. I have my ... the Whitney Houston and Brandy version of "Cinderella" is mine that I love so much, and I really love "Ever After," and so there was ... It's like the only reason to do this is if I was really going to change Cinderella's drive — really come from a different point of view. And so one of the things that was held constant in this Cinderella fairytale is the fact that she was saved by the prince and that she wasn't really active. So the idea to make her active and make her choose herself and save herself was a big shift in the storytelling.
The Rocky of fairytale heroines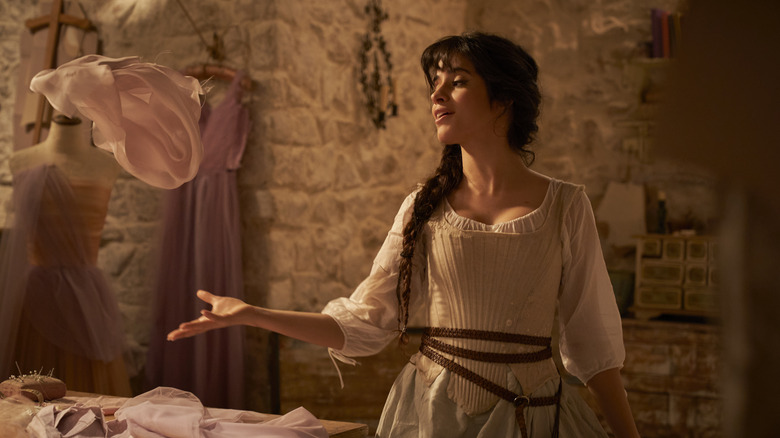 Amazon Studios
Beyond that, adding the contemporary songs certainly modernized it, but what was really important to me and how I feel different is that Cinderella is our protagonist, but she doesn't change from beginning to end. She is the same. In fact, I don't even change her that much. Yes, she wears a ball gown when she goes to the ball, but her hair and makeup aren't that different. You know it's Cinderella, she's very true to herself. It's not like she gets this fancy bouffant in the night and walks in, and you don't feel like she's dressed up and doesn't feel like herself, but everybody else around her changes.
So she stays the same. She's like your Rudy. She's like your Rocky, where it's like, "I have one goal, and everybody else changes." And I feel like that hopefully feels like the refreshing part of it. And that we're seeing the stepmother in a brand new way, and we're seeing the king and queen in a way that we haven't seen before in the storytelling. And then adding Princess Gwen to the mix, and then adding just a lot of comedy bits that are kind of making fun of the musical genre.
Depth to a classic villain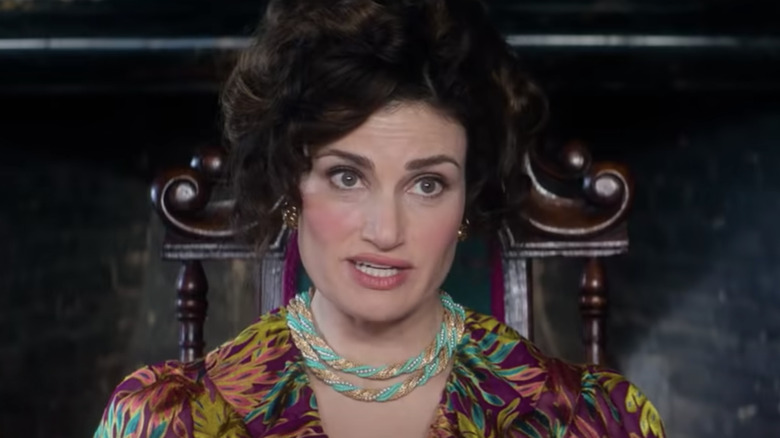 Amazon Studios
I love how you fleshed out the evil stepmom in the movie. She's definitely not stepmom goals, but we see a few sprinkled moments of her past and her humanity. Why was Idina Menzel the right person for that job? What was it like working with her, and what was the most important thing for you to tackle when spinning this classic villain?
Well, Idina's Broadway royalty. I have always been a massive fan of Idina's, from way back in the day. I sat outside the theater where "Rent" was playing in the rain, standing for hours to get those $20 house seats. And I did, and I got in, and I sat in the second row, and Joan Rivers sat behind me. And I just was in awe of Idina. 
I was like, man, she is amazing. She is so talented. And so I really felt like, her having done "Wicked," and what she's known for, I felt like the stepmother, she could play both things. She could play the more evil things that she does, like when she pulls at Cinderella's ear, or she's aggressive. She can really dress someone down. [Laughs]
And at the same time, Idina has this incredible vulnerability. She can really bring people in, and that's what that character needed. And she was able, beyond her amazing voice, and that's so incredible — to be able to do that, to be able to be hard, and then also very soft and vulnerable was very specific. And she does that so beautifully. And then, of course, her singing is just ... yeah. Yeah. It was like, as soon as I had Idina, I was like, what else can I have her sing? And just being in the pre-records and watching her in the booth. I think I have a picture. I know I have a picture of myself just like, she's behind me in the booth, and I'm just like [makes a selfie motion].
Billy Porter: A Fab G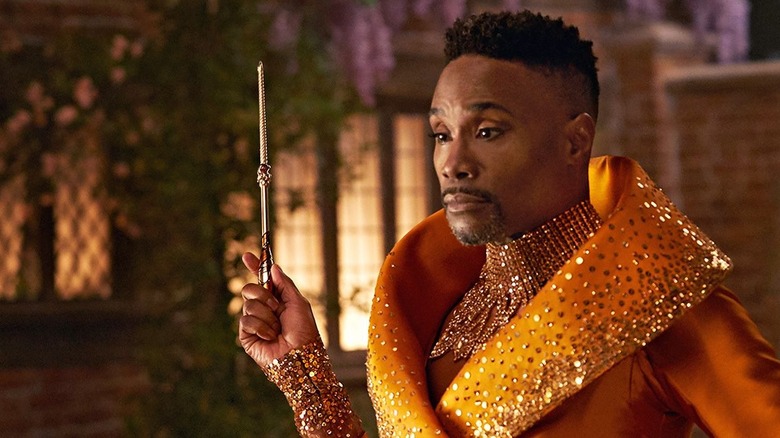 Amazon Studios
The gender-bending and modern take on the fairy tale godmother with Fab G is phenomenal. Did you have Billy Porter in mind when you wrote this role? What inspired this, dare I say it, fabulous change? And what was your favorite aspect of this performance?
I definitely had him in mind the whole time. I was really inspired by the fact that all the other actresses who have ever played this role have done such amazing jobs. And I was like, you just cannot compare. You cannot compare. Billy will talk about this. He'll be like, "I can't compare to Whitney Houston." Whitney Houston was his fairy godmother, and I think Helena Bonham Carter.
I mean, there have just been so many that have done such wonderful jobs. So it was like, that was a spot, that was an opportunity where I was like, okay, how can I modernize this the most? How can I be as inclusive as possible in this? And then also have somebody who can sing and dance. It was just like, it's Billy Porter. Billy Porter is magic, and I'm so happy he said yes. And I don't even want to think about if he said no. He's only on screen for maybe 10 minutes, and he's everybody's favorite part. He's unforgettable.
Back to the Bellas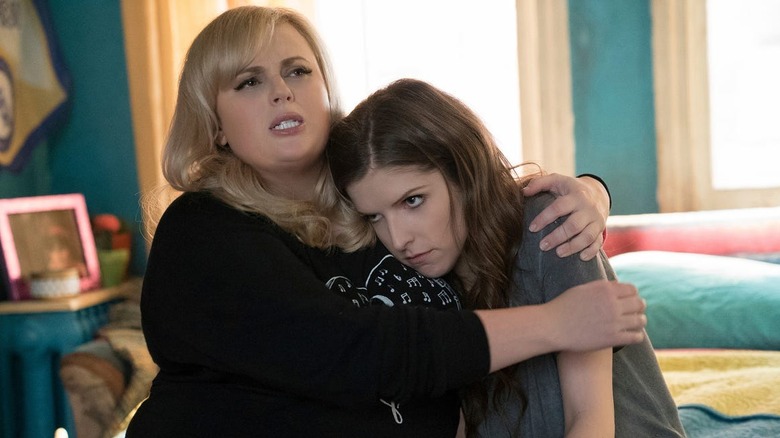 Gold Circle Films
You also wrote the screenplay for "Pitch Perfect." Did you get a chance to work with performers like Anna Kendrick, Ben Platt, and Rebel Wilson at all? And how did that experience differ from this one? What were the biggest challenges posed in both projects?
Yeah, well, I didn't direct those, so I didn't get to work as much with them one-on-one. However, I did bond with them because it was a franchise. The first "Pitch Perfect," I spent a weekend there, but I was working at "30 Rock" when they were filming the first "Pitch Perfect," so I wasn't able to be on set that much. And then, in success and writing the second "Pitch Perfect," I was able to be on set and get to know them more. I think I was on set for six weeks off and on or something like that.
And I have such love for the Bellas. I have such love for ... I don't know Ben Platt all that well, but every time I see him, I'm like, as if we're like best friends. I mean, that's really one-sided. I don't think Ben Platt would say the same thing, but I'm just ... I guess, he's like my little baby, or my little nephew or something. I'm just like, "Come here, you." But I just have such a closeness to them. And I think that there's just an appreciation between the two of us, like with Rebel and Anna, whatever, that I think their careers, that they were doing great, but I think their careers, obviously, really changed after that, as did mine. And I think we share in that.
A Pitch Perfect ending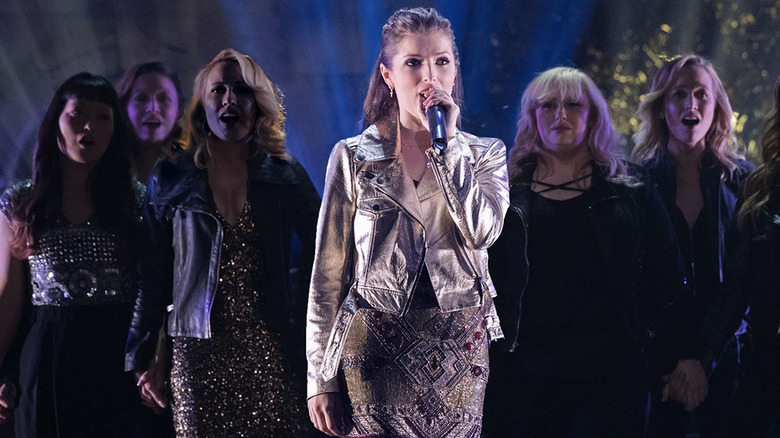 Gold Circle Films
Do you have a favorite moment from the "Pitch Perfect" set?
Yes, I absolutely do, but it's "Pitch Perfect 3." I was actually, I was prepping for "Blockers" in Atlanta. I had very little to do with "Pitch Perfect 3," and there were many, many, many, many writers on that movie. But they were filming the finale of "Pitch 3" in Atlanta as well. And Elizabeth Banks sent me a text, and she's like, "If you come on over now, if you're free, could you come on, stop by? I'm sure the Bellas would love to see you."
And so I did. And I went there, and they were performing in front of a whole crazy, whatever, 400 extras, 200 extras, whatever it was. A bunch of people. There's a big difference between 200 and 400. And they had actually finished their finale, and then I walked in, and Anna Kendrick saw me from across the way. They were onstage. I think they had to just do one little pickup or something. And she was like, "Kay!" I hadn't seen them in so long. And I went up on stage, and all of them came at me, and we just did this massive group hug in front of all these extras.
Aww!
And then they're like, "We're going to perform the finale for you, just for you." And so ... Why am I going to start crying? And then I went to the back. I was with the director, and the DP is this guy, Mark, who I worked at "30 Rock" with, so it was really like family, and just seeing everybody. And I was watching them do the finale, and I thought, "This is ten years of my life, or almost 10 years of my life." For them, it was, I think, six or something. But for me, I sold it in 2008. And so it was really beautiful. It was really beautiful.
Viewers can check out Kay Cannon's version of "Cinderella" streaming on Amazon Prime Video starting September 3.