Meng'er Zhang Discusses Her Xialing Role In Shang-Chi, Punching Simu Liu, And More - Exclusive Interview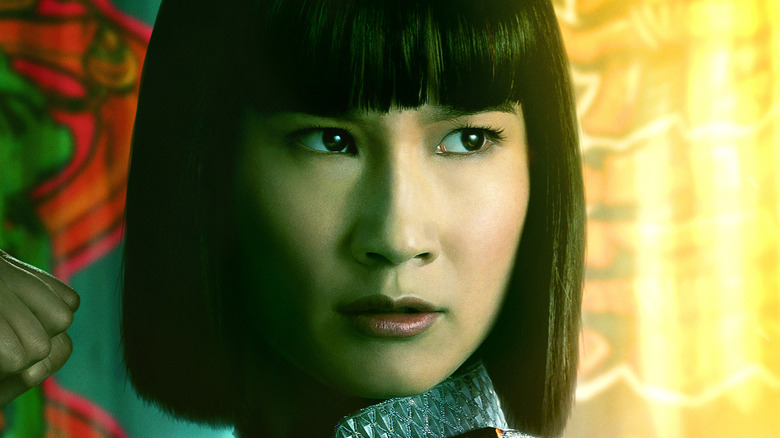 Xialing is one of the key characters in "Shang-Chi and the Legend of the Ten Rings." Played by Meng'er Zhang, she's Shang-Chi's sister and just as good a fighter as he is — in fact, she might be better. Xialing had to learn in the shadows, since her father wouldn't train a girl how to fight, and she's got a chip on her shoulder big enough to start an underground fight club over it. 
This is Zhang's first film role, having spent the previous decade or so doing theater in China. It's also not the last we'll see of her — it looks like Xialing will be an important player in the MCU for some time. Looper spoke with Zhang over the phone prior to the movie's opening. She told us about Marvel's secretive audition process, working with legends like Tony Leung and Michelle Yeoh, and connecting with a character who has no comics history. She also let us know that she accidentally punched Simu Liu in the face.
The audition and training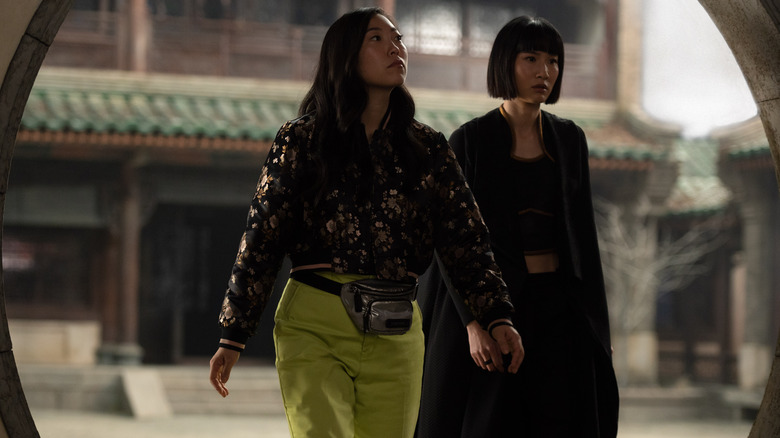 Marvel Studios
Do you have a background in martial arts or dance?
Oh no, actually I didn't have a martial arts background before the film, so they flew me in four months early to train. And I can tell you the training progress is, like, amazing. It's very intense, but fun. You can hear Simu and I screaming on the stunt stage from a mile away.
What martial arts did they train you in?
I learned MMA. I learned Tai chi. I learned rope dart with my weapons. All of them are very cool. And I just love all of them.
Were you a comics fan before you auditioned for this movie?
No, but I'm a huge Marvel fan. I watch all the Marvel films. My favorite hero is Ant-Man.
So what was the audition process for this like? Because I know Marvel can be a little secretive about it at times.
I didn't know I was auditioning for a Marvel film when I sent my self-tapes. I didn't even know. I just saw an audition call in a group chat and it said they needed a girl who can speak Chinese and English. So I thought, well, I can be that girl. So I sent my self-tapes without knowing anything. And when I got a call back and when they flew me to do a screencast with Simu, I found out while I was auditioning for "Shang-Chi."
What was that audition with Simu like?
It went great. I was nervous before I walked in that room because I thought, oh, it's going to be very serious. But actually everyone's so nice and everyone put me at ease and it's just very chill.
And Simu showed up in his slippers and his training suits because he had already started his training. He gave me a totally brother vibe and our chemistry is so good and he gave me space to do whatever I want to do for my character. And I think I did great.
Pre-Shang-Chi, Tony Leung, and Michelle Yeoh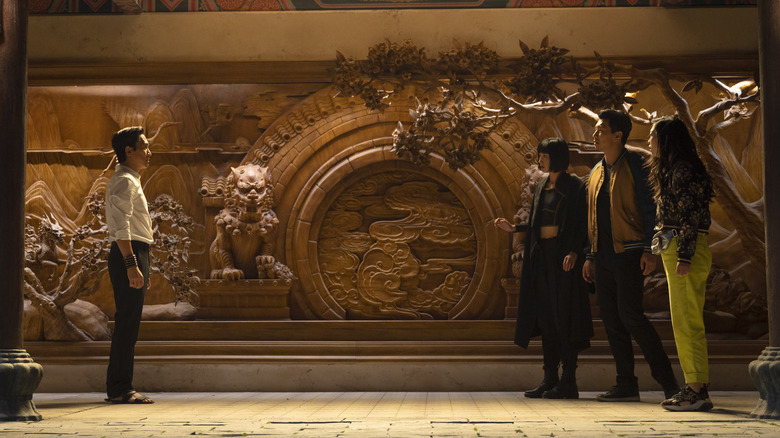 Marvel Studios
According to IMDb, at least, this is your first movie credit. What were you doing before this movie?
This is my very first feature film. And before I got there, I did theater for almost 10 years.
Where did you do theater?
In China. I did some musical theater and classic theater in China, Shanghai, and Nanjing.
What made you want to make the jump to motion pictures?
I don't know. I didn't think of anything. I just saw the audition call and I thought I should give it a shot.
You're there with some big, heavy hitters. You're there with Tony Leung, Michelle Yeoh — tell me about them.
I mean, working with them is like a dream, because I watched their films prior to working with them and Michelle Yeoh, she's so fun and she's just a super nice person. I really adore her and she's pretty goofy. And I just love working with her.
And Tony Leung is a true legend and his work ethic, it's just amazing. He never went back to his trailer. He never asked for anything. He just sat on set the whole time and watched and always prepared. I learned so much from him. I can watch his performance under a microscope.
You were saying Michelle Yeoh is goofy. I want to hear a little bit more about that.
She is. She's always chill. She always makes jokes with us and she's like a big kid in our kids' group, we always call ourselves kids.
And Tony Leung. You said he never went back to his trailer?
Yeah, when we're shooting, because he never asked for anything, he just sat there and watched other people working. And he's just always prepared. He never brought his phone on set. I mean, his work ethic is crazy. He's amazing.
The red carpet, punching Simu, and Ben Kingsley
Marvel Studios
You got to go to the red carpet the other day. What was that like?
I never saw anything like that before. I wasn't nervous before, but it was really fun. And I enjoyed it. I got to take some selfies with Marvel fans. They are truly the best fans. They're always so supportive and they're so creative. They got their own Shang-Chi costumes already, and they just put all of themselves in every Marvel experience. I mean, I feel so lucky.
So your character doesn't have a ton of comics history that I know of. Did that make it easier to play the role or harder to play the role?
Well, I hadn't read comics before, but I just got a very strong connection with this character. The first second I got the script, I just felt like I connected with her.
How do you connect with her?
She's such a tough woman. She knows how to stand her ground and find her voice. And I learned a lot from her. I mean, she's cooler than me, but you know. [Laughs]
So the first time we see you, you get to beat up Simu. What was that like?
Well, I did punch him in the face when we shot the fight scene. Because before that I was nervous. I don't want to hurt anybody, even though we practiced a thousand times, but I was still nervous because I'd never done anything like this before. And Simu encouraged me. He said "It's fine, if you hit me or anything you're not going to hurt me." So I just got into my character and I went for it. I didn't mean to punch him, but I did and I kind of enjoyed it. [Laughs]
Oh that's great. [Laughs] How did he react to being punched?
He said "No, I'm fine. I'm totally fine. No, no, you didn't hurt me at all." He is tough. After that scene, we got so many bruises all over our bodies.
What is Ben Kingsley like?
Oh my God. Working with him is like a dream. It's like taking a master class. I literally took notes when I talked to him because he also had a theater background. I took notes for everything. I asked him a lot of questions. I love him. He's amazing.
"Shang-Chi and the Legend of the Ten Rings" debuts in theaters on September 3. Stay tuned to Looper for more exclusive coverage.