The Untold Truth Of Ed Asner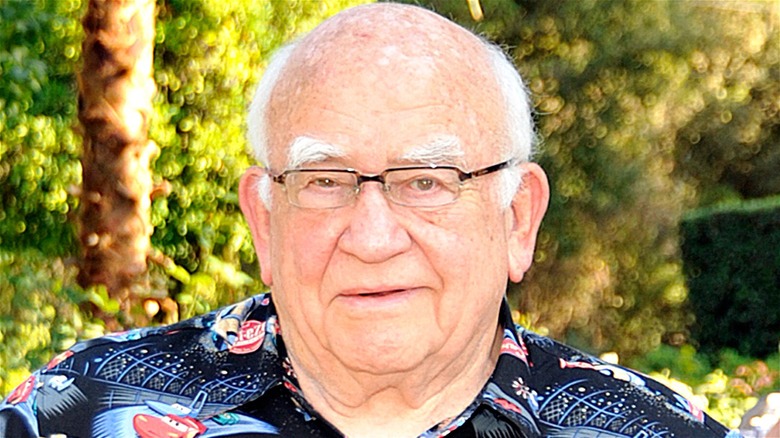 John M. Heller/Getty Images
On August 29, 2021, the world lost one of its most celebrated talents. Ed Asner, a versatile actor who had starred in everything from "The Mary Tyler Moore Show" to Pixar's "Up," died at 91. No matter which generation you came from, Asner played a role in it somehow, and there's still a lot new actors can learn from his singular style to this day.
The actor may be gone, but his impressive body of work will be around for a long time to come. He acted consistently from 1961 until his death, and he had numerous projects in the works at the time of his death, including "Dug Days," where he reprises his role of Carl Fredricksen from "Up." However, his commitment to working isn't the only thing many people may not know about the star.
Asner lived quite the life throughout his 91 years, and there are numerous bullet points that tend to get glossed over in the process. For the untold truth of Ed Asner, keep reading.
He worked for General Motors before becoming an actor
A life in front of the camera wasn't always in the cards for Ed Asner. Initially, he attended the University of Chicago to study journalism but dropped out before getting his degree. At least he managed to put what he did know about being a reporter to good use playing Lou Grant on "The Mary Tyler Moore Show." After dropping out, he took various odd jobs, including being a taxi driver and working on the assembly line for General Motors.
At this point, he was drafted to serve in the Korean War, but he didn't end up going to the front lines. As he said in an interview with Vulture, "We realized that we wouldn't be part of the glory of World War II, but we'd be part of the g***amned draft system. When they finally sent me overseas to France — not Korea! — my job was typing up the training schedule on a stencil." When he was still in the service, he received a message that would forever change the course of his career ...
He helped kick off Chicago's improv scene
Ed Asner wasn't a complete stranger to acting before joining the service. When he was still in college, he starred in a production of "Murder in the Cathedral" by T.S. Eliot (via Daily North Shore). In a 2019 interview, when speaking about the soliloquy he had, he elaborated, "The verse is gorgeous. Some of the most beautiful lines ever written." He said with that part, he knew he had to become an actor, and upon coming back to the United States from France, he helped found the Playwrights Theatre Company in Chicago. 
He didn't stick around the organization for long. He moved to New York to pursue more prominent roles before the members of the Playwrights Theatre Company could regroup as the Compass Players. Asner would go back to perform with his old friends every once in a while, and over time, Compass would transform into The Second City.
Asner had the chance to work with some of the most influential comedic actors of the 1950s, including Del Close, Mike Nichols, and Elaine May. No doubt they all helped him in honing his own comedic timing skills.
Ed Asner won more acting Emmys than any other man ever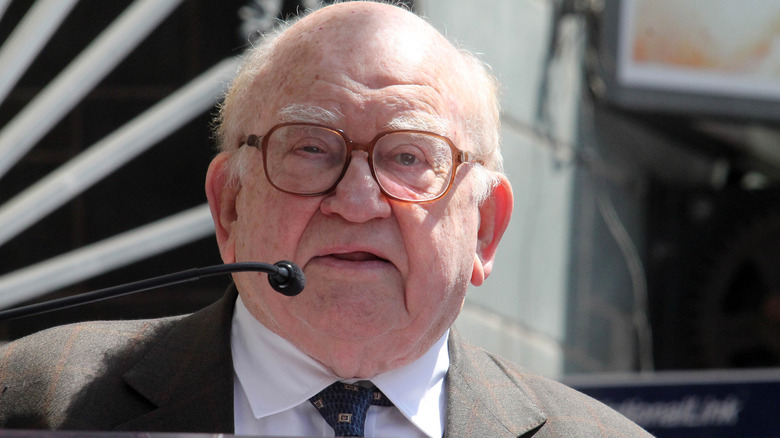 Kathy Hutchins/Shutterstock
Ed Asner was well-decorated throughout his life. In fact, he had more acting Emmys than any other man in the history of the awards ceremony. He took home three for his role of Lou Grant on "The Mary Tyler Moore Show" before winning twice more for the same part in the spinoff series "Lou Grant." His remaining Emmys came from his work on "Roots" and "Rich Man, Poor Man." In terms of overall ranking, he's tied in second place for the most acting Emmys ever won alongside Mary Tyler Moore, Julia Louis-Dreyfus, and Allison Janney. The only actor to have more than all of them is Cloris Leachman, who won eight. Leachman also passed away in 2021 at the age of 94.
His many Emmys only just begin to scratch the surface of the various accolades he won throughout his illustrious career. His resume also includes the Screen Actors Guild Life Achievement Award, five Golden Globes, and a star on the Hollywood Walk of Fame.
Ed Asner was vocal about his political views
Ed Asner's career spans far beyond his acting work. From 1981 to 1985, he served as the president of the Screen Actors Guild, and just before getting elected, he proved he would do more than sit behind a desk. He played a critical role in the 1980 SAG strike, which led to him serving two terms. He brought SAG in a more liberal direction after the decidedly conservative views of former leaders like Ronald Reagan and Charlton Heston (via The Hollywood Reporter).
He took on various liberal causes during his time as president, such as advocating for single-payer healthcare in California. He maintained these viewpoints throughout his life, even endorsing Barack Obama for president in the 2008 election. As Lou Grant would say, he had spunk.
However, he faced setbacks from championing these various causes. CBS maintained that his spinoff show "Lou Grant" was canceled after five seasons due to low ratings (via Wall Street-Journal). Asner suspected it was the network getting back at him for being so outspoken about some controversial issues.
Ed Asner played Santa Claus not once, not twice, but five times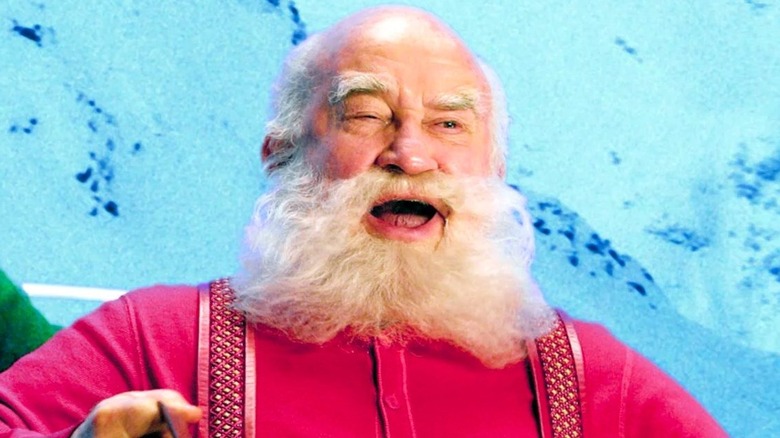 New Line Cinema
Ed Asner had a lot of notable roles throughout his career, from Lou Grant to Carl Fredricksen. But what you may not realize is that Santa Claus might just be his most prolific character to date.
Plenty of actors have played ol' Saint Nick on big and small screens before, but Ed Asner holds the distinction of playing him five times. The most recent example of this is when he suited up in the red suit for 2003's "Elf." His other Christmas credits include "Highway to Heaven," "The Story of Santa Claus," "Olive, the Other Reindeer," and "The Ellen Show."
Asner continued to hold a soft spot for his "Elf" role years after the fact. In a 2021 interview with The Hollywood Reporter, he exclaimed, "Will Ferrell is a genius and the funniest man I came across since Ted Knight." Asner had a career most actors would kill for, and his legacy will continue to loom large for quite some time to come.