Why Kara's Costume In The CW's Supergirl Makes No Sense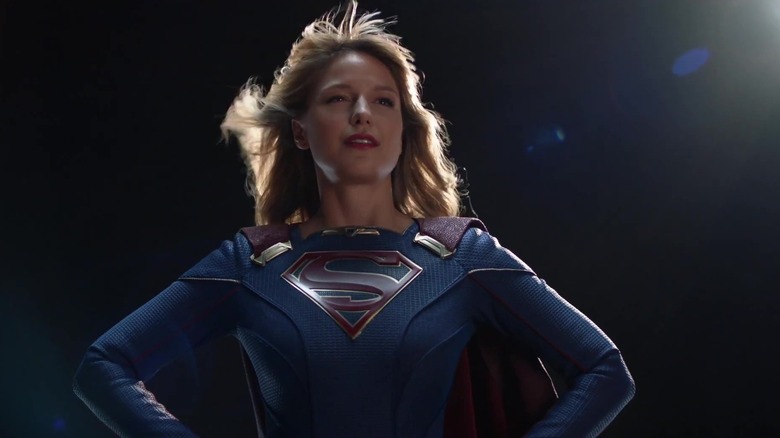 The CW
The popular CW show "Supergirl," which is sadly ending with Season 6, has had a successful run for the past five years. The Season 5 premiere of showcased the newest version of Kara's Supergirl costume. Supergirl's new look first debuted at San Diego Comic-Con in 2019 (via The Wrap). The most noticeable alteration in the suit is the blue pants, which take the place of the famous (albeit shorter) red-and-blue skirt. The decision to change Kara Danvers', aka Kara Zor-El, costume after five seasons has become a controversial topic among fans, according to a Reddit poll conducted earlier this year.
As much as fans love Melissa Benoist's take on Supergirl, the new costume's divisiveness had left us wondering: What were the actual reasons for changing Kara's "Supergirl" costume from the original's signature look? What other alterations were made in the process? And, most importantly, how would the changes to Supergirl's costume be explained on the show?
Supergirl's new costume has a few technical glitches that need to be addressed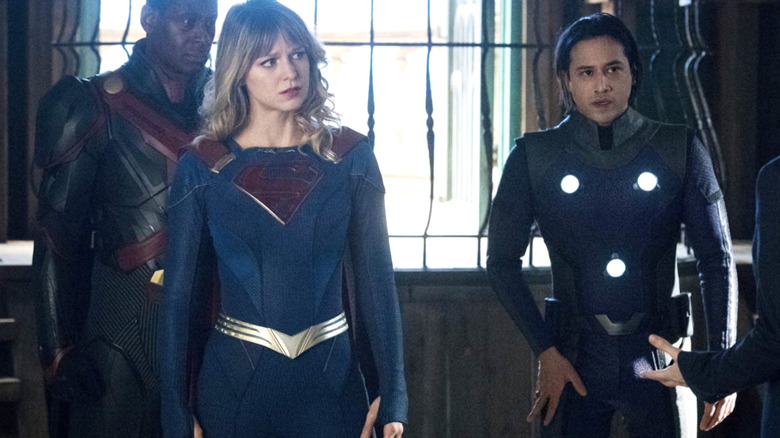 The CW
Winters can get unbearably cold in Canada, and since many of The CW's superhero shows are shot in there (via Georgia Straight), actors must adjust to colder temperatures depending on the filming schedule. During a 2019 "Supergirl" Comic-Con panel, Benoist explained that after years of filming the series, she was not only ready for a change in her costume but was also tired of having her bare legs exposed to the cold while shooting the outdoor scenes in Vancouver (per CinemaBlend). The producers also agreed it was time for Supergirl's suit to receive a much-needed upgrade.
While there have been a few minor changes to Kara Danvers' costume in the show's past seasons, the newest additions to her costume don't really make sense due to some unexplained science behind the super-suit. The Season 5 episode "Event Horizon" reveals the biggest change to the suit involves a new kind of technology — which is eerily reminiscent of the tech in Spider-Man's MCU costume — that activates when Kara takes off her glasses. Once she does this, her new suit appears and instantly outfits her. Even with these cool technological add-ons to Supergirl's costume made by Jesse Rath's Brainiac 5, it still seems weird to have Supergirl in anything other than her signature outfit.
In a 2019 Entertainment Weekly interview, Benoist asserts that Kara's new costume is "more adult" and channels her evolution into a woman. Okay, but the logistics of how everything works on the suit are still unclear. What happens to Kara's old clothes when she switches into her outfit automatically? Where does she put her glasses? There don't seem to be any visible pockets.