The Real Way John Cena Could Possibly Join The MCU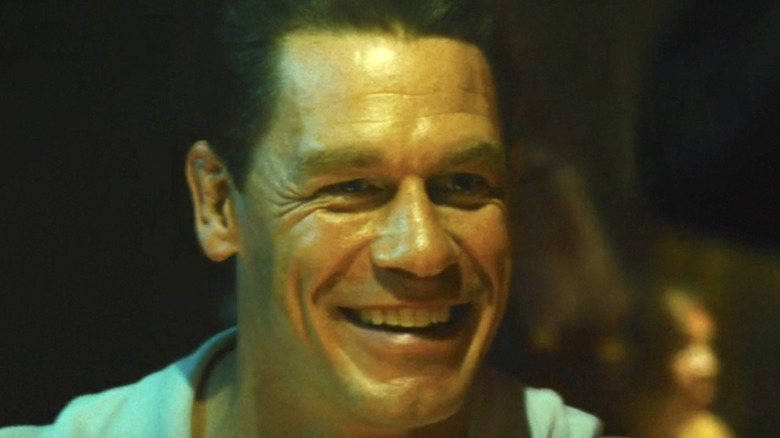 Warner Bros. Pictures
John Cena has quickly become a big name in Hollywood, thanks to his roles in popular films like "Trainwreck," "Blockers," and "Bumblebee." Most recently, audiences saw the WWE star give a standout performance as Christopher Smith AKA Peacemaker in James Gunn's "The Suicide Squad." He clearly impressed Gunn and Warner Bros. with his turn in the film as well, considering the studio greenlit the director's idea of giving the character his own solo HBO Max series. As a result, "Peacemaker" is set to debut on the streaming service in January 2022, and it'll be interesting to see where the character may or may not go from there.
All this is to say that Cena's popularity is only growing bigger by the minute, and now that he's firmly secured a place in the DC Extended Universe, many fans are wondering whether he could ever step foot in the Marvel Cinematic Universe. The MCU is expanding pretty quickly thanks to Marvel's ambitious slate of upcoming film and Disney+ titles (like "Hawkeye," "Ms. Marvel," "Moon Knight," and "She-Hulk"), and because "Loki" opened up Marvel's multiverse in its Season 1 finale, there's now an endless list of story directions that the franchise could take moving forward.
The studio's freedom to tackle so many different kinds of stories also means Marvel has a lengthy list of comic book characters that are simply waiting in the wings for their big-screen debuts. That includes one "Fantastic Four" character that John Cena says he would definitely be interested in bringing to life for Marvel.
John Cena would consider playing The Thing in the MCU
During a recent video for Esquire, John Cena was given a number of questions to answer, most of which he had plenty of fun with and made jokes out of. However, one of the questions asked him whether he'd like to play Ben Grimm AKA The Thing in Marvel's upcoming "Fantastic Four" movie. The star had a brilliant response, saying, "I would consider most anything. I think keeping yourself open to options and different perspectives is a good way to go about life." It's an answer that makes his interest in the role explicitly clear, and, to his credit, he's no stranger to playing bizarre characters on-screen (just look at the giant chrome helmet he wears as Peacemaker in "The Suicide Squad").
Taking on the "Fantastic Four" role could also possibly be an easier job for the star than playing Peacemaker was because the Thing will presumably be made using CGI — unless Marvel decides to create the character practically. But it doesn't look like Cena would turn his nose up at the role either way, with the actor adding, "This would simply be a thing that I would consider because I like to keep my perspective open to new things."
"Spider-Man: Far From Home" director Jon Watts will be at the helm of Marvel's highly-anticipated "Fantastic Four" movie, but the script for the film has yet to be completed, which means the studio likely hasn't locked in any actors for it just yet. Indeed, Deadline's Justin Kroll tweeted back in February that Marvel was only just in the process of meeting with writers for the film, so it'll probably be some time before fans know more about the project. That means that, while John Cena is a pretty great choice for The Thing, fans will just have to wait and see who Kevin Feige and Marvel Studios actually end up going with for the role.