The Romantic Comedy That Ruined Matthew Perry's Career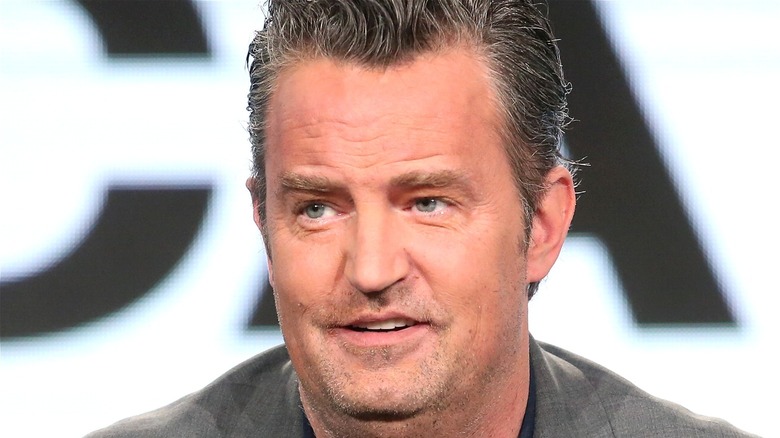 Frederick M. Brown/Getty Images
Many people know the actor Matthew Perry from his role playing Chandler Bing on the popular sitcom "Friends," which ran on NBC from 1994 to 2004. Chandler is one of the main six friends, best friends to Joey Tribbiani (Matt LeBlanc) and Ross Geller (David Schwimmer), and husband to Monica Geller (Courteney Cox). Even after many years, Perry is most well-known for this role, which has defined his entire career. That doesn't mean that Perry hasn't played other characters over the years, although none have been quite as memorable. 
While "Friends" was airing, all of the main cast members, which also includes Jennifer Aniston and Lisa Kudrow, ventured off to explore other interesting roles, whether in television or film. Schwimmer acted in projects like "Band of Brothers" and "Curb Your Enthusiasm" while also trying out directing, even moving behind the camera for 10 episodes of "Friends." Both Kudrow and Aniston stayed in the comedy/romcom genre, with Kudrow appearing in "Romy and Michele's High School Reunion" and "Analyze This," while Aniston was in "Picture Perfect," "Office Space," and more. As for Perry, he also moved into romantic comedy world, but it didn't go quite as well. 
One movie in particular, which Perry starred in only a few years into his time on "Friends," really changed the trajectory of his film career, and not in a good way. 
Fools Rush In halted Perry's career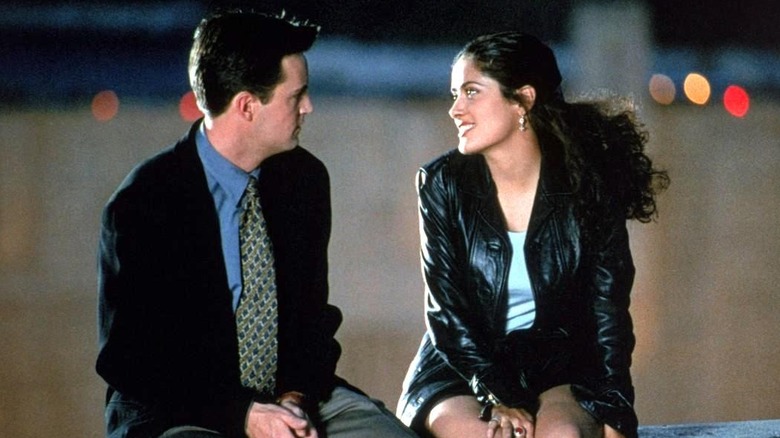 Columbia Pictures
In 1997, Perry starred in the romantic comedy "Fools Rush In," which costars Salma Hayek in the lead female role. The movie tells the story of Perry's character Alex Whitman, a straight-laced architect who travels to Las Vegas to oversee a project. There he meets Hayek's character Isabel Fuentes, an independent Mexican-American photographer, and they have a passionate one-night stand. The two don't see each other for a few months and it seems to be over, until Isabel contacts Alex and tells him that she is pregnant with his baby. The couple then decides to "do the right thing" and get married, trying to have a real relationship. Over the course of the film, Alex and Isabel slowly start falling for one another, but both are too scared to admit their feelings. 
"Fools Rush In" is a simple romcom starring two popular actors of the time, and it was expected to be a success. But unfortunately it wasn't, and so Perry's career outside of "Friends" got off to a rough start. IMDb estimates that the budget of "Fools Rush In" was around $20 million, and the box office return was disappointing, with the romantic comedy making a little less than $30 million overall (Box Office Mojo). Along with that, critics didn't love the movie either, with "Fools Rush In" having a 34% on Rotten Tomatoes. One critic, Desson Howe, wrote in his review of the film for The Washington Post that it is "an extended sitcom. And for the first time in your life, you'll actually beg for commercials." As for Perry in particular, Howe said, "He's pure television: cuddly, bumbling, occasionally funny and completely bland." Not the best response for his first major movie role, that's for sure. 
Perry hasn't appeared in many films since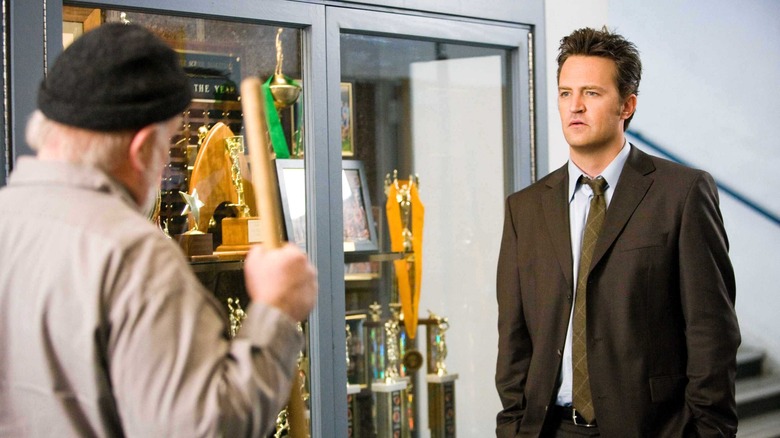 Warner Bros. Pictures
Later on, "Fools Rush In" grew to be a nostalgic romcom favorite for some, but at the time, the failure of the movie had a great effect on Perry's career. After the 1997 romcom, Perry also starred in a few more films like "Almost Heroes," "Three to Tango," and "The Whole Nine Yards," along with a few other television guest roles during his time on "Friends." Since the popular sitcom ended, Perry mostly stayed in the realm of television, only appearing in a few movies over the years, and none received great responses from critics or audiences. 
His television career has gone a little better, with the comedy shows "Go On" and "The Odd Couple" finding some success. Most recently, Perry appeared in the television miniseries "The Kennedys After Camelot" in 2017. But the effect of "Fools Rush In" and other unsuccessful past films is still evident today, and Perry's last movie role was playing the adult version of Zac Efron's character Mike O'Donnell in 2009's "17 Again." Though in 2021, Perry might be looking to turn his movie career around, as he will appear in the upcoming Netflix film directed by Adam McKay and starring Leonardo DiCaprio and Jennifer Lawrence, "Don't Look Up."