The Forgotten Matthew Perry Rom-Com Heating Up On Netflix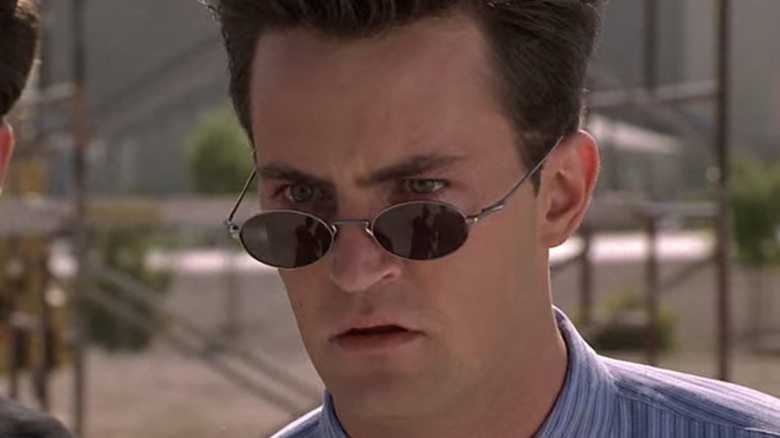 Columbia Pictures
Matthew Perry is best known for his role as the sarcastic and hilarious Chandler Bing on "Friends." However, the veteran actor has a number of other roles under his belt, too. These include the short-lived Aaron Sorkin comedy, "Studio 60 on the Sunset Strip," CBS sitcom "The Odd Couple," and the Zac Efron teen comedy "17 Again." However, at the height of "Friends" mania in 1997, Perry tried his hand at the booming romantic-comedy genre.
"Fools Rush In" follows a plot well-worn in Hollywood: Two people share a steamy night together, only to discover the woman got pregnant, and so they decide to try out being a real couple. Perry stars as Alex Whitman, a straight-laced New Yorker who meets Isabel Fuentes (Salma Hayek), a free-spirited Mexican-American woman, on a business trip to Los Angeles. The pair soon find that their cultural and familial differences make their relationship tricky, but (spoiler alert!) they ultimately find that love conquers all.
The film was poorly received by critics, holding a 32% Tomatometer score on Rotten Tomatoes, but it fared somewhat better with audiences, with an audience score of 64%. We'll tell you why it's still worth a watch, despite the negative reception.
Fools Rush In is a comforting romantic comedy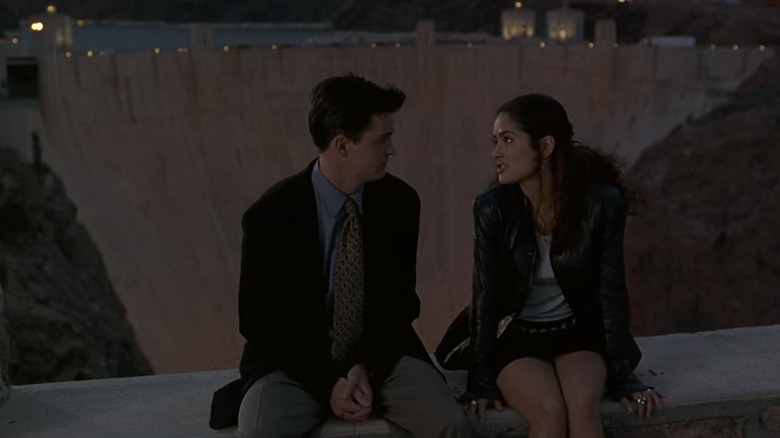 Columbia Pictures
"Fools Rush In," as the name suggests, pays homage to Elvis Presley. Taking its title from the ever-romantic "Can't Help Falling in Love" by the iconic performer, the film's Las Vegas setting lends itself to other nods, including an Elvis impersonator officiating Alex and Isabel's wedding. 
Although the movie's depictions of Mexican-American culture are rife with stereotypes (particularly for a film with a fully white writing staff), they still lend to some amusing moments of cultural clash. Matthew Perry and Salma Hayek, talented comedic actors on their own, have electric chemistry in the film, and it's easy to believe their two characters would fall for each other. Director Andy Tenant knows how to create a great romantic comedy, because he's responsible for "Hitch" and "Sweet Home Alabama."
The film's plot may be a bit predictable, but we think that's a good thing. A cozy, happy-ending romantic comedy is one of our favorite cures for a bad day. If you're looking for laughs and a reminder that love can always find a way, "Fools Rush In" is the perfect watch, and you can add it to your Netflix list right now.