What The Rotten Tomatoes Reviews Are Saying About Hustlers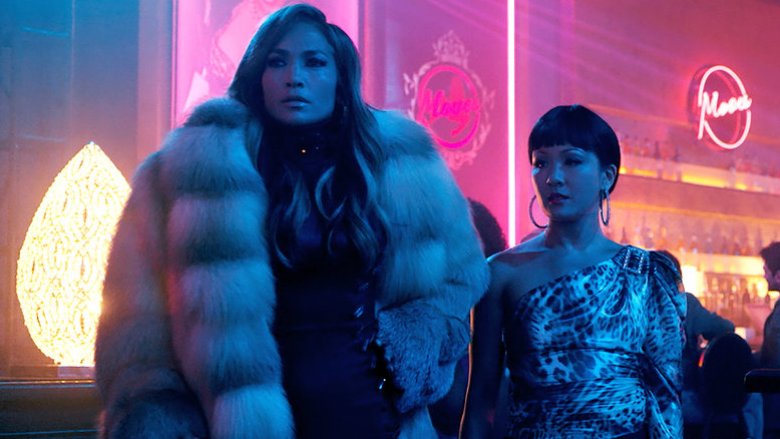 The word is out about Hustlers. 
Reviews for Hustlers have come rolling in after the Lorene Scafaria-directed comedy-drama screened at the Toronto Film Festival on Saturday, September 7. Early buzz indicates that critics are all in on this Robin Hood-style revenge story, set to hit theaters on September 13. The film is based on a 2015 New York Magazine piece called "The Hustlers at Scores" written by Jessica Pressler, in which Pressler details the time she spent at the famous New York City strip club, following a ring of women who drugged their patrons and stole money from them to support their own families and lifestyles.
Starring Jennifer Lopez, Julia Stiles, Constance Wu (Crazy Rich Asians), Keke Palmer (Scream Queens), Lili Reinhart (Riverdale), and musicians Lizzo and Cardi B (the latter of whom worked as a dancer in a strip club before achieving worldwide stardom), this exciting, female-led film boasts a cast and creative team made up of mostly women. One critic said it plays like "Scorsese in stilettos," and many have called it empowering for women everywhere. As of this writing, Hustlers boasts a 95 percent critical rating on Rotten Tomatoes. 
Justin Chang at The Los Angeles Times said of Scafaria's film, "Hustlers is brassy and invigorating, its pleasures obvious and right there on the surface. As a portrait of women at work, bickering and bonding and doing whatever it takes to get some measure of their own back, it's smarter and more grounded than Hollywood has given us reason to expect, and told with a welcome matter-of-factness that can melt without warning into tenderness." 
He also gave praise to Scafaria's deft direction: "[She] neither soft-pedals nor denies the basic, primal appeal of what her characters do for a living; she would hardly be giving them her full consideration if she did. Her strippers and sex workers may get ogled like all the others, but in this movie, they are also clearly and defiantly seen."
Over at Entertainment Weekly, Leah Greenblatt said of the performances, "Lopez (who seems to hold the center of every scene she's in) and Wu bring a soulfulness and desperation to their roles that defy easy profiling. Yes, they're single moms from disadvantaged backgrounds, but the script doesn't martyr them or offer excuses for the choices they make. What it does, smartly if sometimes a little too neatly, is make them feel real."
Greenblatt concluded that "the room it leaves for that humanity — and the draw of Lopez's magnetic presence — gives the movie more than legs; beneath all the chinchilla and body glitter, there's a smart, beating heart." She gave Hustlers a B+ on an A+ to F- scale. 
Kate Erbland of IndieWire praised the movie, writing, "It's not only Scafaria's best film, it's also a welcome twist on the crime thriller genre (if we must apply genre distinctions here) and the ripped-from-the-headlines, can-you-believe-this-is real drama. And, yes, it's also a film about strippers, but more than that, it's about women doing the best they can in a broken system. It's also funny, empowering, sexy, emotional, and a bit scary, with most of those superlatives coming care of a full-force performance from Jennifer Lopez genuinely deserving of awards consideration." 
She also compared it to other recent films about real-life swindles and scams, saying, "As much a film about Wall Street troubles and the financial crisis of the late aughts as it is about exotic dancers, Hustlers soon blossoms into the kind of snappy sendup producer Adam McKay might make, with a deft and definite feminine touch." Amidst all this praise, Erbland awarded Hustlers an A-.
At Variety, critic Peter DeBruge described the movie as incredibly empowering: "Hustlers represents an acrobatic celebration of unbridled femininity, in which liberated ladies take full advantage of the power they hold over men — who, in this equation, are by far the weaker sex, slaves to a libido satisfied only by spending. Of course, there are plenty who would dismiss such a display as a compromise of a woman's true strengths, but Hustlers doesn't have time for such arguments. If you've got it, flaunt it, the movie seems to say, celebrating a wide range of body types as beautiful while limiting just how much ogling audiences are permitted."
The Hollywood Reporter's Beandra July loved Hustlers as well, writing, "The film impressively somersaults past any stigma attached to stripping and sex work, emphasizing how the main characters are run-of-the-mill American workers regardless of their particular job. It's not about convincing anyone that stripping is empowering or disempowering, or that hustling is or isn't wrong; it's about all the gray areas in between. Scafaria validates her heroines from the start by focusing on them as women whose internal struggles and friendships with each other are far more interesting than their obvious physical allure."
One notable critic who disliked Hustlers — and, it should be said, an outlier from the pack so far — is Sara Stewart of The New York Post. She wrote in her review, "Scafaria, and her leading ladies, fail to flesh out characters engaging enough to make us root for them. Not that we're rooting for the sweaty Wall Street creepers who get fleeced." Stewart ultimately felt let down by Hustlers: "There's a lot to be said, this year, about giving space to majority-female casts, and more female directors, and to the undoing of the strip-club cliche in film. I just wish the first real salvo had hit its mark with a little more zing."
More reviews are yet to arrive for Hustlers – but add up its current Rotten Tomatoes rating with Oscar buzz for Lopez, whom critics agree steals the show, and it's clear that people will hustle to see Hustlers when it officially dances into theaters on September 13.