The Surprising Business Corey From Pawn Stars Once Co-Owned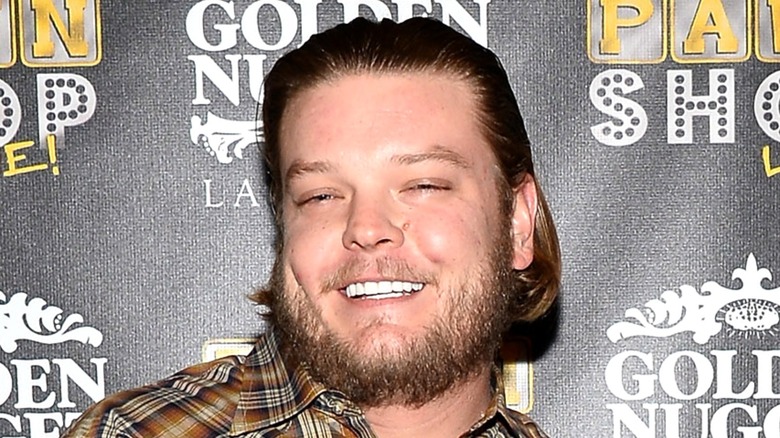 Ethan Miller/Getty Images
The cast members of History's "Pawn Stars" have become millionaires since the show first aired in 2009, and third-generation pawnbroker Corey Harrison is no exception. With an estimated net worth of $5 million, it's safe to say the tough negotiator and amateur stunt cyclist is doing pretty well for himself. Having worked at the World Famous Gold & Silver Pawn Shop since he was just 9 years old, Corey Harrison has certainly followed in his father Rick's footsteps — and in more ways than one. Not only did he enter into the family business, he also has dabbled in side hustles, a practice he must have inherited from his dad, who now owns a strip mall right next to the pawn shop that started it all.
Now 38, Corey worked at the shop for decades before "Pawn Stars" happened — that's the majority of his life! Once the show got going, however, a harsh reality set in: Due to Nevada privacy laws, the TV stars can't risk working the floor at their beloved pawn shop, as fans could accidentally photograph other patrons while trying to capture their favorite pawnbrokers on film. After all the time spent making a living in the store before securing that fateful TV series contract, it's understandable that Corey and his dad might want to open up some other businesses to satisfy their inner worker bees. And, of course, the extra income couldn't hurt.
Not all business ventures, however, work out in the end.
Corey once co-owned the salon and nightclub Beauty Bar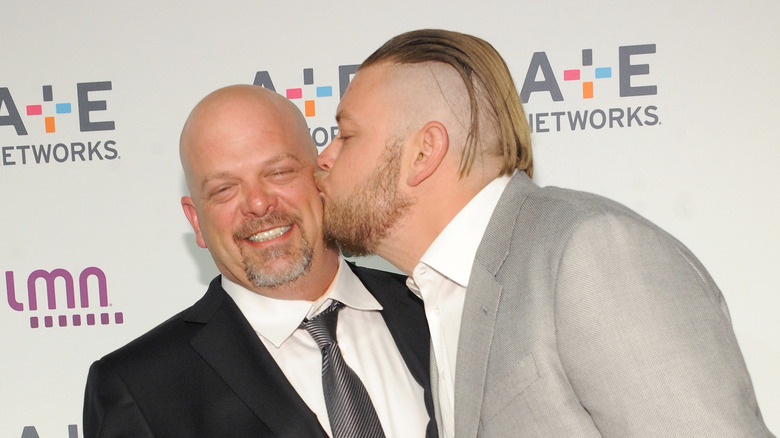 Brad Barket/Getty Images
Beauty Bar is a chain of salons that double as nightclubs with locations in cities across the United States. In 1995, businessman Paul Devitt opened the first location, Beauty Bar New York, in Manhattan, taking over the old Thomas Beauty Salon and turning it into a "beauty saloon." Beauty Bar soon became known for its $10 martini and manicure specials, and began opening up other salon-saloons, like Beauty Bar San Francisco in 1998 and, in 2005, the Las Vegas store that Corey Harrison would later become an owner of (via Las Vegas Review-Journal).
After 9 years in business, Corey and his friend, Las Vegas businessman Darin Feinstein, bought Beauty Bar Las Vegas in 2014 from Devitt. Located in the up-and-coming Fremont East entertainment district, the salon and nightclub probably seemed to these new owners like an investment that would easily become lucrative. But this was evidently not the case, as both Feinstein and Harrison sold their shares in 2018, first Feinstein in April, then Harrison just 8 months later in December.
It's a good thing Harrison and Feinstein jumped ship when they did, as Beauty Bar Las Vegas would soon meet its demise — and it was neither swift nor painless.
Corey Harrison left Beauty Bar at the right time
After being served with an eviction notice in early March 2019 following a series of incidents, new owner Roxie Amoroso planned to fight for her bar, saying, "The truth is that the Beauty Bar is financially strong, compliant with all of its legal obligations, and provides amazing experiences for its diverse customers" (via Las Vegas Review-Journal). Unfortunately for Amoroso, statements like this did not sway the Las Vegas City Council, which voted unanimously to revoke Beauty Bar's temporary liquor license and deny the establishment a permanent one, effectively shutting the salon and nightclub down (per Las Vegas Review-Journal).
What prompted the decision? Apparently there was some illegal activity going on at Beauty Bar Las Vegas. On August 6, 2018, a security guard put a band member who was performing at the club in a chokehold, which the Las Vegas Metropolitan Police determined an unreasonable use of excessive force. A few months later, on October 5, 2018, the same security guard allegedly punched a patron of the bar in the face repeatedly — for no apparent reason — earning himself a misdemeanor battery charge (although the charge would later be dropped). At one point, a security guard even sold an undercover cop $30 worth of marijuana! And finally, management did not communicate properly with the city about the nature of their business.
Although Beauty Bar Las Vegas' Facebook page still claims that the venue is open — "15 years & going strong!" — none of its website links relate to the business and the shop is now vacant. There are, however, other Beauty Bars in the franchise. According to Beauty Bar's company website, locations still exist in New York, Brooklyn, San Francisco, Chicago, Denver, and Dallas. But none of them call Corey Harrison an owner.