What Pawn Stars Fans Don't Know About Rick's Side Business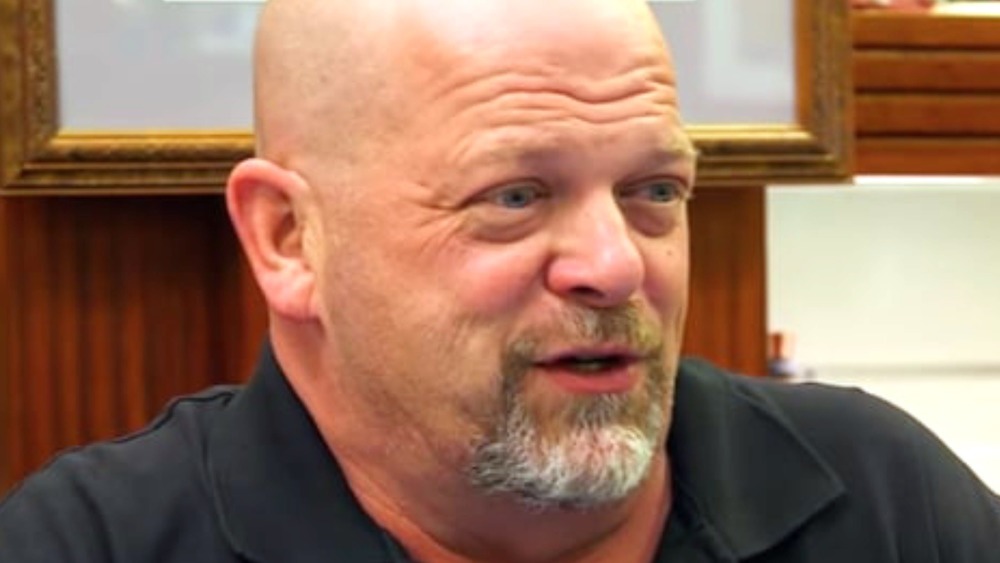 History
Running a pawn shop may not always be easy, but the day-to-day operations are always interesting. At least, the History Channel producers behind Pawn Stars thought something to that effect when they decided to develop a reality show about a pawn shop. As it turns out, those producers were onto something. The series has remained on the air for a grand total of 620 episodes across 17 seasons and counting. While the show's quality may be inherently subjective, it's hard to debate its success with an episode count like that.
Pawn Stars documents the daily tribulations of the owners and some of the staff at the World Famous Gold & Silver Pawn Shop located in Las Vegas, Nevada. Currently, the series follows father-and-son owners Rick and Corey Harrison, alongside Chumlee, Corey's ever-present childhood friend. Rounding out the cast was once Rick's father and Corey's grandfather, "Old Man" Harrison, but his death in 2018 naturally marked the end of his tenure on the show.
Rick, as the current patriarch of the pawn shop at the heart of Pawn Stars, has made some efforts to expand his business ventures beyond his family's work on the semi-scripted TV series. Among those efforts is a side business managing real estate.
Welcome to Pawn Plaza
Fans of Pawn Stars may very well have never heard of Pawn Plaza. Though it's owned by Rick Harrison, it's not officially affiliated with Pawn Stars the TV series, and therefore it's not included on the show. For visitors to the World Famous Gold & Silver Pawn Shop in Las Vegas, however, Pawn Plaza is practically impossible to miss.
Pawn Plaza is located on a stretch of land directly adjacent to the Pawn Stars shop. It functions as a strip mall of sorts, with space for a variety of storefronts, some of which directly feature the likenesses of the Pawn Stars cast. Rick has rented those storefronts out to a variety of tenants over the years. The plaza's current businesses include barbecue restaurant Rick's Rollin Smoke BBQ, CBD-infused coffee vendor Nfused Coffee, and empanada restaurant Q'Rico, among others.
However, business owners in Pawn Plaza have run into some unforeseen complications. It's possible that business may have simply been slower than some might have expected in a mall with marketing ties to a hit reality TV series. However, some prior business owners have accused Rick of failing to adhere to terms agreed upon when they moved in. In either case, four restaurants in total have shut down during the plaza's six-year existence. 
Nevertheless, Pawn Plaza remains a sizable attraction for visitors to the World Famous Gold & Silver Pawn Shop's Las Vegas location.