The AHS: Double Feature Episode 1 Scenes Fans Thought Made No Sense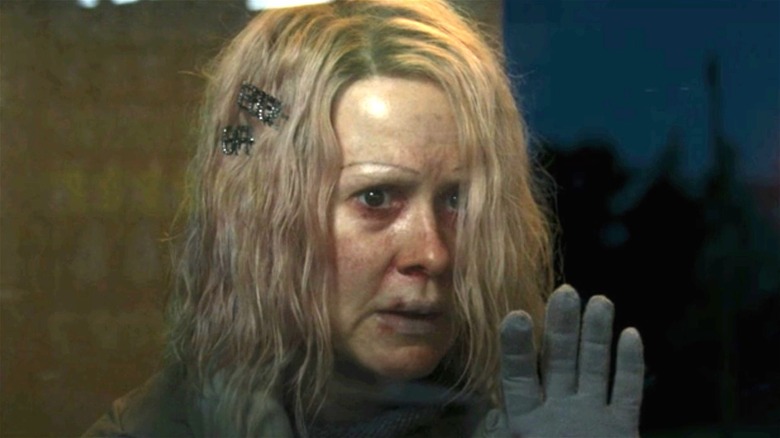 FX
From the eerie setting to the disturbing vampiric creatures to Sarah Paulson once again completely transforming herself for a role, the premiere of "American Horror Story: Double Feature" was a welcomed return for the anthology series. The first episode of the "Red Tide" portion of the double feature, titled "Cape Fear," introduced viewers to the Gardner family as they arrived in wintery and desolate Provincetown, MA for what they hoped would be a few months of productive solitude. Of course, those plans are almost instantly interrupted by bloody terror.
For any piece of horror storytelling to work, there either has to be a well-constructed reason for why the characters stay in the situation they are in (lost in the woods with no cell service, for instance) or the audience must be able to suspend their disbelief. For some viewers, "Cape Fear" didn't quite hit the mark on either front. Even after the Gardners experience strange and violent trouble in Provincetown, they refuse to leave. A variety of excuses are given — they're told not to worry by the police chief (Adina Porter), Harry (Finn Wittrock) has a drug-induced bout of creativity and demands to stay to work on his pilot script — but considering the seemingly non-stop barrage of incidents, none feel really satisfying.
When Twitter user @Nene_689 blasted the Gardner family for "[moving] into a creepy house/town and [ignoring] all the signs that they're about to die," a few other viewers jumped in to share the specific instances in the episode that made no sense to them. And there was one in particular that felt the most erroneous.
Fans are confused about the timing of the Gardner's dinner reservations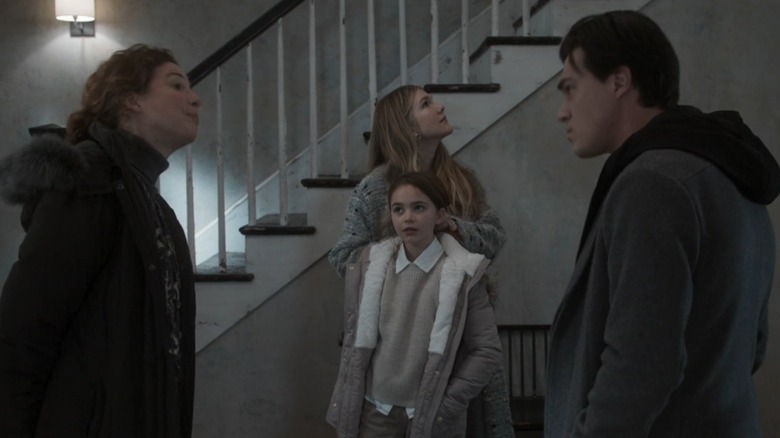 FX
Quite a few Twitter users took issue with the way the Gardner family reacted to the disturbing events that followed their arrival in Provincetown. One common theme was the fact that despite, for instance, being attacked in their own home by a man with razor-sharp teeth who has been stalking them since they arrived, the family continues to go about their business as though nothing happened.
Twitter user @ViankaVianey_ brought up one specific instance of this that feels particularly odd. About halfway through the episode, the family has already been chased down the street by the sharp-toothed ghouls, seen them congregating outside their home at night, and found multiple eviscerated bodies on the nearby beach. So, what do they plan do in response to these flashing red sirens that something is wrong? Go out for dinner, of course.
Not only do Harry and Doris (Lily Rabe) make reservations, they also hire Martha (Robin Weigert), the house manager they met the day before, to babysit their daughter. As @ViankaVianey_ tweeted, "We about to die but let's leave our daughter with a random stranger. Lol."
Lol indeed. Although they end up canceling the babysitter when Doris gets sick, it's still a strange choice given the circumstances. You can catch up on the first two episodes of "American Horror Story: Double Feature" on FX on Hulu.